3 September 2020
Pearse Doherty: This is a big win but we are still waiting for full reform of the insurance industry
This pandemic has shone a light on areas of our economy and society that have been neglected in the past decade - weak links in the chain that damage our resilience to collective threats. An underfunded health service, direct provision, and others.
Insurance might not be considered a pressing concern on this list. But like so many things, Covid-19 has raised questions about the sector and how it operates.
Businesses wonder why they ever paid for insurance when their insurers refuse to pay out claims for coronavirus disruption - despite being covered for it in their policies.
This has denied small businesses throughout the State much-needed cash that would aid their fight for survival. Some businesses face costly legal battles with insurers that have dug their heels in and damaged their reputation in the process.
In the motor market, figures from the Central Statistics Office have revealed a 56pc drop in cars on the road over three months from March to July compared to 2019. Despite the easing of public health measures, traffic volumes have remained well below pre-Covid levels.
With fewer cars on the road, fewer claims are inevitable which lowers operating costs for insurance companies. Instead of passing these savings on to customers, they have been able to offer them paltry rebates, some as low as €25.
Sinn Féin Finance Spokesperson Pearse Doherty TD
This comes after a Central Bank report last year found the average motor insurance premium has risen 42pc since 2009, despite the cost of claims having fallen.
In the coming weeks, the Central Bank is expected to write to chief executives of insurance companies in relation to Phase One of its review of dual pricing in the insurance market.
This market analysis will reveal the extent to which dual pricing is in operation, and will be followed by a report on proposed reforms next year. This comes after I requested that the Central Bank investigate the practice in October of 2019.
Dual pricing, or price discrimination, is used to target vulnerable customers who are more likely to renew and less likely to shop around, charging them excessive prices based less on risk and more on consumer profiles.
It is known to hit low-income, elderly, and financially vulnerable groups hardest.
These issues highlight the urgent need for the radical reform of our insurance market.
For too long the public discourse has been dominated by two vested interests; the insurance industry and the legal profession, with a passive Government that has been fast to pedal their spin and slow to hold them to account.
On December 26 last year, President Michael D Higgins signed my Consumer Insurance Contracts Bill into law. This legislation was welcomed by consumers, businesses and the Alliance for Insurance Reform.
Shifting the balance in favour of policyholders, this legislation overturns out-of-date insurance law that was inherited from Victorian Britain, securing greater protections for consumers in their insurance contracts.
The new legislation will make it harder for insurance companies to wriggle out of paying valid claims, by placing the burden on insurers to ask relevant questions rather than on consumers to volunteer relevant information.
This fundamentally shifts the balance in favour of policyholders and will make it harder for insurers to refuse valid pay-outs on spurious grounds.
In addition, it will allow policyholders the right to be informed of any third-party claims made against their policies and submit evidence where appropriate.
This is a key win for small businesses crippled by high insurance costs and the impact of costly claims.
It will also require insurance companies to provide details of the past five years of claims paid out and premiums paid when they renew, increasing transparency and making it easier for customers to shop around.
Where there is ambiguity over the meaning of a policy or its terms, the reading most in favour of the consumer will prevail. For those businesses caught in a legal battle with insurers refusing to pay out for Covid-19 disruption, the benefit of this is clear.
These are only some of the provisions that this legislation will put in force, with 27 sections in total.
The most wide-ranging reform of insurance law in decades, it has been described as a game-changer by the Alliance for Insurance Reform.
Today, the Government will give legal effect to many sections of the act, more than eight months after it was signed into law.
But many of the provisions, including the most important, will be kicked out to September 2021, nearly two years after it was signed into law.
That these reforms have been stalled is a clear victory for the insurance lobby and a blow for consumers and SMEs who cannot afford to wait.
The Consumer Insurance Contracts Act is a win for consumers and policyholders.
While some of its provisions come into force today, the Government should stand up for consumers and commence its most important provisions immediately and without delay.
Pearse Doherty TD is Sinn Féin finance spokesperson and introduced the Consumer Insurance Contracts Act to the Dáil on January 19, 2017. This article first appeared on independent.ie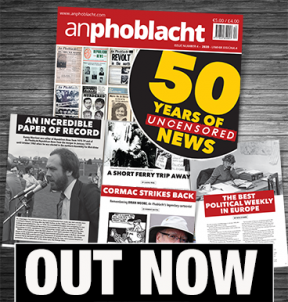 An Phoblacht on Twitter

An initiative for dialogue 
for reconciliation 
— — — — — — —
Contributions from key figures in the churches, academia and wider civic society as well as senior republican figures