3 September 2020
The myth of Saint Jack Lynch demolished
'The Arms Crisis of 1970 – the Plot that Never Was' 
By Michael Heney, published by Head of Zeus.
This book is of major historic importance. Once and for all it buries the myth peddled for decades by the political, academic and media establishment in the 26 Counties that Fianna Fáil Taoiseach Jack Lynch saved Ireland from all-out, island-wide civil war by foiling a plot by two of his Government Ministers and others to arm the Provisional IRA and to oust Lynch in the process.
As the title says there was no such plot. Far from it. There was in fact a Fianna Fáil Government policy decision, conveyed to the Defence Forces, that in the event of renewed loyalist/RUC attacks on defenceless nationalist communities in the Six Counties, troops would be mobilised and weapons would be sent North to defend those communities. This policy was formed in the aftermath of the pogrom against nationalists in Belfast in August 1969 which saw many hundreds of people forced from their homes, many fleeing to the 26 Counties. Delegation after delegation travelled from Belfast, Derry and other centres to Dublin demanding arms for defence. The pogroms of 1920, '21 and '22 were well within living memory in 1970 and a repeat was greatly feared.
In these circumstances there was a collective decision by the Cabinet led by Lynch to fulfil his promise of August 1969 – that is, not to "stand by" and see people injured or worse. It was on foot of this decision that Defence Forces Intelligence Officer Captain James Kelly set about acquiring arms, not in any illegal or unauthorised way but under the supervision of his superior officer Colonel Michael Hefferon and with the knowledge of Minister for Defence Jim Gibbons. This book clearly demonstrates that Kelly and Hefferon acted in good faith and in the certainty that they were following Government policy.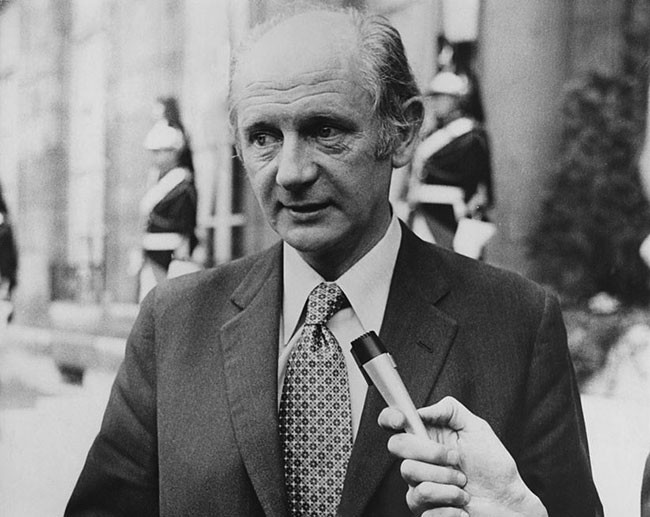 Fianna Fáil Taoiseach Jack Lynch
Yet in April 1970 as arms were due to be brought into Dublin Airport the Garda Special Branch, on the orders of the Secretary General of the Department of Justice Peter Berry, swooped and the importation had to be abandoned. Lynch sacked his Finance Minister Charlie Haughey and his Agriculture and Fisheries Minister Neil Blaney and they, together with Captain Kelly, Belfast republican John Kelly and Blaney associate Albert Luykx were charged with conspiracy to import arms illegally.
This book exposes as never before what a totally political and prejudiced prosecution that was. The immediate trigger for the sacking of Haughey and Blaney by Lynch was the visit of Liam Cosgrave, leader of the Fine Gael Opposition, to his office with what he claimed was a note from an anonymous Garda source naming Haughey, Blaney and Gibbons in the alleged plot. Yet when this political bombshell blew up and became public Gibbons was not mentioned by either Lynch or Cosgrave and instead of being charged he became a witness for the prosecution.
Colonel Hefferon gave a detailed statement to the Garda investigation in which Gibbons's knowledge and approval of the work of Kelly was clear. Yet this statement was strategically edited before it was included in the Book of Evidence, in a manner designed to shield Gibbons. This strategy backfired in court because Hefferon told the whole truth and fatally undermined the credibility of Gibbons. The latter was seen by the jury to be a perjurer when he claimed not to know of the arms plan and this was a main contributing factor in their decision to find all the accused not guilty.
The release of State papers in 2001 exposed the editing of the Hefferon statement. But Michael Heney has dug much deeper and the results are even more damning for Lynch and Gibbons. He has uncovered and scrutinised papers that were not released in 2001 because they were allegedly (and conventiently?) 'misfiled'.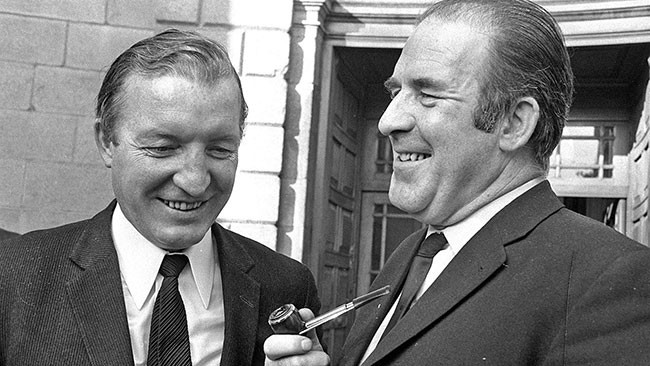 Charlie Haughey and Neil Blaney
When the debate was revived in 2001 former Fine Gael Taoiseach Garrett Fitzgerald claimed that the jury in the Arms Trial were intimidated. Speaking anonymously and quoted in the book, jurors totally refute this allegation and in fact Captain Kelly won damages from Fitzgerald for his attempt to dismiss the not guilty verdict.
The detail is too much to go into here but suffice to say that this book demolishes the prosecution case and, more significantly now, the persistent false image of Lynch as the saviour of democracy. A key part of that myth is the notion that Kelly, Haughey and Blaney helped to split the IRA in 1969 and to establish the Provisional IRA. The truth is that Captain Kelly and others met several pre-split IRA representatives in that period with a view to getting arms to nationalists in the North for purely defensive purposes.
The split in the IRA and Sinn Féin had its own deeply internal dynamic, long pre-dating the crisis of August 1969, and it did not need any help from Fianna Fáil to make it happen. But portraying the Provos as monsters created by the Dr. Frankensteins of the anti-Lynch wing of Fianna Fáil suited the political agenda of both Jack Lynch and the Cathal Goulding leadership of the 'Official IRA'. And of course the myth was enthusiastically taken up by Unionists and by many other politicians and academics since. As a counterweight to the Saville Inquiry into Bloody Sunday David Trimble demanded an inquiry into the Arms Crisis but if such an inquiry had been held and had uncovered what this book exposes then Trimble might have regretted it, as successive Dublin governments certainly would.
Some mysteries remain. What was the true role of Justice Minister Mícheál Ó Móráin? Why was Berry in the Justice Department so at odds with Government policy? Was there British intelligence manipulation? We may never know but then the same was said about much that this book reveals, so time will tell.
While the political crisis went on in Dublin in the summer of 1970, in Belfast and in nationalist areas across the North a life and death crisis was going on. Communities were still under attack from loyalists and the RUC, most notably the Short Strand. And it was the Battle of St Matthews and the Falls Curfew that saw the Provisional IRA emerge as defenders of nationalist communities who had long lost whatever hope they had that the Fianna Fáil government would do anything other than stand idly by.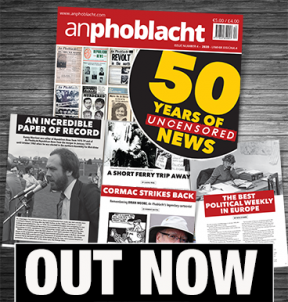 An Phoblacht on Twitter

An initiative for dialogue 
for reconciliation 
— — — — — — —
Contributions from key figures in the churches, academia and wider civic society as well as senior republican figures