24 August 2020
Decades of activism recalled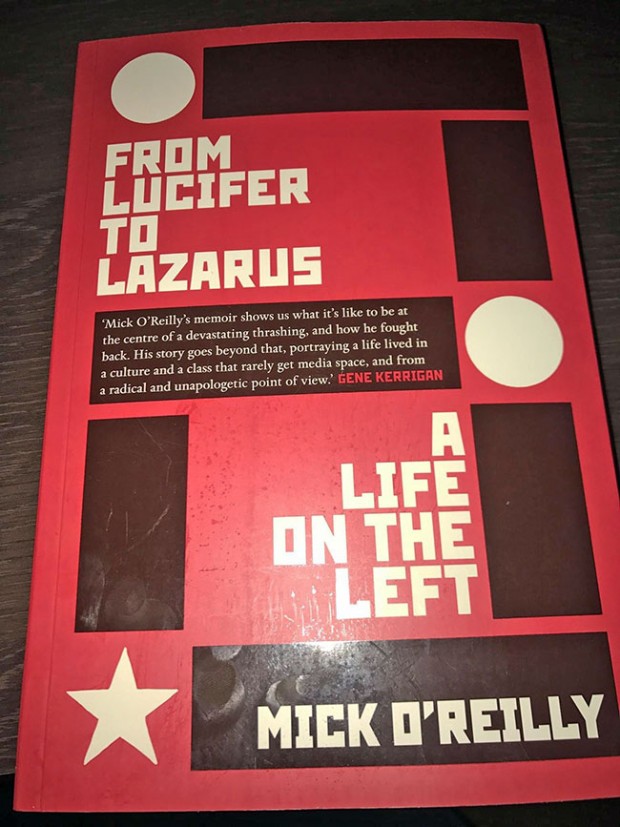 Book Review
'From Lucifer to Lazarus – A Life on the Left' 
by Mick O'Reilly, Lilliput Press, Dublin.
Mick O'Reilly is a trade unionist and socialist in the James Connolly tradition. On the role of trade unions in the workplace and society, on the need for real left politics and on the question of self-determination for the Irish people as a whole, he has been consistently progressive through decades of activism. Those years of activism are not over. Such rebels never retire.
He has given us an informative, provocative and witty memoir in this book. His writing is almost as engaging as his public speaking, which anyone who heard him on platforms over the years will appreciate. From an early age he stood up for himself and his fellow workers and this led him into trade union activity which is the meat of the book. Late in his life as leader in the ATGWU (now UNITE) he and his colleague Eugene McGlone were victims of a plot within the British-based leadership of the union to oust them. This succeeded initially but ultimately failed and the two men were vindicated and reinstated – hence the Lazarus of the title. It was a bitter battle and took its toll on Mick, which he deals with frankly.
The book has not received the attention it deserves. It highlights important questions about the role of trade unions in society, the role of politics within the trade union movement and the nature of socialist politics in Ireland. Mick says in the conclusion that he has spent his life trying to be a good communist, even when he was for some time in the Labour Party. Many will be puzzled that he retained hopes for that party so long, especially in light of its role in the Austerity Fine Gael-Labour Coalition 2011-2016. Of course by that time Mick was on the other side, with the unions who affiliated to the Right2Water campaign.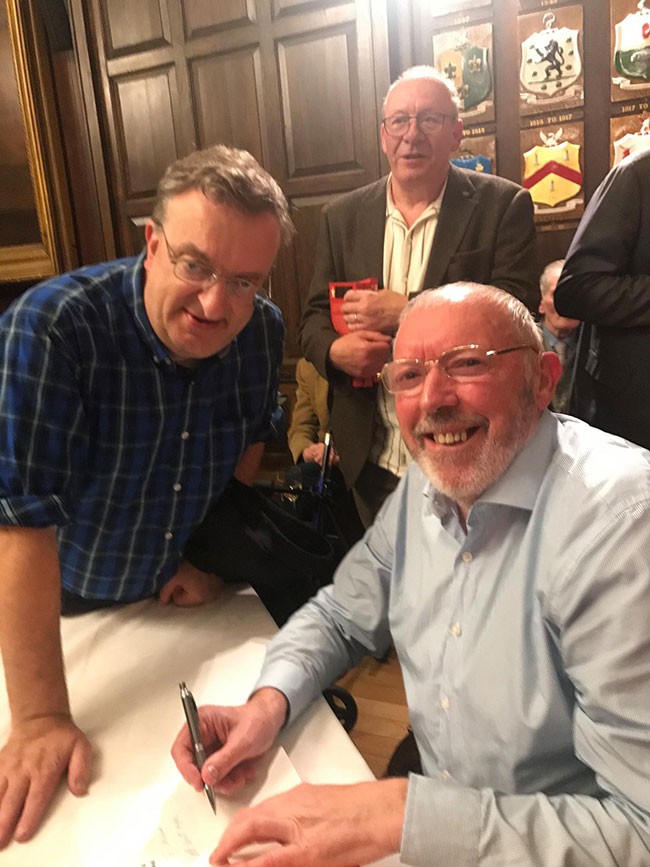 • Mícheál Mac Donncha  with Mick O'Reilly 
The relationship between trade unions and parties of the left has always been contentious. The largest union, SIPTU, was damaged by its close relationship with the Labour Party in government. I remember saying to former SIPTU president Jack O'Connor at a Sinn Féin event on the 1913 Lockout in Liberty Hall that what we need is not a Labour Party trade union movement, or a Sinn Féin trade union movement, but a fighting trade union movement. It is the reach into workplaces and campaigning nature of the trade union movement that is important, and, as Mick makes clear, never more so than today when the need for unions is so great and when they have been at a low ebb for so long. Hopefully – and this book gives hope – the tide is turning.
Mick points out that "a united Ireland has absolutely nothing to do with sectarianism" and states: "I want to see an Ireland where Britain has no role. I don't believe the British government has any rights in Ireland. Connolly's description of partition leading to a carnival of reaction is true, but it doesn't tell you how to get out of it once it's been established for decades, eating into the fabric of society and people's consciousness."
That said, Mick has played his role, in his sphere, in helping us all to get out of the carnival of reaction, a work still in progress. His counsel will continue to be valuable as we complete the task and build a better future.