16 August 2020
Sham sandwiches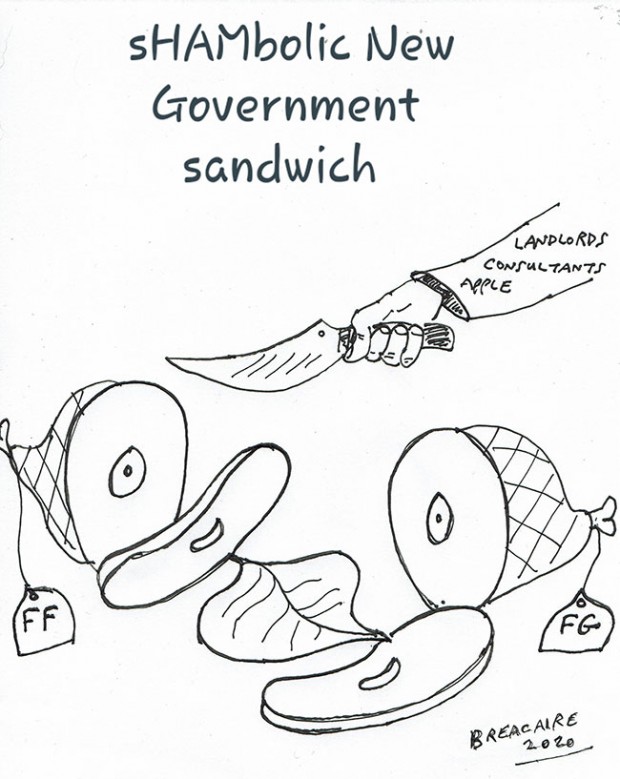 An Phoblacht hasn't had a regular cartoonist since the heyday of Cormac penned by the late Brian Moore, who sadly passed away in 2011. It is a gap many of our readers mention often and so here we have two selections from cartoonist Jim Ward, who also has a poet's eye.
Jim is the author of the award-winning play Just Guff which focuses on the decline of Fianna Fáil. His poem 2016 Proclamation which is reproduced here was runner-up in the Galway Bay FM/Thoor Ballylee Yeats Poetry Challenge in 2017. He is an accomplished and exhibited cartoonist, and has been active in republican politics since his teens and is PRO of Galway West Sinn Féin.
2016 PROCLAMATION
IRISHMEN and Irishwomen give me your ears,
hear how the land of saints and scholars fares;
the land of Micheál and Leo the Good.
Of Fianna Fáil, Fine Gael and their offshoot brood.
The land from where Patrick the snakes did rid,
and where today's religion's the great God 'quid';
where the Republican party did extradite
to a régime t'would seem they were acolyte.
Tight lipped, determined, the politicians appear,
to balancing books they adhere,
'tis easy be tough, that's for sure,
when the objects of which are only the poor!
'For this the Wild Geese...?' one might ask,
but forget it! Honouring history's too much of a task!
Two hundred thousand sacrificed to fate,
for a half percent reduction in the interest rate.
A generation living underground,
'our policies are fiscally sound',
forced to live upon their wits
by a well-heeled ruthless gang of shits!
By Ryanair the jet set, flying, come in,
to the races no less, sort of weekend slummin',
then to Slane Castle, home of the Earl;
now question that privilege at your peril.
Forget the old yuppies and their Leeson street skites,
in contrast they behaved pale sybarites.
Now, I'm neither provo, commie nor crank,
just a raconteur clearly trying to be frank,
so I'd better end now, but just to be funny
(and it might put you in the way of some money),
if you feel like it just inform the whole public
that the land in question is called a Republic!
JIM WARD, 2016