28 July 2020
Sinn Féin MP calls for DUP to show leadership on Campbell anti-Irish insults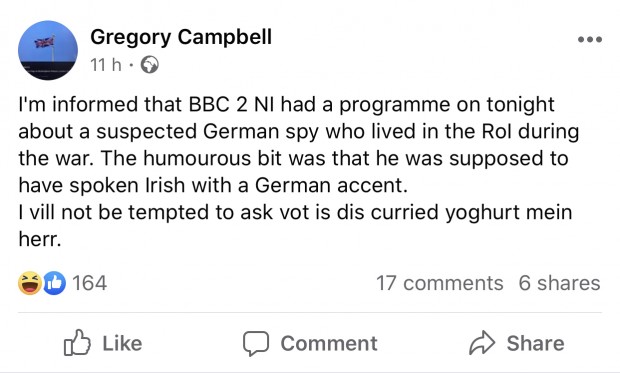 "Arlene Foster and the DUP should now show leadership and make it clear that this type of grossly offensive anti-Irish commentary is unacceptable" - Chris Hazzard MP
Arlene Foster and the DUP should 'show leadership' and make it clear that there is no room for offensive anti-Irish commentary following a fresh attack on the Irish language by MP Gregory Campbell on social media, a Sinn Féin MP has said. 
Gregory Campbell faced significant backlash from politicians, Gaeilgeoirí and activists after he mocked the Irish language in a Facebook post on Sunday night.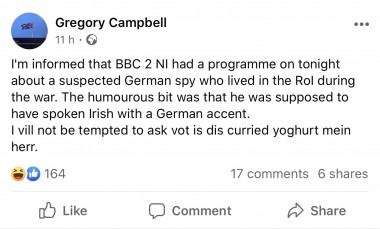 Screenshot of Gregory Campbell's derogatory post 
The comments were in a reference to a BBC programme about a German spy, living in Donegal, who spoke Gaeilge with a German accent,  Gregory Campbell wrote on his Facebook: 'I vill not be tempted to ask vot is dis curried yoghurt mein herr'. 
But this isn't the first time that Gregory Campbell has faced criticism for mocking the Irish language.  
In November 2014, he made similar derogatory remarks, mocking the Irish language phrase 'go raibh maith agat, a Cheann Comhairle' translating as 'thank you, Speaker'.
He was reprimanded and banned from speaking in the Assembly chamber for a day by then Speaker Mitchel McLaughlin. 
The DUP have never taken action or distanced themselves from any of Gregory Campbell's insulting commentary about Irish language or identity. 
Sinn Féin's Chris Hazzard thinks it is long past time when this type of behaviour and offensive language should go unchallenged.
"Time and time again Gregory Campbell has been allowed to freely mock and attack the Irish language and identity without consequence," said the South Down MP. 
"Arlene Foster and the DUP should now show leadership and make it clear that this type of grossly offensive anti-Irish commentary is unacceptable," he said. 
In January 2020, all five Executive parties backed the New Decade, New Approach document brought forward by the British and Irish governments which included protections for the Irish language, including Acht Gaeilge.