14 July 2020
'I want to see a pension for all with no one left behind' - wounded ex-prisoner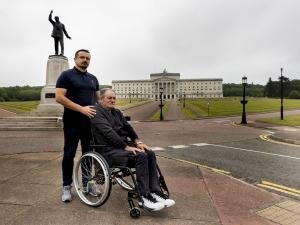 "I want to see a pension for all the conflict injured with no one left behind." - Christy Cummings
A republican ex-prisoner who was wounded in a loyalist gun attack while saving the lives of young people has said a pension for those injured in the conflict should be open to all with no one left behind. 
Christy Cummings was shot and wounded on December 27, 1997 while helping to prevent a loyalist attack on a disco packed with young people in the Glengannon Hotel in Tyrone. His friend, Seamus Dillon, who was also working as a doorman, was shot and killed in the attack and a teenage boy was wounded. 
His quick-thinking actions undoubtedly saved the lives of many young people that night but he has been left in a wheelchair and in chronic pain ever since. 
As a former republican prisoner, Christy Cummings is being discriminated against by the British government and denied automatic access to a pension for victims of the conflict. 
Writing in today's Irish News, he said the victim's pension scheme should be open to all victims and that no one should be left behind. 
"I've struggled physically and mentally over the years following the attack. I live with chronic pain. I was refused compensation following the attack as I was a former republican prisoner. 
"Regulations on the payments scheme for those injured contain the ability for widespread discrimination against me and many others," he said. 
Like others in similar positions, Christy Cummings can apply for the victims' pension but his application would have to be vetted and could be blocked by the NIO. 
"I want to see a pension for all the conflict injured with no one left behind. 
"This issue is not about relying on the benevolence and goodwill within the gift of a board or others to determine if someone who meets the criteria should be awarded a payment if the NIO or others decide that it would be appropriate," he said. 
He also argued that the British government have acted in bad faith, tearing up commitments made to victims and their families, including the family of Seamus Dillon, made in the Stormont House Agreement.
"This isn't about nice words, platitudes and promises. This must be about rights and equality. 
"I would appeal to the politicians, including Brandon Lewis, to get this issue addressed so as there is no scope for discrimination otherwise the words from him, the NIO and others on reconciliation ring hollow," he said.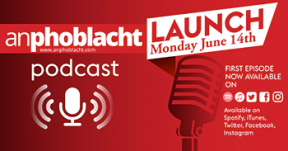 An Phoblacht on Twitter

An initiative for dialogue 
for reconciliation 
— — — — — — —
Contributions from key figures in the churches, academia and wider civic society as well as senior republican figures