14 July 2020
Time to talk about 'silver bullet' drug use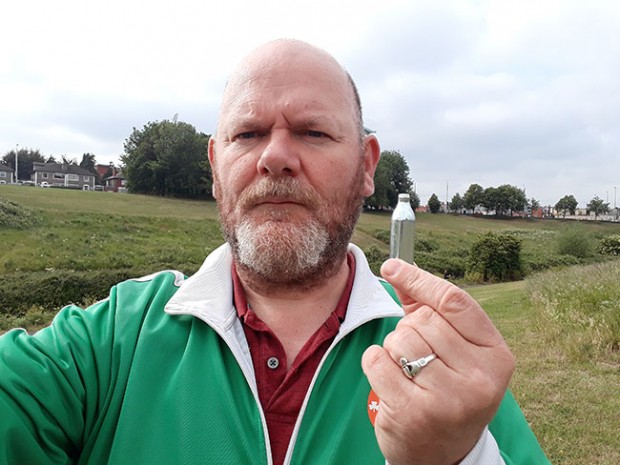 Many of us have been spending a lot more time strolling around parks and pitches since COVID-19 lockdown. With these walks, you might have come across piles of silver looking bullet canisters. They look out of place or very conspicuous.
They are commonly known as 'silver bullets' or 'whippets'. They contain Nitrous Oxide. A gas, when inhaled directly out of the canister or released in to a balloon before inhaling gives a short but intense rush or high. The high may last anything from 10 to 30 seconds.
It can lead to disorientation, dizziness, unsteadiness and falling. It can also induce vomiting and in certain circumstances can lead to paranoia.
Nitrous Oxide is used by dentists in pain relieve known as 'laughing gas', it also used in cans of whipped cream. It is what gives the cream that whipped like substance. But it has emerged as a drug of choice for young people in the last 12 to 18 months. It has been associated with the night-club scene in Britain and in Europe for many years.
Like any substance when used it can be harmful, even fatal. It is of course safer not to use at all. But the simple demand of 'Just Say No'doesn't work.
In 2019, the Health Service Executive surveyed 1,200 people who attended music festivals last year. This survey found that over 25% of them confirmed they had used Nitrous Oxide.
While the gas in not particularly addictive it does have serious side effects. It forces the oxygen out of your lungs and could lead to suffocation, forces oxygen out of the blood system and can also put your throat in to a spasm. It can also bring to the surface some underlying medical or health issues particularly concerning lungs, heart or mental health issues.
The canisters are easily available and very cheap. They can be bought by the boxful on line and sold for as little as €1 each. This makes them cheap and easy to buy.
Recently I posted photographs of 'silver bullets' on social media. Parents responded by confirming they too found them and didn't know what they were. Parents were frightened in case their children were using them. I circulated factual information, not hype or spin, to arm people with the facts not the fiction. I also circulated helpful websites and the HSE Drugs helpline.
If one of your children or someone you know has used Nitrous Oxide it is important you know the facts and talk to each other about 'silver bullets'. It can also offer the opportunity to talk about alcohol or other drug use.
Finger wagging or panic never works. It only serves to drive people away. The substance use carries on but now it is even more secret and more hidden from view.
We need to look at legislation to tighten up on the supply. It is important that the supply is tackled head on. But this is no compensation for talking to young people about why they use drugs, the harm that might happen and the risky behaviour it can lead to. Be prepared this may lead to some difficult conversations.
A positive development has been the public awareness campaign launched by the Dublin 12 Local Drugs & Alcohol Task Force. The task force campaign is in response to concern from the community in Dublin 12. It is a real community based response to an emerging need.   
Concluding, I would encourage people to reach out and have those difficult conversations about 'silver bullets'. You never know it might just save a life.
If you or someone you know is concerned about drug use call the HSE Drugs Helpline: Freephone 1800 459459
For further information check out www.drugs.ie or: https://adf.org.au/.
• Daithí Doolan is a Sinn Féin's Dublin City Councillor for Ballyfermot-Drimnagh.