4 July 2020
The Weekly Digest from Sinn Féin
Welcome to The Weekly Digest from Sinn Féin where we bring you a flavour of the work and campaigns that we have been engaged in over the past week.
Party members are encouraged to help build the party's profile by sharing these links on your social media pages.
Bobby Storey: 1956 – 2020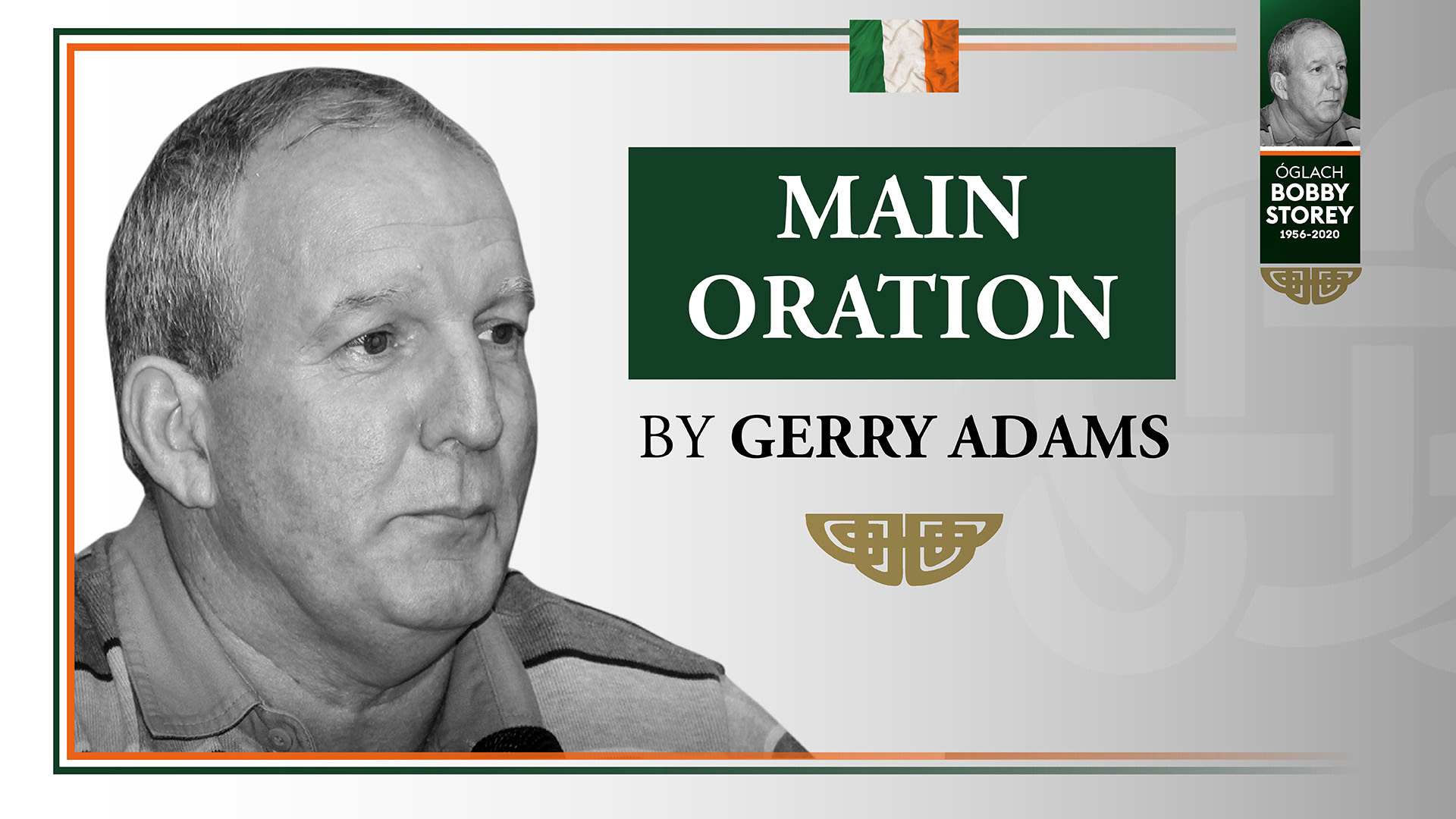 Gerry Adams this week delivered the main oration at the funeral of our friend and comrade Bobby Story.
You can watch it back here: https://www.facebook.com/watch/?v=890709871437740
Ballad of Martin McGuinness
The Ballad of Martin McGuinness, 'Where My Heart Will Always Be', is available now to download on iTunes.

All proceeds from the sale of this song will go to the Martin McGuinness Peace Foundation. 
You can download it here now: https://music.apple.com/ie/album/where-my-heart-will-always-be-single/1519814179
Mary Lou announces Sinn Féin's new front bench Dáil team
Mary Lou has announced the party's new Dáíl frontbench saying the incoming government ministers will be matched by a very energetic, very determined Sinn Féin leading the opposition.
The frontbench has strong representation from rural Ireland as well as our cities and gender equality is at the heart of the team.
Sinn Féin Dáil Frontbench July 2020:
Mary Lou McDonald – Leader and Uachtarán Shinn Féin
Pearse Doherty – Finance and Deputy Dáil Leader
Louise O'Reilly – Enterprise, Trade and Employment
Mairead Farrell – Public Expenditure and Reform
Claire Kerrane – Social Protection, Community & Rural Development and the Islands
Eoin Ó Broin – Housing, Local Government and Heritage
David Cullinane – Health
Darren O Rourke – Climate Action, Communications Networks & Transport
Matt Carthy – Agriculture, Food and the Marine
Kathleen Funchion – Children, Disability, Equality and Integration
Rose Conway Walsh – Higher Innovation and Science 
Donnchadh Ó Laoghaire – Education
John Brady – Foreign Affairs and Defence
Martin Kenny – Justice
Imelda Munster – Media, Tourism, Arts, Culture, Sport and the Gaeltacht
Aengus Ó Snodaigh – Gaeilge, Gaeltacht, Cuture and Arts
Pádraig Mac Lochlainn – Party Whip
Niall Ó Donnghaile – Seanad Leader
You can watch Mary Lou making her announcement here: https://www.facebook.com/watch/?v=641561483375000
Leading the opposition: A Podcast from Gerry Adams
As Micheál Martin takes his place as Taoiseach, and Fine Gael, Fianna Fáil and the Green Party occupy the government benches, they will be faced by an opposition led by Sinn Fein. Mary Lou McDonald TD is now the Leader of the Opposition.  
This is the first time that position will be held by a woman. It is also the first time since 1927 that the main opposition party is not from Fine Gael or Fianna Fáil. And of course it is the first time that Sinn Féin have held that position.
Get Gerry Adams' latest podcast here: https://www.buzzsprout.com/991288/4402865?fbclid=IwAR30ochPtHr2L47sXdt_a5ua3SoqI2NzD5SAdptufJ1E4MzOaT3CU6PBcNo
Sinn Féin National Draw
Sinn Féin's annual National Draw will take place on Saturday, 24th October 2020.  This is a crucial funding source that allows us to deliver many campaigns throughout Ireland and to continue with our work towards building a new, peaceful and United Ireland.

With all costs covered by head office and a 50/50 split with areas (€5 for every ticket sold), we believe that the National Draw will be a vital source of funds both centrally and locally.
Tickets are now available in your local area. Please contact [email protected] if you wish to order more.
We hope that all members will be able to support this important fundraising initiative.
Uniting Ireland – Online Public Meeting
Sinn Féin will hold an online public meeting on Sunday 5th of July with Mary Lou McDonald, Michelle O'Neill, Pearse Doherty and John Finucane.

Tune in here: https://www.facebook.com/events/731047711060098/
An Phoblacht
The second 2020 edition of An Phoblacht quarterly magazine is now available for only €5 or better yet, get the remaining three 2020 editions delivered to your door anywhere in the world for only €22.50!
An Phoblacht magazine brings you in-depth stories, history and Irish republican analysis as we begin the decade where we will finally cast off the shackles of partition and deliver Irish unity for all who share this island.
Click the link to get your copy today - https://www.sinnfein.ie/anphoblacht
Cabinet choices show FF, FG and the Greens have turned their backs on Rural Ireland
Speaking on The Tonight Show on Virgin Media this week Mayo TD Rose Conway Walsh said the choice of senior Cabinet Ministers shows Fianna Fáil, Fine Gael and The Greens have turned their backs on rural Ireland.
Watch Rose here: https://www.facebook.com/watch/?v=705777570275360 
Matt Carthy has also criticised the new Taoiseach over his failure to appoint a Senior Minister from the West of Ireland.
Watch Matt here: https://www.facebook.com/watch/?v=2330455467257072
Government must extend maternity leave for 12 weeks
Carlow/Kilkenny TD Kathleen Funchion has said the government must act immediately to extend maternity leave for an emergency 12 weeks.
Watch Kathleen here: https://www.facebook.com/watch/?v=272000550717484
Niall Ó Donnghaile appointed Sinn Féin's Seanad leader
Mary Lou McDonald has appointed Short Strand man Niall Ó Donnghaile as Sinn Féin's new Seanad leader.
Speaking as he lead the new Sinn Féin Seanad team to the first sitting of the 26th Seanad this week Ó Donnghaile said he is honoured to take on the new role and that Sinn Féin will be a clear voice for change in this term.
Watch Niall here: https://www.facebook.com/watch/?v=199047181420017
Happy Pride from Sinn Féin
Pride celebrations were very different this year due to the Covid19 emergency. Today and everyday Sinn Féin celebrates our LGBTQI+ community. 
Watch a short video put together by Sinn Féin to celebrate Pride 2020 here: https://www.facebook.com/watch/?v=750368295714628