2 July 2020
Sinn Féin unveil new Dáil frontbench team
"We will hold the government to account, bring forward solutions and continue championing the change that so many people want. I am very proud of our new frontbench team and the fact that we have strong representation from rural Ireland, as well as our cities." - Mary Lou McDonald TD
Sinn Féin President Mary Lou McDonald has announced a new frontbench team for her party in the Dáil, including five positions going to first-time TDs and a near even gender balance.
The move came as Fianna Fáil, Fine Gael and the Green Party published their cabinet on Saturday afternoon after voting in favour of entering Government, and named their Junior Ministers last night.
Coming into the frame includes first time TDs Darren O'Rourke and Mairéad Farrell, who will be taking up the Climate Action and Public Expenditure portfolios respectively, while first time TD for Roscommon Claire Kerrane also takes a seat on the frontbench as party spokesperson on Social Protection. 
Darren O'Rourke (Left) and Mairéad Farrel (Right) are among some of the first time TDs drafted into the Sinn Féin frontbench
Taking up the reigns as the Chief Whip of the Oireachtas team is Donegal TD Pádraig Mac Loclainn. Meanwhile party spokespersons on Finance and Housing Pearse Doherty and Eoin Ó Broin will be staying put, while TD for Dublin Fingal Louise O'Reilly is moving from Health to Enterprise and Trade, with David Cullinane taking over as party spokesperson on Health.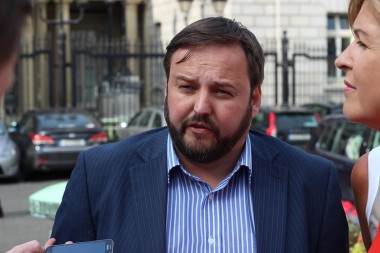 Pádraig Mac Lochlainn (Above) takes over from Aengus Ó Snodaigh as the party's Chief Whip
Speaking to An Phoblacht, McDonald said;
"New government Ministers will have to be on their toes and on top of their briefs because they will be matched by a very energetic, very determined Sinn Féin leading the opposition.  
"We will hold the government to account, bring forward solutions and continue championing the change that so many people want. I am very proud of our new frontbench team and the fact that we have strong representation from rural Ireland, as well as our cities.
"Sinn Féin will provide constructive and critical opposition to this government. We will hold them to account, working with other parties in the opposition to do so" she said. 
Asked about what priorities the party will take into leading the Opposition, McDonald said that Sinn Féin will stand up for workers and families on the issues that matter.
"This means rebuilding the economy with decent work for decent pay at its core, as well as delivering affordable housing, a single-tier health system, public childcare and restoring the pension age to sixty-five.
"We will work for a United Ireland; as the health and economic challenges posed by Covid-19 and Brexit have starkly exposed that an all-island approach simply makes common sense.
"Ireland faces big challenges in the months ahead and we will be playing our part in delivering the change that is needed."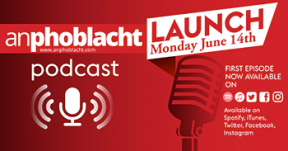 An Phoblacht on Twitter

An initiative for dialogue 
for reconciliation 
— — — — — — —
Contributions from key figures in the churches, academia and wider civic society as well as senior republican figures