28 June 2020
Mary Lou vs Micheál; the battle for the new Republic continues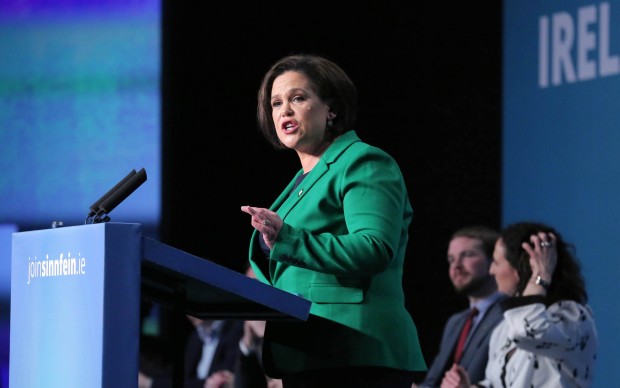 "For the first time in history, a woman and a United Irelander leads the opposition benches. Fianna Fáil did their best to block Sinn Féin from leading the opposition in the last Dáil, but they can no longer stop change. Their days are numbered." – Oisín McCann
While yesterday's election of Micheál Martin as Taoiseach, and Leo Varadkar as Tánaiste alongside the most conservative Government since the foundation of the free-State will be a bitter pill for many of us to swallow, a silver lining did emerge from the day's proceedings. The 33rd Dáil will be the first where we finally have a clear left-right divide between Government and opposition, and the false narrative of 'old civil-war parties on the opposite side of the divide' in Fianna Fáil and Fine Gael is now finally gone.
Throughout the week-long build up to the Dáil sitting in the National Convention Centre, critics of the Programme for Government from within Fianna Fáil and Fine Gael would cite old civil-war tensions, Dev versus Collins, but not a single person would cite policy or ideology. This wasn't by mistake. Most activists and anoraks on the Left know there isn't a shade of difference between Fianna Fáil and Fine Gael; both parties' priorities are to protect class interests, the status quo, and the partitionist Statelet they've traded power in for generations. This has come at the wider cost of neglecting the most vulnerable in society, failing to protect our public services and ending the divide on our island. 
As news broke earlier this year that Sinn Féin were on course to win the general election and record an unprecedented number of Dáil seats, the politics of change was knocking on the door. From this, and it came as little surprise to most, the political carve up began. Fianna Fáil and Fine Gael shut Sinn Féin out of Government, refusing to even talk to them. 
Cue the Green Party, who were also on course to be winners of the election, jumping from two to twelve seats. Blinded by Green tinted glasses and the promise of an eco-revolution, Eamon Ryan marched his party up the hill into Government negotiations that seemed to be strong on quick-fixes and platitudes, but short on affirmative action. Sinn Féin continued the work to build a Government for change, meeting with other parties and individuals who also received a mandate for change, but ultimately the numbers didn't add up.  
A big selling point of the Programme for Government from the Greens was the proposal of a Green New Deal, which would see Carbon Emissions reduced year on year by 7%. While it sounded promising at first, it was later revealed that these reductions won't take place until the later half of the decade and it also gives tax cuts to the elites. The open shortfall of this Programme for Government was felt by many across the Green Party, who may have only become politically active in recent years, but still sharply remember the events that led to the Green collapse thirteen years ago.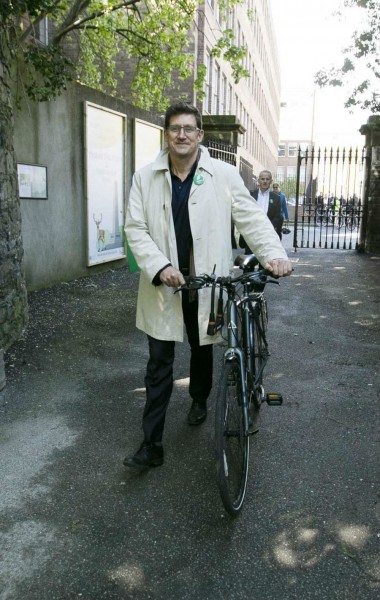 Green Party Leader and newly minted Transport Minister Eamon Ryan will be seen as having signed the Green Party's obituary by joining the Fianna Fáil-Fine Gael coalition (Photo: Sam Boal)
Ultimately this Programme lacks ambition, depth and any of the structural mechanisms needed to make the environmental and economic changes we need to protect the planet and its citizens. It falls short on public housing, on building up our already over-stretched health service, on kick starting the economy after the Covid-19 pandemic and on planning for Irish Unity. 
As Mary Lou McDonald set out in her speech yesterday, Sinn Féin will be the most effective Opposition party in the State. The appetite for change is palpable and the Covid-19 pandemic has not stifled that, but rather set it as an essential and achievable objective going forward. Ordinary people should not shoulder the burden of the impending economic crisis and Sinn Féin will not let this Government shift the blame that way. They will not be glazed over and forgotten like the previous generations before them.
For the first time in history, a woman and a United Irelander leads the Opposition benches. Fianna Fáil did their best to block Sinn Féin from leading the Opposition in the last Dáil, but they can no longer stop change. Their days are numbered. 
Over the next Dáil term, Mary Lou McDonald will take on Micheál Martin, Leo Varadkar and Eamon Ryan with her well-known style of being fearless and articulate, with a political belief rooted in fairness, equality and with a clear message of what a Republican Government for change will do when given the chance. McDonald won't be alone in taking on this mammoth task. She will be joined by a strong, energetic frontbench and some fearless first-time TDs who will help stand up for those neglected by successive right-wing, regressive Governments.
Pearse Doherty will continue to take on the fraudulent insurance industry that fleeces ordinary people, and will continue to build the economics of a fairer, united Ireland. Eoin Ó Broin will continue to be the Housing Minister in waiting, proving time and again he has the solutions and the political will to spearhead the largest public housing project in the history of the State. Louise O'Reilly will continue to give a voice to the sick and vulnerable, and show incumbent Minister for Health Stephen Donnelly that she will be the one to transform Ireland's health service into a truly national health service that will serve all of Ireland for the better.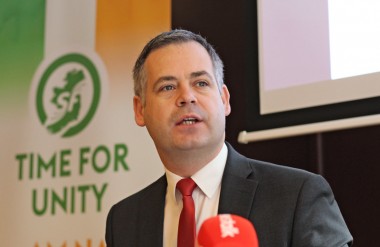 Sinn Féin Finance Spokesperson Pearse Doherty will help Mary Lou lead the fight in Opposition as her Dáil Deputy Leader.
These are the things Sinn Féin are determined to deliver in Government and will continue to work towards in opposition.  A better, more equal Ireland can and will be achieved. Its appetite can be found in every community across the island from Kerry to Derry, Galway to Dublin. Ireland will have a Government that does not neglect its citizens in the North, that will build a better, united Ireland.
Fine Gael, Fianna Fáil and the Green Party together do not represent change. A new, better Ireland is within our grasp. We are one step closer to realising the proclamation of that provisional Government that struck for freedom 104 years ago, but for now the fight continues.
Oisín McCann is a Sinn Féin Press Officer based in Leinster House.