25 June 2020
Save the National 1798 Rebellion Centre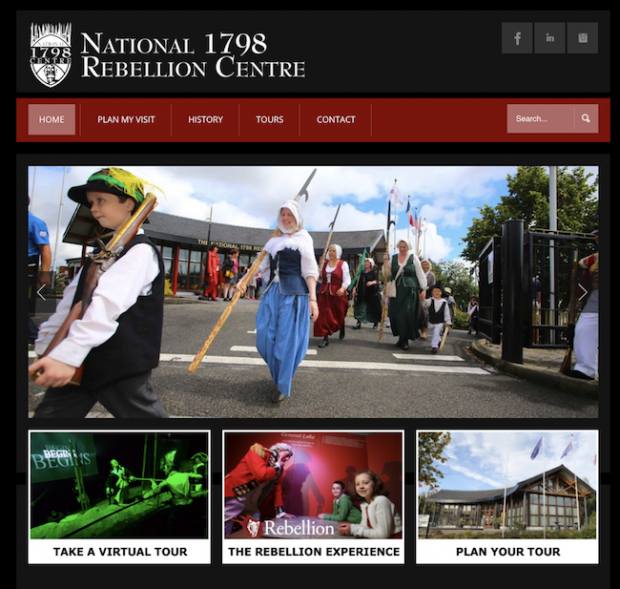 In 2018 I brought my show 'The 10 Dark Secrets of 1798' to Enniscorthy. To my surprise a brilliant group of re-enactors dressed as pikemen, redcoats and camp followers formed a guard of honour at the entrance to the venue. They escorted me onstage and afterwards I could see the passion the people of Wexford held for their history. In 1798, the county had proved the most effective in rising against the murderous terror the kingdom of Ireland had unleashed over the previous years.
The next day I was brought up Vinegar Hill and then to an incredible museum by the Slaney river where the international context of the rebellion was explained with huge interactive displays, holograms and rare artefacts. Depressingly, it was explained to me that this treasure, the National 1798 Rebellion Centre, was to be sold off for the price of a three-bedroom house (€325,000) and made into a distillery.
That was two years ago and happily, the sale never happened - but 'progress' never sleeps. Once again, Wexford County Council will soon be meeting to discuss selling it again.
Built in 1998 on the bicentenary, the Rebellion Centre cost £3m, with £1.6m given by the EU and the other £1.4m raised by the people of Wexford. Unlike the glass-cabinet displays shoved into former convents or barracks, this is a purpose-built monument dedicated to a seminal moment in not just Irish history, but that of Britain, France and the U.S. Why would you sell it for a tenth of the price invested in it? Who owns it anyway?
Talk of 'moving the contents' into storage or a 'suitable home' as part of a 'tourist hub' and 'celebrating designer Eileen Gray' should not distract from what is really happening. A national monument, meant as a permanent memorial to a rebellion that cost more than 30,000 lives, is being treated like a meaningless chunk of real estate. 
If it needs to be refreshed and promoted to increase numbers, so be it – but this is part of the historic fabric of the nation. We wouldn't sell the War Memorial Gardens or Aras an Uachtaráin because they weren't turning a profit – would we?
I believed the days of wanton destruction of the sites of 1798 were over. In the 1980s Edward Fitzgerald's Frascati House was pulverized to make way for a shopping centre. The homes of United Irishmen Napper Tandy and Oliver Bond were obliterated for road-widening. Moore Hall is a burnt-out ruin. The Emmet family plot lies under a shoddy block of apartments on Aungier St. This greasy-till mentality that knows the value of nothing has got to be stopped – we have lost too much of our history already.
What right has anyone to sell our heritage? It belongs to all the people of Ireland, north and south - Protestant, Catholic and Dissenter.
Please sign this petition to keep the National 1798 Rebellion Centre exactly where it is, in perpetuity, as intended. http://chng.it/k8dd6DJb