23 June 2020
The Annexation of Palestine - '21st Century Apartheid': A New Nakba! - Declan Kearney
"Our international community now has a moral and political duty to act in the way it ultimately mobilised against South African apartheid. They need to demonstrate there will be a price to pay for the continued flouting of international law, and repression of Palestinians. The situation is too grave. The UN, EU and Irish government need to finally decide which side they are on." Declan Kearney
Eyad al-Hallaq was autistic, and had special educational needs.
On 30th May he was going to school through the Lion's Gate in the old city of Jerusalem when he was summarily shot dead by Israeli soldiers.
Eyad's killing made me think about John Patrick Cunningham who also had special needs and was shot dead by British soldiers in a field near Benburb, County Tyrone in 1974.
I also thought about family members, and my own son, Fiachra, who have autism, and, or special needs.
In December 2018 I walked through that part of Jerusalem where Eyad was killed, with our Sinn Féin delegation to Palestine. 
It is very heavily militarised. There are Israeli soldiers and security personnel everywhere.
Military incursions take place regularly in Palestinian neighbourhoods like Al-Esawiah, a small neighbourhood on the edge of the city, with 20,000 residents, and from which there are well over 100 political prisoners currently detained in Israeli jails.
Palestinians are being forced from their homes in Jerusalem's old city in order to relocate Israeli settlers, and create a single identity population.
Palestinian homes are also being summarily demolished not only in Jerusalem, but right across the West Bank to enable continued expansion of the illegal colonial settlements strategy. 
In one of the most recent demolitions of Palestinian property in East Jerusalem, Israeli forces entered the Ras Shihada neighbourhood and bulldozed a residential and commercial building belonging to the Alqam family.
As a result 30 family members have been left homeless, 18 of them underage. All of their furniture and belongings were destroyed, including six apartments, four shops, and a ground floor car garage.
Such incidents are not accidental. 
These are the actions of an occupation force. 
Palestinians are viewed as the enemy, and a non-people; to be dehumanised and criminalised. They are subject to a systematic strategy of repression based upon integrated use of Israeli military law, military repression, and propaganda tactics.
The strategic aim of the Israeli state is to colonise all of Palestine.
That long-term strategy began in 1948 when 750,000 Palestinians were forced from their villages and farm land.
This phase of colonial occupation became known as the 'Nakba' or 'Catastrophe', because of its devastating consequences for the Palestinian people. It was a direct violation of international law. 
The reality is that since 1948 Israel's military and political establishment has wanted to occupy the West Bank.
However a systematic plan was needed to do so. 
The opportunity to devise a more structured strategy arose in 1963, and it took shape in the form of the 'Shacham Plan' (named after Mishael Shacham, general military governor of the Palestinian territories inside Israel).
From as far back as 1963, the Shacham Plan set out a strategy for the future military occupation of the West Bank and the Gaza Strip. 
Then in 1967 Israel occupied and further divided the west Bank and Gaza. A further 400,000 Palestinians were displaced. It also formally annexed Jerusalem, again in violation of international law.
The author Ilan Pappe argues that the decisions made by the Israeli government in the summer of 1967 have remained a cornerstone of Israeli policy towards the West Bank and Gaza to this day: That is, one of ongoing military control, occupation, and colonial expansion, and the permanent imprisonment of those living in the remaining Palestinian territories.
During 1993 permanent Israeli military checkpoints were concentrated in the West Bank.
In 2002, Israel began the construction of a wall throughout the West Bank.  This was ruled by the International Court of Justice to be illegal and amounting to annexation. 
Today it provides a concrete perimeter behind which over 600,000 settlers have built Israeli controlled cantons on stolen Palestinian land.
Earlier this year both the Israeli and US administrations announced an intention to further annex the West Bank and East Jerusalem by seizing an additional 30% of that land mass after 1st July.
This will hollow out the existing, and already internally divided State of Palestine, and will fatally damage any remaining prospect of a sustainable 'Two State solution', as provided for under the Oslo Agreement in 1993. 
While the extent of compromises made under Oslo were considered highly contentious both at the time and since, the widely held view is that this new annexation (or 'Deal of the century') will finally bury that Agreement.  
These latest annexation plans will constitute another 'Nakba', for the Palestinians.
The human and political consequences will be catastrophic resulting in huge displacement of people, and wholesale seizures of land and natural resources, including water.
The Palestinian Liberation Organisation (PLO) Negotiations Affairs Department makes the point that de facto annexation already applies in Palestine in the form of the colonial settlements and the annexation wall which carve up Palestine towns and villages, and the multiple permanent Israeli military checkpoints which control the movement of Palestinian people and goods.
However, the PLO states the new annexation plans aim to formally declare permanent Israeli sovereignty through the implementation of de jure annexation. 
It will establish the reality of a full fledged and open-ended apartheid system, further institutionalising the oppression of Palestinians.
To date, the occupation of the West Bank, Jerusalem and the siege of Gaza have had a devastating impact on the lives of Palestinian children and youth. Young people aged between 15 to 29 years-old make up 30% of Palestine's total population. 
Israel's colonial occupation has robbed them, and previous generations of their childhoods. 
On the last day of our trip to the West Bank and Jerusalem in December 2018, we visited the home of Ahed Tamini in Nabil Saleh. 
Earlier that year Ahed, then 17 years-old, was imprisoned for slapping an Israeli soldier. 
Bassem, her daddy, told me that even though the nearest beach to their home was only 35km away, the imposition of Israeli restrictions on Palestinians' movements in the West Bank, meant Ahed's first experience of a beach was on a recent visit to Spain!
A couple of weeks ago I watched a video by Ahed about what this new annexation plan would mean for her. 
She described it as a form of silent ethnic cleansing and an attempt to nullify the existence of Palestinians, by denying her, and future generations the land upon which to live. 
The annexation intended to begin on 1st July is the culmination of a decades long process to liquidate any concept of a viable Palestinian homeland. 
It is much more than just the latest wanton violation of international law. 
This combined Israeli and US plan represents a new humanitarian and political catastrophe for the people of Palestine.
A new 'Nakba'! 
It carries within it the potential for an escalation of political conflict between Palestinians and Israelis. 
The Foreign Minister of Jordan has already warned of the potential for significant political instability within this region of the Middle East. 
Israel's latest annexation of Palestine must be opposed. 
No right-thinking democrat can stand by and acquiesce in silence.
The international community failed to act in 1948, and in 1967, and it failed to intervene when Israel used the Oslo Agreement and Camp David as distractions to intensify the expansion of colonial settlements and ongoing human rights abuses through the late 1990s and into the 21st century.
Last week 47 UN human rights experts condemned Israel's plans to annex the West Bank as a vision of '21st century apartheid'. 
They have predicted increased human rights violations after annexation, saying that: 
"What would be left of the West Bank would be a Palestinian Bantustan, islands of disconnected land completely surrounded by Israel and no territorial connection to the outside world."
In recent weeks myself and Sinn Féin President Mary Lou McDonald TD have spoken with a very representative cross section of Palestinian political leadership figures, including Nabil Shaath, a veteran and icon of their national liberation struggle.
They all spoke of the urgent need for decisive international action to oppose these annexation plans.
The Palestinian people are fed up with hollow words and meaningless sympathy from international agencies and foreign governments who purport to support Palestinians' political and human rights. 
James Zogby, President of the Arab American Institute was blunt when he said in recent days:
"And so while I hear European diplomats say they are concerned about annexation, I say that's great – but what are you going to do about it? Are you going to whine, are you going to complain, are you going to protest, or issue a diplomatic note, which the Israelis will pocket – maybe pocket by throwing it away in a newspaper basket. This is exactly what (the Israelis) want. Because those behaviours only feed impunity – there's no price to pay… 
"Accountability is key, and accountability requires that there will be a price to pay." 
The Irish government, caretaker, or newly formed, should internalise those words. 
It must listen to the leaders of the Palestinian people, and what they are asking of Ireland. Their message is clear: The Irish government must end its foot dragging and refusal to implement the decision of Dáil Eireann in 2014, and immediately recognise the State of Palestine. It should also end its opposition to the Occupied Territories Bill and pass this legislation at the same time. 
That is the sort of international leadership and concrete initiative required at this time.  
Ireland's new seat on the UN Security Council should be used to uphold international law, and to assist in coordinating promotion of the humanitarian and national rights of Palestinian citizens.
The facile, diplomatic pretence of waiting for a right time, or a point 'to generate some positive momentum', needs to be set aside. That has become an excuse for Fine Gael ministers to do absolutely nothing.  
The time to act is now, and not a moment later. 
The Palestinian struggle has arrived at a cross roads. 
The 1st July annexation represents a new strategic challenge for the political and civic leaders of Palestinian national liberation. 
They are correct to demand serious, substantial international action, including for the Irish government. 
Our international community now has a moral and political duty to act in the way it ultimately mobilised against South African apartheid. 
The UN, European Union (EU), and Irish government must end their acquiescence towards Israel's occupation and this planned annexation. 
They need to demonstrate there will be a price to pay for the continued flouting of international law, and repression of Palestinians.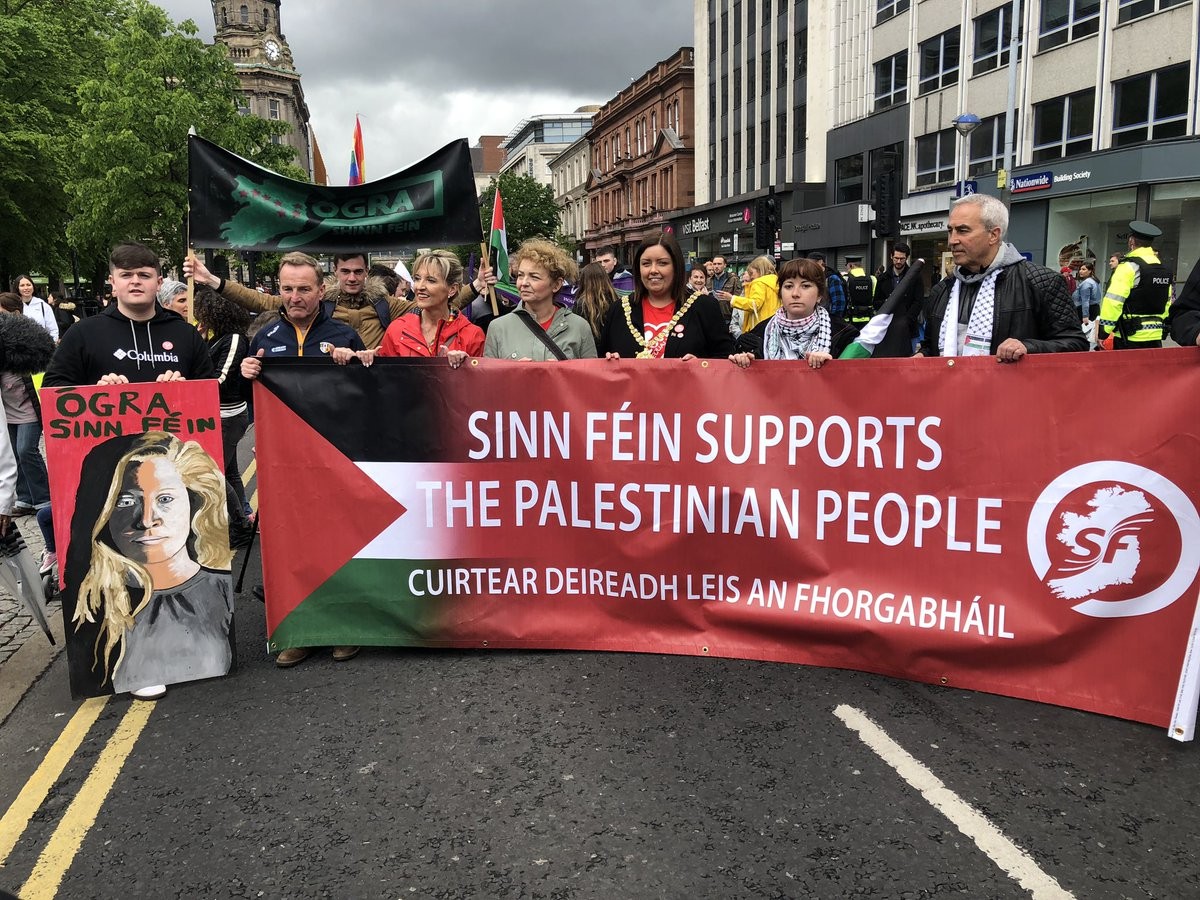 The situation is too grave.
The UN, EU and Irish government need to finally decide which side they are on.
But Palestinian political leaders also need to urgently assess how to influence international actors.
They can give a powerful mandate for a decisive step change in policy and action from the international community, by agreeing common national, democratic strategic and political positions, and by speaking with one united voice. 
At this time of even deeper crisis for the cause of the Palestinian people, national unity and reconciliation among all political forces under the representative leadership of the PLO has never been more essential. 
The greatest leverage which the Palestinian leaders have at this time to mobilise maximum international, political and economic pressure against Israel, and stop the proposed annexation, is by embracing Palestinian national unity; adopting an agreed political strategy; and acting collectively.
Resolving disunity and healing old divisions is never easy.
However, achieving national reconciliation and unity among the various political forces is the most potent strategic initiative which Palestinian political and civic leaders can take to change the balance of forces against annexation, and to influence international opinion.
Sinn Féin knows what side we are on.
Irish republicans, and other international progressives remain committed to the objective of Palestinian national liberation and helping to secure a democratic, and peaceful Palestine...
"We know too well that our freedom is incomplete without the freedom of the Palestinians."
This article is dedicated to the memory of my friend and comrade Bobby Storey who was a committed friend of the Palestinian struggle and a true internationalist.