18 June 2020
Are workers' rights another casualty of COVID-19?
As we move out of the COVID-19 crisis and return to some kind of normality one thing becomes clear. Worker's rights could well be a causality of the pandemic. Unless the incoming Government introduce legislation as a matter of urgency. 
Let me be clear. When I talk about worker's rights, I am not talking about some abstract aspiration. I am talking about our family, friends and neighbours being treated fairly and properly by their employers.
The current Debenhams dispute is a clear example of this. At the start of COVID-19, like many other employees, staff received an email from management wishing staff all the best and explaining how to apply for the COVID-19 payment.  
5 days later on Easter Thursday the same 1,500 staff received an email stating that Debenhams were in receivership and they were now redundant. In shock, colleagues contacted each other seeking clarification. They honestly believed there must be a mistake.
Unfortunately, for the staff and their families there was no mistake. Debenhams had planned this operation down to every fine detail. They had divided the company in to two separate entities. Debenhams UK and Debenhams Ireland. Assets, including leases and stock, had been moved to Debenhams UK. The British based company was coming out of administration and stores there were to remain open there. This was a callous, pre-planned attack on workers in Ireland. There is no doubt the British based company used the COVID-19 crisis as a smoke screen. 
• Clerys workers 2014
Debenhams is owned by Celine Group Ltd. Not exactly a household name. Celine Group is made up of three US hedge funds, Barclays Bank and Bank of Ireland. The very same Bank of Ireland that the Irish people bailed out during austerity. Just to remind you, the cost of the bank bailouts including the Bank of Ireland amounted to €64 billion.
Despite a total of 10,000 years of service, Debenhams will not have to pay the workers one cent of the €20m redundancy they are owed. The taxpayer will have to foot the bill again.
This might all sound familiar to you. Because it is. Cleary's workers faced the same battle in 2014 when Deirdre Foley split the company in two and sold the staff for one pound in Britain. When these workers were made redundant, there were no assets and no money to pay redundancy. This resulted in 3 years of protest and court cases by SIPTU. 
Following the Cleary's crisis the Fine Gael/Labour Party Government commissioned the obligatory report. The Duffy-Cahill Report remains on the minister's shelf gathering dust. The 10 recommendations have been totally ignored. If the recommendations had been actioned with amendments to the current Companies Act, employees and the taxpayer would be protected. It appears that banks can be bailed out overnight but workers have to wait in a very long line waiting to be bailed out.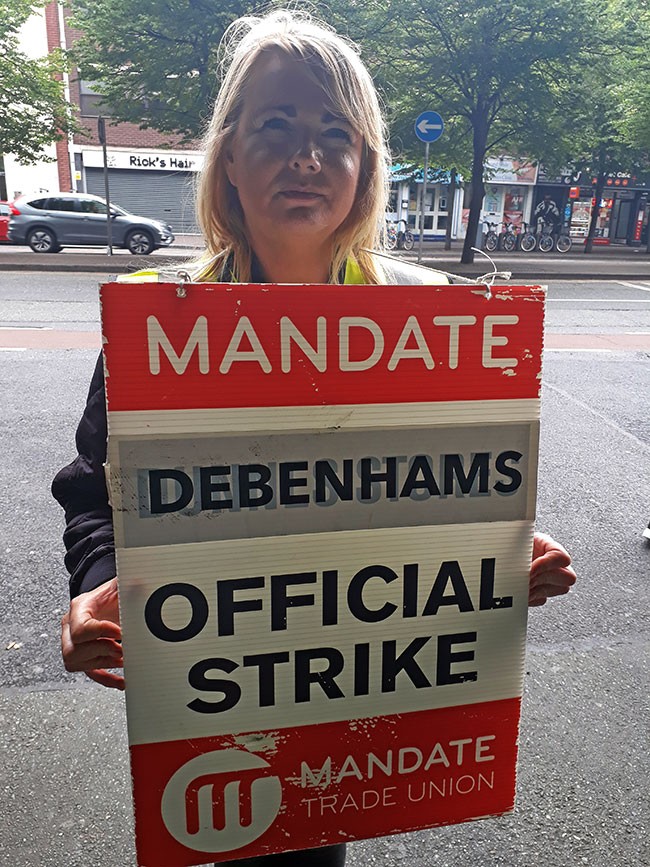 • Debenhams worker, Freda Sweeney
Debenhams worker, Freda Sweeney, says their demands are moderate. The Drimnagh resident says, "We only want to be treated like humans that's all. We want to be treated with the same respect the company trained us to show the public."  
The workers have full support of their union. Mandate's General Secretary John Douglas, says the protest is far from over. Speaking to An Phoblacht Douglas said, "Debenhams is a link in a long chain of companies abandoning Irish workers. This has got to stop. The incoming government must introduce legislation as a matter of urgency to protect Irish workers. The list of companies simply shutting up shop is a long and costly one. Each time it happens the public foot the bill. This must stop."
This is particularly true as we face in to unsure economic times ahead. I have no doubt we will come out of the COVID-19 crisis but the public exchequer cannot afford to be footing the bill for unscrupulous companies abandoning Irish workers and their families. 
A protest in support of the Debenhams workers is being held on Friday June 19th 11am-3pm on Dublin's Henry Street. I hope to see you there.
• Cllr. Daithí Doolan is a trade union activist and Sinn Féin's Dublin City Councillor for Ballyfermot-Drimnagh.