16 June 2020 Edition
Embracing the people's politics of the future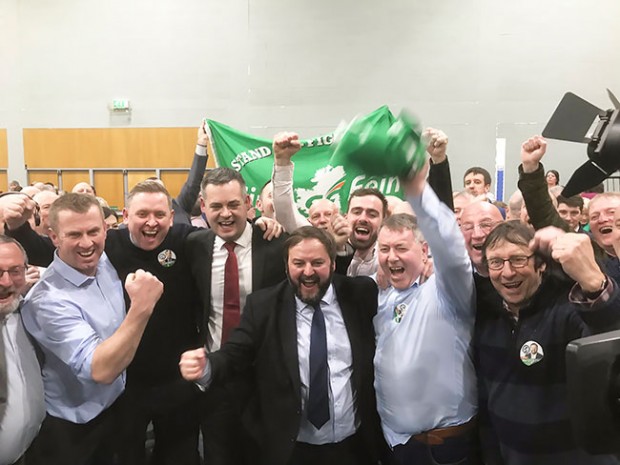 There were some tough nights. We saw first-hand the hardships endured by families. Sinn Féin's historic result places a heavy burden on all of us, from the leadership to the grassroots and everyone in between to deliver the change these families so desperately need.
#GE2020 was a big one for me. I had skin in the game. My better half was fighting to regain the seat he had lost in 2016. As a family and as a county we had been preparing for this election for the last four years, and we were ready for it. 
I love campaigns. The camaraderie of a campaign team. Getting out knocking on doors and really talking to people. The late nights and early starts. Working on some aspect of the campaign that I've never done before, a fear of getting it wrong but ploughing on regardless. More than any other election, I felt we were given the opportunity to really spell out on the door what our policies would look like in action.
What was obvious to me from the outset was the positivity towards Sinn Féin and our two candidates. Years of hard work locally and standing up for people nationally was acknowledged at the doors time and again. Pádraig's humility on losing his seat in 2016 and the gusto at which he went right back to work for the people of Donegal was noted time and again on the doors. People wanted to see him back in the Dáil alongside Pearse, whose fearlessness in taking on the insurance chiefs was a talking point throughout the campaign. 
That's the thing you see. Donegal Sinn Féin is a team and the very best of who we are came to the fore during this campaign. Our two candidates, ten Councillors, Directors of Election, constituency workers, Comhairle Ceantair, cumann officer boards, activists and supporters were united in common cause. 
• Pádraig MacLochlainn (13,891) on OceanFM
Our campaign team were nimble and straight talking in their approach. Crucially, not a single vote was taken for granted by any of us. Donegal's election rally the Sunday before the election was really special. Over 600 people attended, and the atmosphere was unlike any election rally I've ever attended. When Mary Lou walked up the hall with Pádraig and Pearse to a piper playing A Nation Once Again you could physically feel the emotion in the room. We were proud of our team, of our country and of one another.
Our friends in Derry Sinn Féin deserve special mention. It's not just that they showed up; it's that they wanted it as much as we did. Wrapped up in the two Dáil seats for Donegal were all our shared hopes and aspirations for both counties and our island.
In the early days of the campaign people were raging about the proposed RIC commemoration. It appeared to typify an arrogance that had become synonymous with Fine Gael, and their disregard for those outside their political and social class. 
Similarly, the increase in the state pension age gave voice to a much deeper feeling of being taken for granted, for the steady stripping away of hope for the future, and worse for their children's future. A sense of being left behind not only by Fine Gael but also by Fianna Fáil. 
Parties who keep talking about full employment but ignoring the reality of widespread low pay, regional imbalances and the distances people with kids were having to travel for moderate wages.
Parties who don't care that two working parents cannot afford to send their kids to university or help out with their soaring rents. 
Or the woman who had to go part time or give up on a job she loves because she simply can't afford the childcare costs. 
Children waiting years for speech and language appointments or families relying on autism or respite services run by volunteers. 
Healthcare came up time after time after time. Women were distraught at the doors when relaying their elderly parents' experiences on a hospital trolley or the latest cancellation of a long awaited procedure. 
On the doors Fianna Fáil was usually lobbed in with Fine Gael when people spoke of change, and this was not limited to age or indeed town or townland. They felt that Fianna Fáil no longer represented them, or that they were no longer the 'small man's party' as Kevin Boland once put it so aptly.
• Pearse Doherty (21,044) getting ready for media work
Right across the county people of all ages turned to Sinn Féin, many of whom had not voted for us before but felt we now deserved the chance to govern. They are impressed by our spokespersons, their competency and the determination they have demonstrated in the Dáil.
There were some tough nights. We saw first-hand the hardships endured by families. Sinn Féin's historic result places a heavy burden on all of us from the leadership to the grassroots and everyone in between to deliver the change these families so desperately need and have clearly articulated to us. They took us into their homes and into their lives. 
Harry Leslie Smith, a British writer and political activist who died in 2018, wrote a beautiful book in 2017 entitled 'Don't let my past be your future'. Harry, a survivor of the Great Depression, a veteran of World War II and a lifelong member of the British Labour party concludes this beautiful book with the following: 
"My past won't become your future if you hold firm to the belief that all people are born equal and deserve the right to a life free of want, ignorance and sickness. Believe in yourselves, in social justice, and live by the creed that we are all our brother's keeper." 
Over the last few weeks the establishment classes have lost their minds at the prospect of Sinn Féin in government. It's as if they previously tolerated us with pinched noses on the unspoken yet shared belief that we would never be in power and the people we represent would certainly never ever have to be listened to. 
As an activist committed to Irish unity, social justice, sustainable economics and climate action I have never been surer of my politics, my party or the people. We now have the opportunity to build a transformative consensus for change from urban to rural, young and old. This is happening at a critical juncture for both the global community and the European Union. Imagine what we can now achieve when we set aside the outdated establishment politics of the past and embrace the people's politics of the future. I tell you what, I for one simply cannot wait!
• Sinéad Ní Bhroin is a Sinn Féin activist and political adviser