16 June 2020 Edition
25 days for change – We won!
The Liberties holds a special place in the hearts of the Dublin working class. Named so since the 12th century as it was the only part of Dublin to be free of the city laws. It has no shortage of history which dates back before the 1798 rebellion, to the 1803 execution of Robert Emmet, and its insurrection hot spots of the 1916 Rising. Dublin 8 is steeped in a history of great events, great characters, a community of street traders, thousands of Guinness workers, market stalls and home to our national treasure - Kilmainham Gaol.
Like many Dubliners, my family connections to my hometown are strong - I was born, raised, educated and worked here. My old home at Ceannt Fort had Commandant Michael Mallin's family as its first tenants. We erected a plaque there three years ago, among the many in Dublin 8.
I know these streets. I'm familiar with the people and looked forward to, yet again, knocking their doors for the 25 days of the 2020 election campaign.
The election was called on January 14th and the directorate for Aengus's campaign was shovel-ready. We were prepared. The first posters went up on a water drenched stormy day and the intense canvassing of Dublin 8 commenced.
A fast-paced and flexible team of activists gathered three times daily with our sturdy walking boots, hideous rain-gear, shiny new clip boards, information leaflets and set forth. An eclectic mix of people with varied skills, from the seasoned and experienced to novices with little experience and mainly female. A motivated crew who put their lives on hold for the duration of the campaign. The approach was, as always, for a positive campaign engaging meaningfully with communities and listening to their concerns. There was much for the team to digest politically added and addled by many feeds from the media that could have had heads spinning with information overload. We warned against overanalysing day-to-day events, opting to keep the focus and carry on.
While 'change' was the primary party message, 'change' became pivotal as people at their doors, at the shops, at community events and on the street cited this as their number one reason to vote Sinn Féin. What gave people this new-found confidence is an interesting conversation. It included the recent referendums, the loosening stranglehold held for too long by the 'Ancient Régime', successful by-elections and credible spokespersons all played their part. However, undoubtedly it was the tempest that is Mary Lou whose deft leadership dumped the pretenders in the ha'penny place. 
We were acutely aware of and fully expected the media hysteria directed to any voter contemplating having a Shinner about the place. There is a falling trust in traditional media outlets and they no longer own the news. Online media is a growing and powerful influence with audiences of young people having largely abandoned main stream media. 
There is a simple demographic divide with those over 64 years getting their news offline and voting along traditional lines, voting for the 'steady eddies'. Those excited by the opportunity for change got their news online and voted for Sinn Féin. 
Doorstep after doorstep, people were referring to articles viewed online. Mainstream media set the agenda, but its power has been hit; especially after the grossly miscalculated two way leaders debate, slow to cop on and blind to the revolt occurring under their noses. It was a magnificent own goal as people tuned out and became increasingly enraged by the calculated, persistent hammering of Sinn Féin by the fourth estate.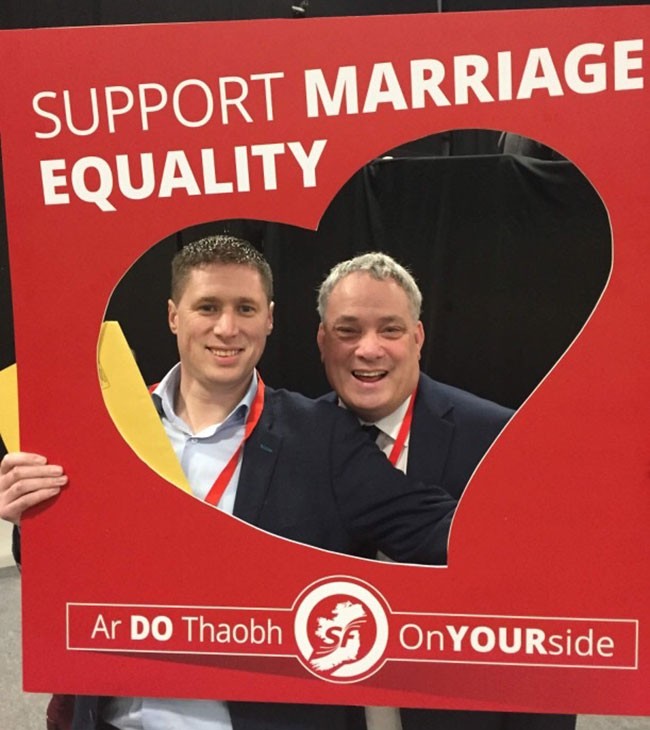 Their relentless 'exposé' of shadowy figures did a deserved disservice. The exclusion of Mary Lou in a leader's debate took the biscuit and it opened many hesitant minds to vote for change. People were no longer endeared by or listening to the charmless establishment campaign. Social media engagements were phenomenal and hats off to Fearghal who did an expert job reaching and responding to the masses via social media platforms.
I remember the Liberties as a thriving, bustling area. As a Frawley's Saturday girl, I served people from all over Dublin who thronged the Meath and Thomas Street area. It has suffered wilful neglect over the decades with more recent alienation of this tight-knit community by gentrification and tourist only construction. A determined community demanding attention for its many large pockets of poverty and deprivation is leading its revival. Anti-social behaviour is terrifying residents and an incident while canvassing in a large inner-city flat complex reinforced what people are suffering. 
Arriving to do a second canvass we were faced with open hostility and threats of violence by hooded youths and men who were dealing drugs. They were not from the area. As we canvassed door to door, balcony to balcony many women residents came out to support us. On each balcony and each floor, they stood sentry and called out this intimidation. They were determined that their community deserved its say and vote without the dangerous harassment and volatility created by these few criminals. This is what they encounter on a daily basis.
There were campaign house rules and practicalities. Feeding the troops was vegan inclusive! We lived off a staple diet of sambos, jellies and Tayto crisps (cheese and onion only please) for 25 days. Fluids were restricted as the bitter cold effected kidney function necessitating extra pit stops for peeing in a friendly house or discreet shrubbery, the only options available.
Fitbits were an unexpected important part of canvassing and a great motivator, especially for the top floors of complexes. These Santa gifts came into their own and the competition for step counts was fierce and ruthless. The WhatsApp group littered with poll topping step self- congratulations and friendly begrudgery.
2020 was the most significant election for decades, with Sinn Féin daring to disturb the universe. From the very first canvass we knew something extraordinary was happening; the social media posts of "great response on the doors" etc were no longer the overused clichés of many elections.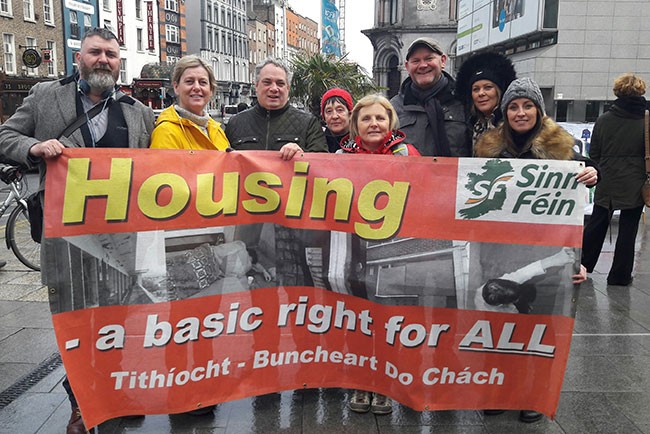 This time we dared to believe that the rumblings of shifting dynamics were not hyperbole. We were cautiously astonished by the apparent widespread discontent at the uneven social and economic conditions. The idiom 'all politics is local' was largely disproved as the national issues of housing, health, childcare, pensions and Irish unity were prioritised by voters. Areas not usually strongholds of the republican vision came out strong and demanding change. They surprised us with the strength of their conviction to act for the common good. 
The campaign was challenging, the pace and the work rarely boring while providing a host of experiences and levels of excitement that are difficult to match in any other environment. We were obsessed with and followed the minutiae of the campaign with a close eye. It built skills, confidence, experience and camaraderie for the future, giving all a unique perspective on our democratic process and making new discoveries of our heritage, history and modern-day issues in every nook and cranny of the Liberties. 
Thanks to the early work of the South Central directorate, the Dublin 8 team led by Críona Ní Dhálaigh and Aengus Ó Snodaigh whose calm, easy manner was a steadying influence amidst the three week election whirlwind.
For now, we are standing at ease awaiting resolution to this Irish-style Mexican standoff between the 'Ancient Régime'. When removing the posters, we were met with shouts of "keep them up" from the communities of the Inner-City. There was and remains a perceptible fury at the side-lining and blocking of over 500,000 votes that demanded Change. However this pans out, the barrier is smashed. The Goliath conservative parties have met their David who arrived with aplomb on the back of Storm Ciara, who graciously waited for the end of canvass. 
Move over Cork, Dublin South-Central is The Peoples' Republic – not a blue shirt or a soldier of destiny in sight.
Beware the Risen People. Comhghairdeas all. We won!