16 June 2020 Edition
Now all we need is the Sam Maguire!
By noon on Sunday 9th February I knew we had succeeded in achieving what we set out to achieve twenty years ago here in Mayo; to win a Sinn Féin seat in the County. To win it in style with 14,633 first preference votes was very satisfying.
It was a historic day for Sinn Féin and for myself. The first woman from Erris ever to be elected to the Dáil. The first Sinn Féin TD in Mayo since Dr John A Madden in 1927. The first Erris TD elected for half a century - Joseph Leneghan was elected in 1969 winning a seat in the Mayo West constituency.
I always believed we could take a seat here in Mayo. It was frustrating for me over the years to listen to people inside and outside the party detailing the reasons why this could never happen; geography (I am based in Belmullet, the extreme North West of the County), Mayo is too conservative, the party membership is not strong enough and many other reasons. Luckily, the more I'm told something can't be done, the more determined and focused I become.
As a republican from the home county of our three hunger strikers, Jack McNeela (1940), Michael Gaughan (1974) and Frank Stagg (1976) there was no way to avoid the 'curse of the cause' by playing my part in the republican struggle. It's an inner thing I've always worn with ease. I was sad some of the dedicated republicans like Dan Campbell, Francis Ginty, Paddy Ginty and others were not here to share the pride of winning the seat.
Pat Doherty was the first person I rang when the tallies confirmed we were going to take the seat. I wanted to thank him and Mary for keeping the faith and always believing it could be done. A number of years ago Pat turned to me while attending a funeral in a local graveyard and said "Can you take a Dáil seat in Mayo?". I said "I can", and he said "ok then". I'm so glad I was able to keep my word. Also, to Gerry McIvor, Tommy & Ann Devereaux, Gerry Adams, Mary McGing, Joe McHale and others.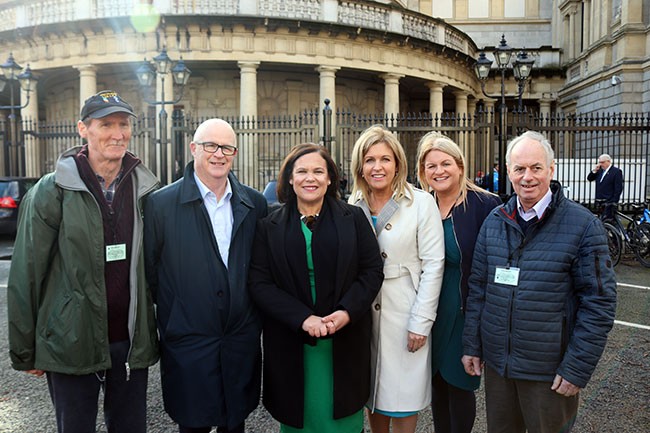 • At Leinster House – Joe Mulchrone, Mayo Sinn Féin Councillor and directors of election Gerry Murray, Mary Lou McDonald, Rose Conway Walsh (14,633 first preference votes), Fiona Conway and Joe McHale
I knew from the first day I started the canvass for this election in Castlebar that something different was happening. There was an appetite for real change. Don't get me wrong I've seen an appetite for change before. What was different this time is that people were clearly willing to vote for the change they wanted. 
I can never explain how heartening it was to see that people were no longer prepared to do what they were told. They were taking back control. I am so glad I have lived long enough to see people realising their own power. The excitement of what an empowered nation could achieve is awe-inspiring. This seat is their seat.
For Sinn Féin as a party we have been given a golden opportunity to break ground in rural Ireland. We must not waste this chance. We must put rural Ireland front and centre of all we do both internally and externally. We now have strong representation all along the western seaboard. Hard work and focus on the issues that really matter will ensure that the votes loaned to us at this election will remain with us in future elections. It is up to us to demonstrate real transformative leadership that will make a difference to people's lives.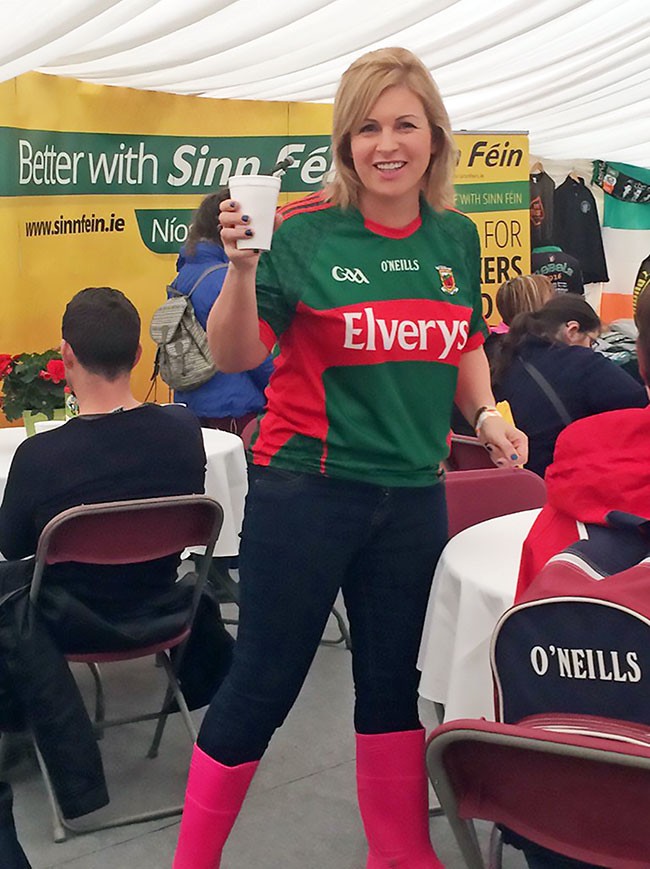 This election sets out fundamental change in rural Ireland. The stranglehold of Fianna Fáil and Fine Gael has had a devastating impact on the counties along the Western Seaboard. I believe the failure to have a proper peace and reconciliation process in the aftermath of the civil war has given us decades of tribal politics. People were defined by whether they were Fianna Fáil or Fine Gael. Successive governments saw no need for serious investment because voting behaviour could be predicted with a high degree of certainty. They didn't have to invest because they knew whatever happened, people would vote for more of the same. Until now!
It is precisely for this reason that I take a deep personal interest in the peace and reconciliation process in the North. We need to remember and learn from the high social and economic cost we have had to bear along the western seaboard for the absence of such a process; emigration, unemployment, poor infrastructure and neglect. This is why we need to be earnest, sincere and inclusive in our language and actions as we play our part in shaping the future of our Island.
Overall, this was a very enjoyable and successful campaign with a team of committed hardworking comrades headed up by my two directors of election Brían MacSuibhne and Gerry Murray who did a brilliant job. We must now remain rooted, relevant and republican while fulfilling our promises to those who placed their trust in us. It's no more complicated than that. Now all we need is the Sam Maguire!
• Rose Conway-Walsh is the Sinn Féin TD for Mayo