16 June 2020 Edition
The voices of ordinary people will be heard in the corridors of power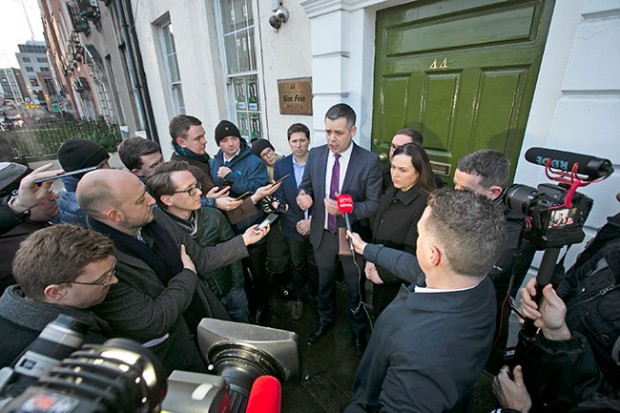 In the aftermath of the Leinster House elections as a shameless Fine Gael and Fianna Fáil began once again to attack Sinn Féin, Seán Mac Brádaigh sat down with Pearse Doherty, Sinn Féin's Finance spokesperson to talk elections, government formation negotiations and Irish unity.
What has changed that led to this election result?   
Pearse Doherty: Sinn Féin went out to the electorate with a very clear message. Something that was very different from the other parties.
We understood the challenges they were facing in their daily lives – things like the housing crisis, the costs of childcare, people facing dole queues at 65 years of age. They were being ignored by the other parties.
There has been an economic recovery but it hasn't benefited ordinary people. Most people will tell you they actually have less disposable income now compared to three or four years ago. 
Just look at issues like insurance costs. Insurance companies are making big profits while ordinary people struggle to pay higher and higher premiums. And what did the Government do about it? Absolutely nothing.
Housing was the top issue for many voters. They have had enough of parties representing the interests of landlords and developers while the housing situation escalated completely out of control.
I think younger people and those in the private rental market have suffered most. They want to see a party like Sinn Féin, that has clear policy solutions, go in there and solve the housing crisis by cutting rents and freezing them and by initiating the largest house building programme the state has ever seen.
Is this a long term change in the Irish political landscape?
PD: This election has seen a seismic shift take place in the political landscape of this state. It's no longer a case of two big parties, alternating which of them is in government despite having almost identical policy platforms.
The vote for Taoiseach, on Thursday 20th February, showed how significant a change has occurred when Mary Lou McDonald became the first person that wasn't from Fine Gael or Fianna Fáil to get most votes in a vote for Taoiseach.
We saw from the reaction of Mícheál Martin in particular, but also from the reaction of other politicians in Fine Gael and Fianna Fáil that this has been met with shock. Politicians from these parties are lashing out in a way that is actually insulting to the many people who voted for Sinn Féin. The certainty that these parties enjoyed is gone.
Did Sinn Féin over promise in its manifesto?
PD: Sinn Féin did not over promise in the election. Our manifesto was fully costed and our priorities were clear throughout the campaign. The manifesto now serves as the basis for discussion with other parties about putting together a Programme for Government that delivers on issues such as housing, health, childcare, pensions, giving workers and families a break, and preparing for Irish unity.
What will be different about a government involving Sinn Féin as a major participant?
PD: Any government where Sinn Féin is a major or leading participant will be very different to the governments that this state has had to date.
We will ensure that the voices of ordinary people are heard within the corridors of power.
We are determined to form a Government for Change that actually delivers on issues such as housing, childcare, healthcare - a government that gives workers and families a break by restoring the pension age to 65 and taking the first €30,000 you earn out of the USC.
We are also about fundamentally changing this country to deliver Irish Unity and build an economy that serves society.
So, when we talk about an economic recovery, what we are talking about is a recovery that improves the standard of living and quality of lives of ordinary people who carried most of the burden during the economic collapse.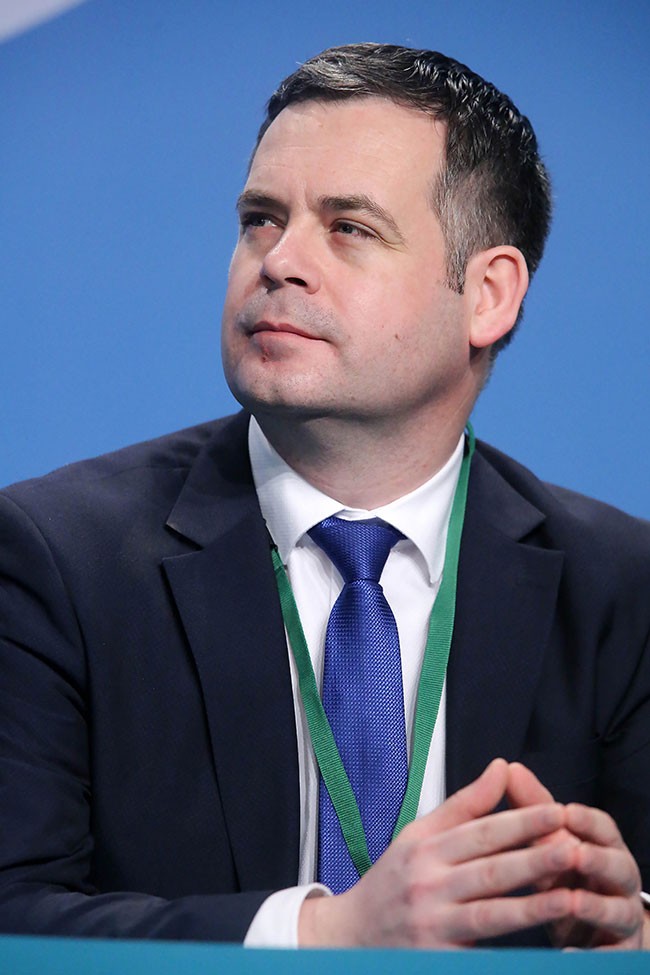 What difference do you think such a Government for Change can make in the lives of the average person?
PD: For a long time, people thought that we would never break the cycle where the only choice was a government led by Fine Gael or Fianna Fáil. This meant people lowered their expectations of what could be achieved – what could be changed.  Whatever else happens, that old certainty is shattered. The old mantra of these parties that there is 'no alternative' is gone.
So, what can we achieve in government? We can lift the burden from the backs of ordinary people who haven't experienced the benefits of the economy recovery; we can give workers and families a break – we can stop them being fleeced by insurance companies, banks and landlords; we can build public housing and improve our public services so that they actually meet the needs of citizens.
There are many areas where the change that Sinn Féin wants to deliver cannot be delivered overnight but there are some things that we can do within the first few months - freezing rents restoring the pension age to 65, and reopening closed hospital beds to deal with trolley crisis.
Is Irish Unity now on the agenda?
PD: Irish Unity is clearly on the agenda. It is a conversation that is happening across Ireland, North and South. For many people, Brexit fast-tracked this discussion. What Sinn Féin wants to do now is create the space for this discussion through the creation of an All-Ireland Citizens' Assembly on Irish Unity and through starting to plan for Irish Unity now. This forms part of our discussions with other parties and groups.
Fine Gael and Fianna Fáil have both ruled out doing business with Sinn Féin and the numbers don't seem to be there to form a left-led Government, so where does that leave things?
PD: Sinn Féin's preferred option is for a left-led government. We believe that would best represent the verdict delivered by voters.
But we have been very clear before, during and after the election, that we are open to discussions with all parties and that we respect all mandates. Unfortunately that has not been reciprocated.
It is increasingly obvious that Fianna Fáil and Fine Gael are preoccupied with carving-up political power between them to block any political change, and are doing everything in their power to keep Sinn Féin out in order to maintain the status quo. This flies in the face of what people voted for and does not represent change in any shape or form.
I think any party or group of individuals who would seek to give cover to this Fine Gael/Fianna Fáil carve-up will pay a very heavy political price in the long term.
What Sinn Féin must do now is to stay true to its election pledges, to what we said to the people about the need and the possibility for change, and that we should do all in our power to bring that about.
That means stretching ourselves; exploring each and every option; reducing the space to manoeuvre for the parties of the right; and seeking to find common ground with as many progressive TDs as possible to construct a government for change.
I don't believe that we have yet exhausted that process. So, I believe work is still to be done, that we have more people to talk to - and in greater detail - and that possibility remains open.
What are you saying to those parties you are talking to?
PD: What we are saying to other parties is that we have a mandate to build a Government for Change and in the first place we want to talk to and work with others who have a similar mandate or with whom we share common ground.
That's why we started by talking to those parties and independents who received a mandate for change, including the Social Democrats, The Green Party, Solidarity/People Before Profit and the Independents for Change, among others.
In the time ahead we will continue the discussion about how we address the issues that were central to this election campaign - building homes, cutting rents and freezing them, guaranteeing a pension age of 65 years, health and the trolley crisis, climate change and Irish Unity.