16 June 2020 Edition
'The real winners need to be the people' – Mary Lou McDonald
The most viewed Sinn Féin online video ever is the Dáil speech of Uachtarán Shinn Féin Mary Lou McDonald on 20 February, which we carry in full here. She had been nominated for Taoiseach by Sinn Féin Teachtaí Dála Pearse Doherty (Donegal) and Claire Kerrane (Roscommon-Galway). She received 45 votes in the Dáil division, beating Mícheál Martin and Leo Varadkar into second and third place. Her speech directly followed that of Mícheál Martin whose vitriolic attack on Sinn Féin backfired spectacularly. 
I too commend every Teachta Dála elected here, particularly the new Deputies and their families. I thank Deputies Doherty and Kerrane for proposing and seconding me for the position of Taoiseach. In line with the theme of change it is only appropriate to note that today for the first time a nominee from a party other than Fianna Fáil or Fine Gael has managed to garner the greatest number of votes. Perhaps that makes us winners again.
I see that we still live rent free in Deputy Micheál Martin's very narrow and bitter mind. I see that he proposes to continue the diatribe and vitriol that sustained him and served him very badly in the course of the election campaign.
We are all agreed that the motif and theme emerging from this election is change, but I hear a note from some Members who might seek to suggest that this is some kind of capricious nonsense on the part of the electorate, that perhaps people were not really sure what they meant by change, that it was some kind of fuzzy ill-defined feeling. Nothing could be further from the truth.
I was delighted to go the length and breadth of this State and to talk to hundreds, maybe thousands, of people and they told me what change means. 
Change means a secure roof over their heads, it means not having their adult children and perhaps their children living in the box room. Change means being able to pay your rent and not worrying from week to week or month to month that the landlord might knock on the door and tell you that it is game over. 
Change means not having your elderly relative on a trolley, not having that surgery or procedure cancelled again and not getting a letter from the authorities in the hospital saying the good news is that you have an appointment but the bad news is that it is 18 months away. Change means knowing that you have enough to get by reasonably well. Change means that you are not constantly bothered by the €2,000 in rent, €1,000 for childcare, and a real struggle to insure your car. That is what Imelda told me after the election. She is from Cork but now lives in Coolock and she voted for another winner, Deputy Mitchell. Change also means dealing with the climate emergency, not rhetorically or in the box-ticking way that the establishment do but really getting to grips with the green agenda.
Change also means that the old order must pass. That is really what the problem is here because of course government formation is about numbers. We can add. Of course it is about policy coherence, no one is arguing to the contrary but government formation is also about power and who wields it. The reality is that Fianna Fáil and Fine Gael have run the show for almost a century and, by Christ, they are not minded to let go. That is really what all of this is about.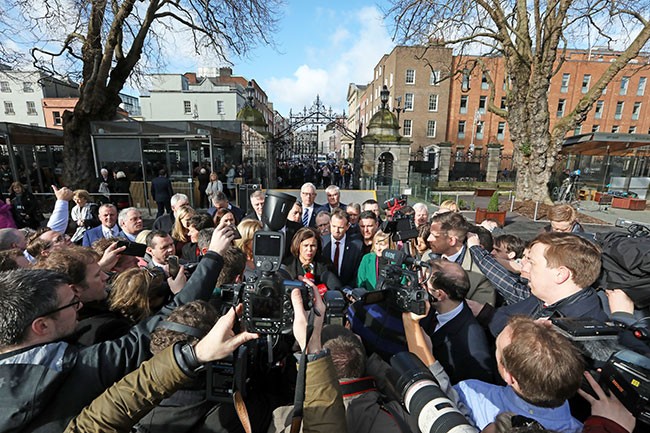 People told me very clearly that they were voting for us to be in government . The 500,000 or more people who voted for us were clear that a vote for Sinn Féin was not a protest, it was a vote for a different Government - a Government that would have the courage, the imagination and the energy actually to do things differently, a Government that would put the citizen and families and communities front and centre, not big corporates, not the elites, not the well-networked, not the people that Deputy Micheál Martin used to knock around with in the Galway tent.
Everybody who has been elected here is a winner, but the fact is, to do the maths, the winners were Sinn Féin, our colleagues in the Green Party, the Social Democrats and every party who said to the people there is a different and a better way to do government. I know in voting for us people said we want to give you the chance, we have seen the shambles, the same old same old same, the same problems persisting generation to generation on the watch of Fianna Fáil and Fine Gael and they said, "Sinn Féin, show us what you're made of. Get in there, perform and deliver".
The real winners in the midst of all this need to be the people. That is what this is all about. I have not heard anybody ask Deputy Micheál Martin to stay quiet. Although I suggest that some in his party might proffer that advice to him. The reason the issue of mandate is such a big deal is because two parties – but let it be said, Fianna Fáil in particular – have decided, in an arrogant, dismissive, self-righteous way, to disregard entirely the representatives of more than 500,000 people.
I will be honest: I do not really care what Deputy Micheál Martin thinks about me. I care less what he thinks about Sinn Féin. I will not take personal offence at that. What I will not tolerate and what is grossly offensive is to suggest to the citizens who vote for us that somehow uniquely their representatives are to be left in perpetuity on the sidelines because Deputy Michéal Martin does not like us.
We could extol the past. We could all write books on that. We could all trade hurts and insults. That gets us nowhere. As a matter of fact mechanisms to deal with legacy and the past have been agreed. Deputy Micheál Martin should know this, I know that Deputy Varadkar knows this. They need to be legislated for. Rather than all of the bile that Deputy Micheál Martin exudes, the constructive thing to do is to commit his party to moving those structures forward and to get the British Government on board for that. The most important thing that needs to happen now is a serious attempt to form a new Government.
Many people will speculate about what change means with regard to forming a Government. We have spoken about this before and share this view with colleagues. My first preference is for a left-leaning, progressive Government without Fianna Fáil or Fine Gael. We will continue to work for that. I also recognise that the very worst possible outcome from this election is Fianna Fáil and Fine Gael being back in government together. Not only do I think that would be a disastrous outcome, I will wager that the vast majority of people would regard that as a step backwards. I am very clear that is not what people voted for.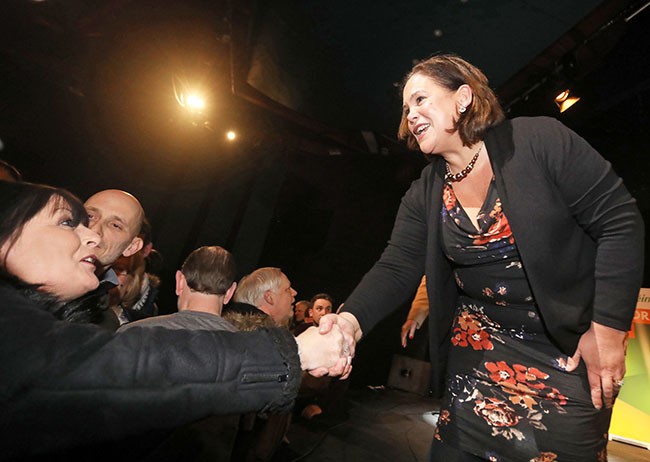 I propose that we actually listen to what people have said in a generalised way about change, a new beginning and moving forward, then in a very specific way about specific policy items. We need to talk to each other about those things. If Deputy Micheál Martin is concerned about the democratic practices within my party, I am deeply concerned by a party and a leader who sat around a Cabinet table with people who were subsequently jailed for corruption. I have a problem with that and I think that most reasonable people have a problem with that. I trust that that is no longer the case within Fianna Fáil and I am sure that we will be assured that it is not the case. 
I also know that if one keeps reaching desperately for the past, it really says that one is not up for the future. It says that there is something profoundly wrong, arrogant and dysfunctional in one's political positioning. I hope that Deputy Martin will change that position but perhaps he will not. Whether he does or not, the people who vote for us are not going anywhere. They live here. They deserve good government and the respect of being heard. Nobody, including Deputies Micheál Martin and Leo Varadkar, will disrespect the people whom we represent. We have made a commitment to them to represent them well and to make our very best effort to deliver that Government of change. That is precisely what we intend to do.  