16 June 2020 Edition
Sinn Féin – Ireland's biggest political party
There were so many firsts in the February 8th Dáil election, from the highest vote share to poll topping in 30 constituencies. There were victories across the constituencies where Sinn Féin contested seats. And in the 35 constituencies where Sinn Féin won seats there were historical record votes. 
To bring a flavour of the campaign and election counts, we have recruited our widest ever group of Sinn Féin members from TDs to activists on the ground to report on the election result. We also have a great piece from Caoimhghín Ó Caoláin that gives a context and depth to the journey the party has taken in the 26 Counties when he first won a seat in Cavan-Monaghan for Sinn Féin in 1997. Ó Caoláin's victory came weeks after Martin McGuinness and Gerry Adams won seats in that year's Westminster election.
In this election Sinn Féin reclaimed its two seats in Donegal, while in Cavan-Monaghan Pauline Tully and Matt Carthy made history as Sinn Féin took two seats here too. David Cullinane's poll topping in Waterford meant that Sinn Féin had more votes here than Fine Gael and Fianna Fáil combined.
Kathleen Funchion broke another electoral glass ceiling in being the only women ever to be re-elected in Carlow-Kilkenny, while overall 13 women were elected asSinn Féin TD, making it the largest party in the Dáil in terms of female representation. There were only 36 women TDs returned in this election.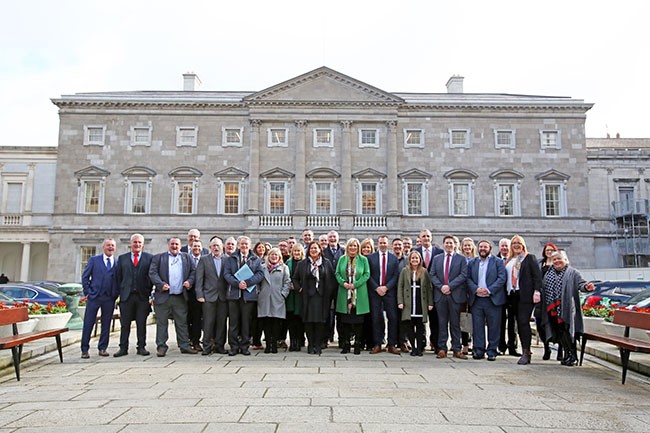 • 37 newly elected TDs for Sinn Féin on their first day at Leinster House 
In Dublin West, it was Sinn Féin poll topper Paul Donnelly who took the first seat in this constituency, while Taoiseach Leo Varadkar had to suffer the ignominy of waiting until the 5th count to take his seat. In the same constituency, the Labour slump worsened as former party leader and Tánaiste Joan Burton lost her seat.
Seán Mac Brádaigh interviews Pearse Doherty, Councillor Mícheál Mac Donncha gives the view from Dublin Bay North. Newly elected TDs Rose Conway Walsh and Claire Kerrane write on the challenges and expectations ahead. Returning TDs Kathleen Funchion and David Cullinane write from Carlow-Kilkenny and Waterford, while Senator Máire Devine takes us through the campaign on the ground in Dublin South Central. Cathal Óg Donnelly gives a Tyrone view on the scale of the Sinn Féin victory. Sinéad Ni Bhroin takes us to Donegal and back again.