16 June 2020 Edition
The old order must pass
Editorial - EagarFhocal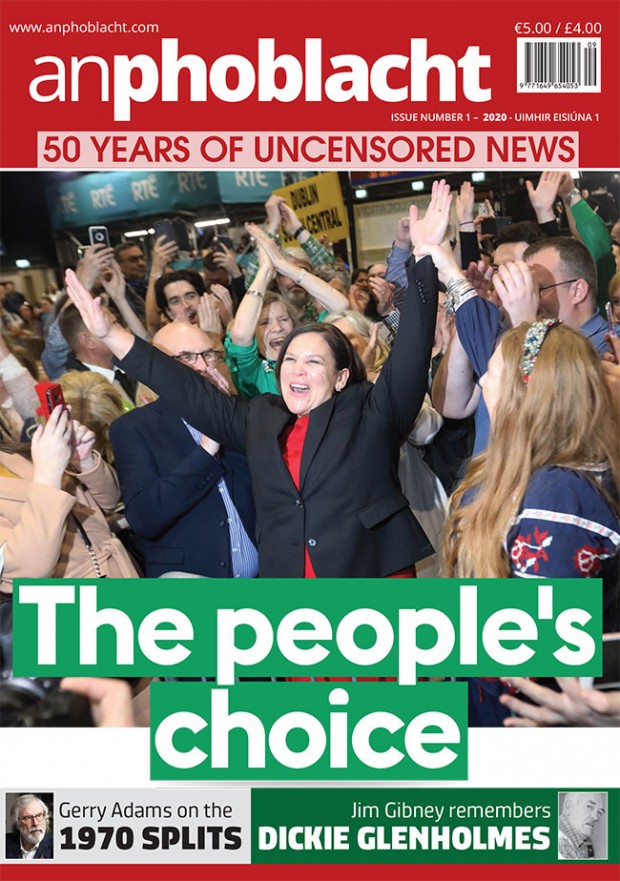 These were the words of Sinn Féin President Mary Lou McDonald, speaking in the Dáil on February 20th. In a passionate address, Mary Lou excoriated the Fine Gael and Fianna Fáil parties for their refusal to accept the need for fundamental change in Ireland.
McDonald said, "Fine Gael and Fianna Fáil have run the show for almost a century, and by Christ, they are not minded to let go". In one of the most viewed Sinn Féin videos ever, McDonald's speech has set the tone for the weeks that have followed the election.
Voters want change. Mary Lou put this in context in her Dáil speech. She explained the Sinn Féin vision of change, stating that for voters, "Change means a secure roof over their heads. Change means not having their adult children and perhaps their children living in the box room. Change means being able to pay your rent". 
"Change means not having your elderly relative on a trolley, not having that surgery or procedure cancelled again. Change means knowing you have enough to get by and get by reasonably well".
"Change means dealing with the climate emergency, not rhetorically or in the box ticking way that the establishment do, but really getting to grips with the green agenda".
"Change also means the old order must pass".
McDonald stressed that, "The real winners in all of this need to be the people". Emphasising this, she said, "The people who vote for us aren't going anywhere. They deserve good government. They deserve the respect of being heard".
Unfortunately in the world of the Fine Gael and Fianna Fáil there has been a failure to respect the Sinn Féin vote. Instead, there has been a stream of negative heckling directed at Sinn Féin supporters, particularly in the context of the ongoing meetings the party has organised around Ireland. But, the message is clear. The voice of the people in the February election needs to be heard.
This edition of An Phoblacht celebrates the February election with contributions from Donegal to Dublin and Waterford to Westport. It has contributions from Michelle O'Neill and Caoimhe Archibald on the business end of restoring the Executive and power sharing. We have reviews and articles from Gerry Adams, Jim Gibney, Grace McManus and a long read from Cian McMahon.
We also begin to mark 50 years of An Phoblacht and look forward to you being with us on this journey of remembering.