13 May 2020
Gerry Adams's 1970s internment was illegal, British Supreme Court rules
BRITAIN'S highest court has ruled that Gerry Adams was imprisoned illegally when he was interned without trial in the early 1970s.
In a ruling that will likely have widespread ramifications for Britain in relation to the cases of hundreds of other internees, the British Supreme Court said: 
"Mr Adams detention had not been lawfully authorised." 
The case was spurred by the uncovering of documents by the Pat Finucane Centre in 2009 which included a communications from the Director of Public Prosecutions to the British Attorney General warning that internees who were "held under orders which have not been signed by the Secretary of State himself may be unlawfully detained".
The British Supreme court also quashed Adams' convictions for attempting to escape from internment, as a person who is held illegally cannot be convicted of trying to escape:
"His detention was therefore invalid and it follows that he should not have been convicted of attempting to escape lawful custody," Judge Kerr said.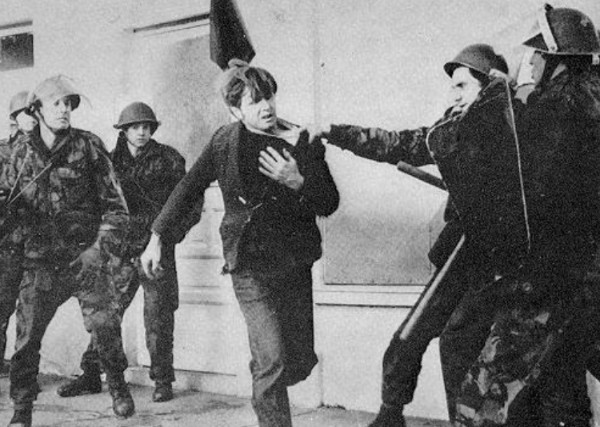 Gerry Adams was first interned in March 1972 on the prison Ship Maidstone which was anchored in Belfast Lough. Much criticised conditions onboard and a subsequent prisoner protest forced the British government to close it and transfer the internees to Long Kesh internment camp. 
Adams was released from Long Kesh a few months later, but the following year was re-interned.
Describing his experience in his book Cage Eleven, Adams said:
"I was airlifted back in again, this time black and blue after being used as a punchbag in Springfield Road British Army barracks and spending a few days in Castlereagh interrogation centre."
Adams also claimed he "became the camp's most unsuccessful escapee"  after being caught twice for which he received sentences of 18 months and 3 years respectively.
Following the ruling this morning, Gerry Adams thanked his legal team, saying:
"Of course internment was never lawful. In fact it set aside the normal principles of law and was based on a blunt and brutal piece of coercive legislation. I have no regrets about my imprisonment except for the time I was separated from my family. However, we were not on our own. It is believed that around two thousand men and women were interned during its four and a half years of operation."
The former Sinn Féin President also called on the British Government to identify others who had been interned under similar circumstances:
"There is an onus on the British government to identify and inform other internees whose Internment may also have been unlawful," he said.
Internment without trial was introduced on 9 August 1971 and continued until 5 December 1975. During that time, 1,981 people were detained – 1,874 were from the nationalist community, 107 were from the unionist community.