28 April 2020
The Bureaucracy of Evil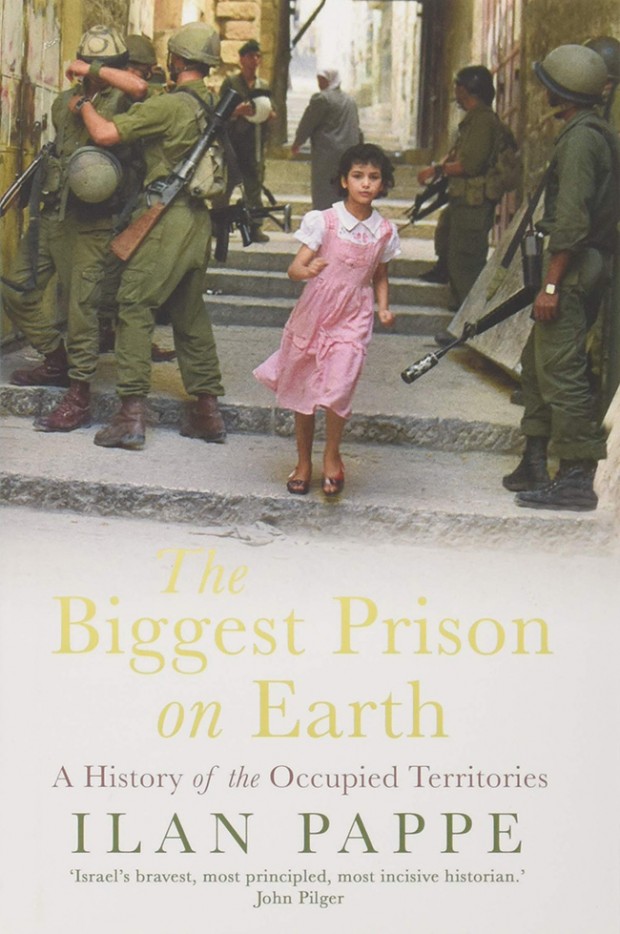 The quiet of a hotel TV room where I interviewed Israeli author and academic Ilan Pappe was in contrast to packed ballroom of Dublin's Wynn's Hotel where he spoke later that Saturday afternoon. The seats were full as people lined the walls standing two deep in places, even into the corridor outside the city centre venue.
Ilan Pappe was speaking at the launch of the paperback edition of The Biggest Prison on Earth: A History of the Occupied Territories. Earlier that day Pappe discussed his book along with his hopes and concerns for plight of the Palestinian people.
Pappe has been living in Britain for 13 years. He is a Professor of History at the University of Exeter and Director of the College's European Centre for Palestine Studies. Pappe explained that it was "the first ever academic centre for Palestine studies", and "I felt that I could make a difference through that kind of institute".
I asked Ilan about the label "new historians". It is a term used to characterise Pappe and other academics who began in the 1980s to produce work, based on archival research, which challenged the orthodoxies of how the Israeli state was founded in 1948, and how it legitimised its development since. Pappe describes the work as "Using the archive to debunk some of Israel's foundational myths".
'New Historians', is not a term Pappe uses, though the label has stuck. He says "We stumbled onto it in many ways". It was he says a "new history compared to the old Israeli history". It was concerned with "new revelations or substantiating some of the major claims made by Palestinians about 1948". 
Pappe said, "At the time it was important. Israeli historians, using Israeli material, saying to the nation, whatever they told you about '48, there is a lot of fabrication and lies about it. Whatever the Palestinians claim happened to them, there is a lot of truth in it".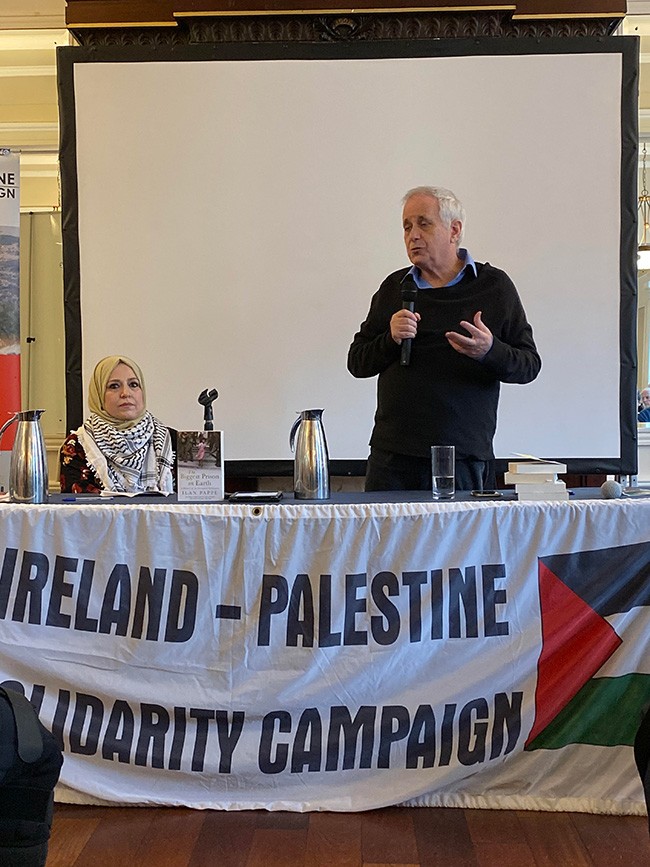 • Ilan Pappe speaking at Wynn's Hotel
Pappe elaborated on the importance of positive national foundational myths and histories. He said, "We have to be careful. We should not take a lofty approach to nationalism. For many people it liberated them. For many people it is a sacred point of reference."
"There is no denial that nationalism is a modern construct and there is no denial that whoever are the fathers and mothers of the nation, they concoct a story". Pappe believes that, "What is important is that the story defines a nation". He argues that, "Academics have a tough mission. They have to decide if they will challenge these stories. When you challenge it you get into trouble, especially when there is a conflict going on."
"Every national myth is a mixture of facts and fiction. The important thing is not its validity. The important thing is what you do with the story. If in the name of the narrative I, kill you, dispossess you or abuse you, then there is a problem with the story. If the story allows me to feel more connected to other people or a place, and doesn't come at the expense of anyone else, that's a very good narrative. If the story allows me liberate myself from oppression, colonisation or occupation, it is an important story."
"If the Palestinians tell the story of being colonised, or ethnically cleansed, or constantly being the victim, and in 2019 they look around, the reality confirms that these are not fairy tales."
Pappe believes that his academic work "has strengthened the universalist human side of me. It enabled me to understand my own accountability and responsibility". However. he has lost friends and family. "People stop talking to you. People regard you from their point of view genuinely as a traitor. You pay a price". Talking about Israeli society, Pappe believes it has become "more nationalist, more religious, more fanatical".
Pappe wrote The Biggest Prison on Earth because he "felt the whole peace process discussion since 1967 in the West lacks the historical origins of the '67 occupation and is naively sometimes based on a wrong understanding of the Israeli ideology and strategy".
"Therefore, I thought if I could reconstruct historically, the origins of the Israeli decision to occupy the West Bank and the Gaza Strip in the mid 1960s and explain the strategy early on in the occupation, and how it does it affect the peace process and how does it explain the failure of the peace process. I thought that if you can do it in one book maybe it can explain why we are where we are, and why there is an urgent need to look for an alternative."
To understand the Israeli policy between 1964 and 1968, Pappe was "lucky the Israelis released some cabinet meetings, quite a lot of people wrote memoirs, more honestly than the first round of memoirs. For the period after 1970, human rights organisations were so good in recording and documenting everything, you really didn't need much of any official documentation".
Pappe explained that, "the original title was the Bureaucracy of Evil". He describes this as "a mechanism that Israel is using. It is an important part of the story. I think the two models of prisons that Israel is building, especially the open model, and selling it as if it is a peace solution, it is a fulfilment of their aspiration".
"You can go to a pub in Ramallah, and you might have a nice car. This is not what life is only all about. You are lacking something that even the poorest person in Dublin has. You are lacking the freedom of your own movement. That is a prison. You are in a prison. You may be in dire straits in London or Dublin but you are not in a prison. Israel has a physical presence of 600 checkpoints, to make sure you remember how limited your movement is."
I asked Pappe about the academic boycott. He said, "I fully understand it is not easy. We all want freedom of expression. A boycott between academics is not a natural thing. People should consider it as having a tough conversation with Israeli academics. It is a dialogue, it is not a punishment. It is saying how do you expect us to be part of your institution in any way or form when you are complicit in what we know is going on on the ground."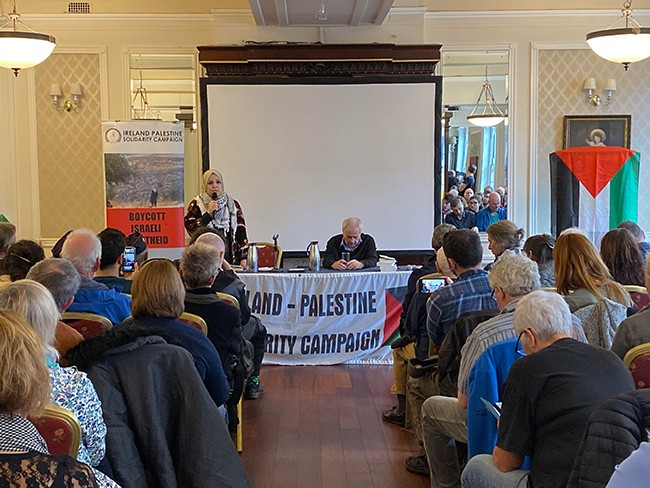 • Fatin Al Tamimi, Chairperson of the Ireland-Palestine Solidarity Campaign
So what should people who are concerned about Palestine do? An intriguing answer was that "People who are interested in Palestine should be VIPs".
"V for visit if they can. It is not easy. If you are branded as a pro Palestinian person you might not be allowed in. But if you can, go. It is very important for people there to know they are not forgotten. The human contact is very important. The other reason is what you see there in five minutes no good article could convey to you." 
"The 'I' is inform. There is so much reductionism, fabrication and distortion in the mainstream media. With the internet you can get a lot of good information, you can also get a lot of false information. It is very important to find the venues in the media to educate people about what goes on."
"A great example is that I am sure many people here and in the West identify with the Chinese youngsters who are demonstrating in Hong Kong. What they have suffered so far does not even come close to what the Palestinian demonstrators, every week, on Friday on the Gaza border are suffering from. And yet nobody reports the Gaza protests anymore. Yet the media reports every minute of what is going on in Hong Kong."
"The 'P' is for Protest. There are so many ways to protest. The most active protest is the boycott."
I asked Pappe what he thought was next for Palestine and Israel. He said firstly, "The final word on the American position has not been said. And America is a key factor. They are sustaining Israel as a military power, protecting Israel in the diplomatic arena."
"Regionally the whole story of the Arab Spring has not ended yet. As historians we know that revolutions and counter revolutions seem to be lost, but then they come back. I think this is an ongoing process. I don't think it is over yet."
Finally, Pappe emphasised the need to "Protect the memory of the 1948 movement". He said, "I mean because 1948, (when Israel declared independence unilaterally, and expelled 711,000 Palestinians), was such a huge crime, and was denied, and still is denied. If it is not remembered properly you don't understand why Israel is doing the same thing it did in 1948 today in Gaza, in the West Bank and inside Israel. It is kind of an historical chapter, we are still in it. If we deny its origins, we deny the reality as it is."
The Biggest Prison on Earth: A History of the Occupied Territories is published by One World Publications price €18.19.