25 April 2020
The Weekly Digest from Sinn Féin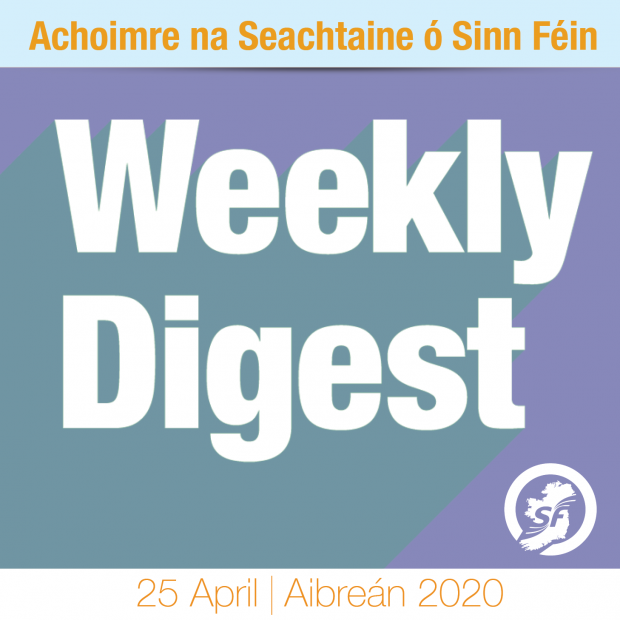 Mary Lou McDonald hits the ground running
Mary Lou McDonald returned to work this week after recovering from Covid-19 and made a number of media appearance including the Six-One News on RTÉ, the Tonight Show on Virgin Media One and the Late Late Show last night.  Mary Lou also took part in a Sinn Féin Online Public Meeting on Monday evening and spoke in the Dáil on Thursday.  Videos of all of these can be seen on the Sinn Féin Facebook page. 
Speaking on her return to work Mary Lou said; "My main message is around hope. I'm never giving up. I'm determined that we can change Ireland for the better and ensure that our young people get to live their best life."
You can watch Mary Lou here: https://www.facebook.com/sinnfein/videos/526912114668960/
You can also see a clip of Mary Lou's Late Late Show interview here https://www.facebook.com/sinnfein/videos/216980486415951/ or watch the full interview at www.rte.ie/player
Gerry Adams launches new podcast
Gerry Adams has launched a new podcast to accompany his regular blogs at www.leargas.blogspot.com
He has two podcasts up already, the latest one entitled 'Leo and Micheál: The Toxic Twins of Austerity'. You can find them here: https://www.buzzsprout.com/991288
Caretaker Government needs to end mixed messages – Louise O'Reilly
Louise O'Reilly has called out the inconsistency in the government's messaging in relation to the restrictions in place to help tackle the Covid-19 pandemic.  This was after the Health Minister Simon Harris last week hinted that primary schools may reopen once a week before coming out a couple of days later to ask people not to get complacent.
You can see Louise's comments here: https://www.sinnfein.ie/vacancies
Communities Minister Deirdre Hargey brings forward emergency measures to support families and workers
Sinn Féin Communities Minister in the North Deirdre Hargey has brought forward a package of measures to help workers and families during the Covid-19 pandemic.  These include Discretionary Support Payments, a new Living Expense Grant and legislation to support renters and stop evictions. 
You can watch Minister Hargey's announcement here: https://www.facebook.com/sinnfein/videos/944257382658922/
Fine Gael and Fianna Fáil determined to keep Sinn Féin out – Mary Lou McDonald
Speaking on RTÉ News this week Mary Lou McDonald said FF/FG are determined to keep Sinn Féin out of government at all costs because they know that we are determined, capable and ready to get stuck in and deliver the real change we need in terms of housing, health, pensions, childcare and much more.
Watch Mary Lou's interview here: https://www.facebook.com/sinnfein/videos/253771152414938/
Online picket in support of Debenham's workers
Sinn Féin representatives this week supported an online picked in support of fair treatment for Debenhams workers. 
Cork North Central TD Tommy Gould took to Facebook to voice his support for the workers.  Watch his video here: https://www.facebook.com/sinnfein/videos/2544184952489277/
Watchback – Online public meeting with Sinn Féin leadership team
Sinn Féin's leadership team this week held an online public meeting where they took questions from the public on getting through the COVID-19 crisis together and how we rebuild our society and our economy that delivers for workers and families, especially when it comes to health, housing and ensuring you have enough to live a decent life.
You can watch the meeting back here: https://www.facebook.com/sinnfein/videos/304821770499918/
Ógra online classes
over the next number of weeks, Ógra Shinn Féin have organised a series of online classes. These sessions cover a number of different topics and will be ongoing during the Covid-19 restrictions. 
 The sessions are open to all members of Sinn Féin and if you wish to take part you can follow the link below: 
(If on a PC or Mac you can view the class from the browser, or if you are on mobile you will need to download the google hangouts app)
https://meet.google.com/rnk-xfoi-kog
The timetable and detail of the relevant online sessions are as follows:
Tuesday 21st April 7.30pm
'Ending the blockade: Cuba in 2020'
With: Phil Kelly (Belfast Cuba Support Group) and Cuban Ambassador to Ireland Hugo Ramos. 
Thursday 23rd April 7.30pm
'The politics of the Western Sahara'
With: Polisario Front Ambassador Sidi Breika & Ciarán Ó Meachair
Monday 27th April 7.30pm
'The Red and the Green: Trade Unionism and Irish Unity'
With: Mary Doolin, Senator Paul Gavan, Jim McVeigh 
Thursday 30th April 7.30pm
'Revolution to Ballot Box in Nicaragua'
With: Deputy Ambassador to Britain, Ireland and Iceland Daniel Corieli
We hope you are well during this difficult period, and encourage as many members as possible to take part in these sessions.
Covid-19 Hardship fund
Sinn Féin spokesperson on Social Protection John Brady TD has said that the government must step up and provide increased supports for older people affected by Covid-19 after Age Action and the Red Cross announced that they will close the application process for the Covid-19 Hardship Fund due to the volumes of applications.
You can read John's statement here: https://www.sinnfein.ie/contents/56577
Susi grants
Sinn Féin spokesperson on Education Donnchadh Ó Laoghaire TD has said that the Minister for Education needs to clarify the eligibility criteria for SUSI grant applications for those whose incomes have been affected as a result of the Covid-19 pandemic.
Read Donnchadh's statement here: https://www.sinnfein.ie/contents/56576
Childcare plans for health workers embarrassingly poor – Louise O'Reilly
Sinn Féin spokesperson on Health Louise O'Reilly TD has called the government's childcare plans for healthcare workers 'embarrassingly poor' and has said they come nowhere near close to delivering what is needed.
Read Louise's statement here: https://www.sinnfein.ie/contents/56579
Exclusion of Irish from education resources
Sinn Féin representatives Karen Mullan MLA and Senator Niall Ó Donnghaile have called on Minister Peter Weir to address and rectify the exclusion of the Irish language from Education Authority education resource packs which are available in eleven other languages.
Read their statement here: https://www.sinnfein.ie/contents/56578
Social Housing building sites
Sinn Féin Housing spokesperson Eoin Ó Broin TD while not objecting to the re-opening of small and near completed social housing construction sites, has called for a series of checks and protections to be put in place to guarantee the health and safety of construction workers.
Read Eoin's statement here: https://www.sinnfein.ie/contents/56566