23 April 2020
No return to the status quo
FF-FG 'framework document' is spin not substance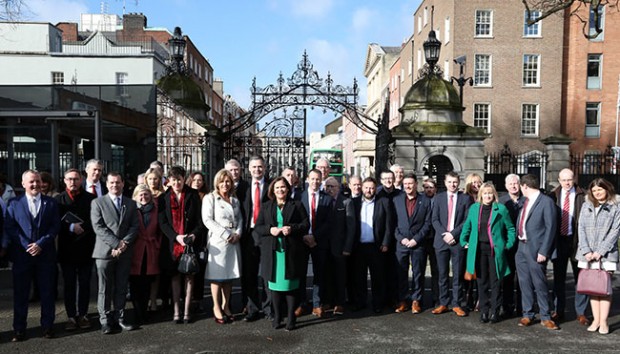 "There can be no return to the status quo." These words of Martin McGuinness in different circumstances can be equally applied to what must happen when this pandemic is beaten. A number of important lessons are being learned and we must apply them. 
Chaos or Community? This was the question asked by Martin Luther King in 1968 and is more relevant than ever. Are we a society or an economy? Citizens or consumers? We can only fight the virus as a community, as a society, and if we put the capitalist economy first then we end up with chaos as in the USA now. 
Public services are invaluable. Our public health services, emergency services, public transport, education, postal service, and local authorities all provide vital supports for individuals and communities that the for-profit private sector cannot and will not provide. 
The under-resourcing and privatisation of our public health services has cost lives. 
The almost total reliance on the private sector to care for older people, with inadequate standards, and a low-paid workforce struggling to cope, has also cost lives. 
The childcare system is not fit for purpose and its inadequacy adversely affects other sectors, most notably health workers. Lack of accessibility and affordability, low pay and the need for improved training and education have to be addressed seriously.
The refusal of successive FF & FG governments to provide decent housing for all which, in this pandemic, has placed families and individuals in real danger. 
The vital work done by low-paid workers, for example retail workers and cleaners, and the need to pay them accordingly. 
The slavish attitude to the EU bureaucracy by successive FF and FG governments even when there is no requirement to do so - most notably their rigid adherence to 'freedom of movement' which has meant no proper checks and no restrictions on entry to Ireland through ports and airports. 
Partition costs lives. We are hampered in implementing the necessary All-Ireland, island-wide approach to this pandemic by Partition and British jurisdiction in the Six Counties. This undermines our key advantage as an island nation. 
Capitalist monopolies cost lives. The pandemic has exposed the fact that the pharmaceutical industry monopolises for profit much vital life-saving science. Covid 19 testing here is delayed by the shortage of re-agents, the formula for which is owned as private property by a multinational company. It could be made here by our extensive pharmaceutical industry. 
The inequalities in our society, the under-resourcing of our public services, the undervaluing of workers, the hardship faced by many  families and individuals are a direct result of policies pursued by successive FF and FG governments. They cannot in any way be trusted to steer us towards recovery. 
The recently published framework document published by FF and FG underlines this point, despite the days of selected leaks that preceded its publication, and the post-publication spin. There is an effort to convince the public that the document sets out key principles, that it is an agenda for change, that it takes on board policies of Sinn Féin and other parties seeking change. When you read it you find that it does no such thing, that it is a document of spin, nodding in the direction of change but with no real substance and no basis in principle.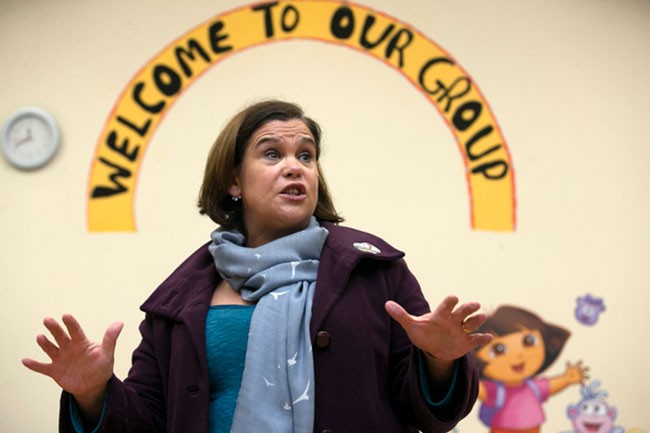 • Uachtarán Shinn Féin Mary Lou McDonald
There are no basic rights or principles - such as the right to housing and healthcare - set out in the document, only aspirations. Nor is it a programme for change because there is no mention of what we need to change from. It nowhere acknowledges that the austerity approach was wrong and that a repeat of that disastrous approach must be ruled out. So much for its statement that there is "no going back to the old ways of doing things". 
In light of the refusal of both FF and FG to even discuss Government formation with Sinn Féin, the document's introduction makes amusing reading: 
"We are an island nation bound together with solidarity." (But not with over 700,000 people throughout Ireland who vote Sinn Féin!) 
We must mobilises the "best ideas from the parties and groupings involved" and "build on ideas from all parties and none". (But not Sinn Féin of course!) 
"We now invite other parties and groupings to enter discussions." (No Shinners need apply!) 
Then we come to the specifics of the document...But the problem is the specifics are very few and far between. On housing there is no recognition of the right to housing as a basic principle and no commitment to a Government-led building programme. On health, lip-service is paid to Sláintecare but with no timetable for implementation and, even in the face of the pandemic, no acknowledgement that the two-tier system is wrong and must go. There is talk of a living wage, within the lifetime of the government, but overall the 'new social contract' is a masterpiece of vagueness.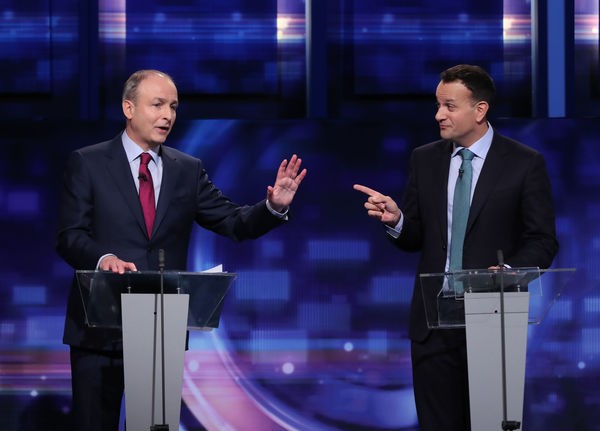 • Fianna Fáil leader Micheal Martin and Fine Gael leader Leo Varadkar
The lack of firm commitments and of any attempt at costings is glaring. If Sinn Féin had produced such a document it would be torn to shreds with cries of 'fairytale economics'. There are lots of nods towards issues FF and FG identified as of concern to voters with the result that there is a lot of lip service going on. This is glaring in the section called 'a shared island'. They cannot bring themselves to mention a United Ireland, let alone the dreaded referendum. The only concrete proposal is to establish a unit within the Taoiseach's Department, which is FF's pathetic effort to answer the case for a forum on Irish Unity and a definite programme towards the unity referendum. 
While costings are entirely absent from the document, FF and FG are very clear in saying that there is to be no increase in income tax. So the wealthiest elite need have no concern that they might have to pay their fair share to fund public services for all. The document obediently bows to EU fiscal rules and the stability and growth pact, and to 'enhanced security co-operation', with no mention of any type of EU reform. 
The document is spin not substance, designed to tempt the Greens, the Social Democrats and the Labour Party to facilitate the FF-FG effort to cling to power. It remains to be seen how that will play out. But what IS certain is that after this pandemic is beaten, the real change demanded by the voters in February will be crucial for a genuine recovery for all. FF-FG's plan is not for such a recovery but for more of the same. 
An Phoblacht on Twitter

An initiative for dialogue 
for reconciliation 
— — — — — — —
Contributions from key figures in the churches, academia and wider civic society as well as senior republican figures