21 April 2020
Volunteer Tony D'arcy's death on Hunger Strike
Remembering the Past - 80 years ago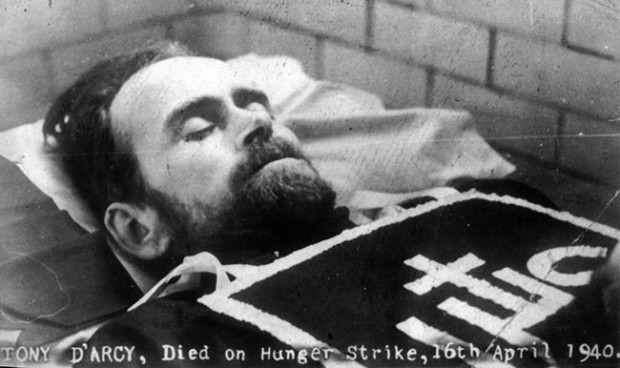 Volunteer Tony Darcy died on hunger strike in Arbour Hill Prison on April 16th 1940. Anthony 'Tony' D'arcy was born on November 25th 1907 to a farming family in Cloonkeely on the banks of Lough Corrib, west of Headford. He was the youngest son of John and Mary D'arcy and had 11 siblings.
The D'arcy household was the largest in their townland and another branch of the family lived in Claran, Headford where Tony's uncle Nicholas D'arcy and his wife Mary were national school teachers. Many of Nicholas and Mary D'arcy's children were active republicans in the region throughout the revolutionary period. Their son Aloysius, known as Louis, was Commandant of North Galway Brigade IRA during the Tan War and was murdered by British forces in March 1921 at the age of 23.
After being arrested at Oranmore Train Station, Louis was shot dead and his body dumped in nearby Merlin Woods. Tony D'arcy would have been 13 years old when his cousin Louis was murdered and this event, as well as the wider struggle in Galway during these years, undoubtedly had a significant influence on Tony's republican activism in years to come.
A decade after the death of Tony's cousin Louis at the hands of British forces, republicans in Galway operated under threat of arrest, imprisonment or even death by Free State forces. The Old Malt House on High Street in Galway City was frequented by many republican figures around this time, particularly due to the fact that the Walsh family who ran it were well known republicans. Their father, Michael Walsh (Mícheál Breathnach), was elected as a Sinn Féin Urban District Councillor for Galway in February 1920; eight months after being elected he was taken from his home, marched down to the docks and shot dead.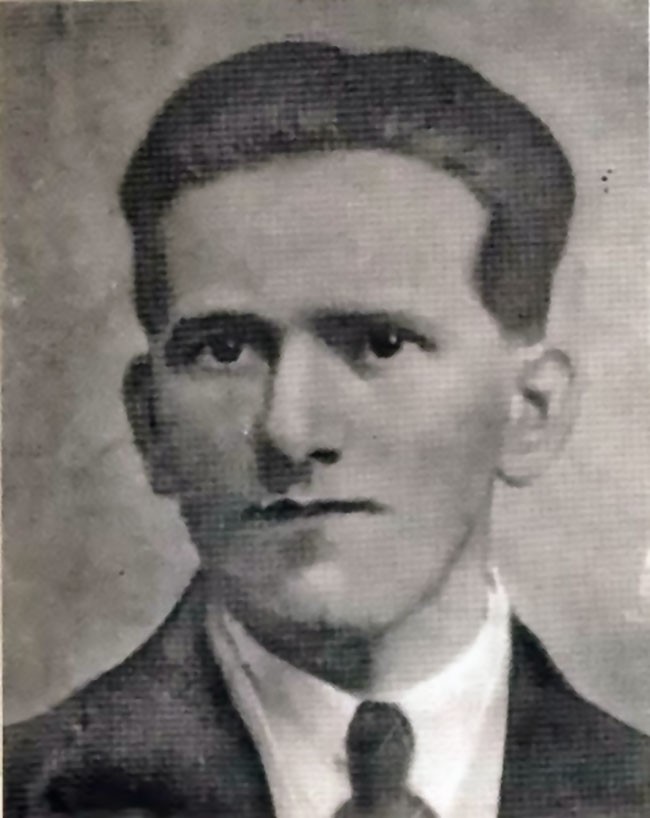 • Tony D'arcy's cousin Louis, killed by British forces in March 1921
Tony D'arcy, who had an undertaker business and garage in Headford in the 1930s, was a regular visitor to the Old Malt House and clearly possessed a dry humour that endeared him to many. On one occasion he met Pierce Fennell at Walsh's to give him some ammunition that he had been looking for. On handing over 40 rounds to Fennell, Tony said "if you do kill anyone with that stuff, try and remember me, I am an undertaker and I need the business."
When Seán Russell became IRA Chief of Staff in 1938, he immediately appointed Tony D'arcy as O/C of the Western Command. On 28th November 1938, three volunteers were tragically killed in a house near Castlefin, Co. Donegal due to a premature explosion. One of these was Staff Captain Jimmy Joe Reynolds, from Bornacoola near Dromod in south Leitrim. Tony was in overall charge of Jimmy Joe's funeral where his commanding manner ensured that the firing party were well drilled and that the Mohill Garda Superintendant did not trouble the gathered mourners.
Tony often read the IRA statement at commemorations and he was one of the main speakers at the 1939 Easter Commemoration held at the Republican Plot in Donaghpatrick Cemetery on Easter Sunday 9th April 1939. This was the last such commemoration that he would have the opportunity attend.
Tony was arrested at a Sinn Féin GHQ meeting in 40 Parnell Square, Dublin on the night of Saturday 17th February 1940. He was sentenced along with Michael Traynor, Belfast, by the Special Criminal Court to three months imprisonment in Arbour Hill for refusing to give his name and address or to account for his movements.
A crisis developed in the prison when Nicky Doherty of Julianstown, County Meath, was sentenced to five years penal servitude. Instead of being transferred to Arbour Hill where other republican prisoners had political status, he was lodged in the criminal section of Mountjoy Gaol.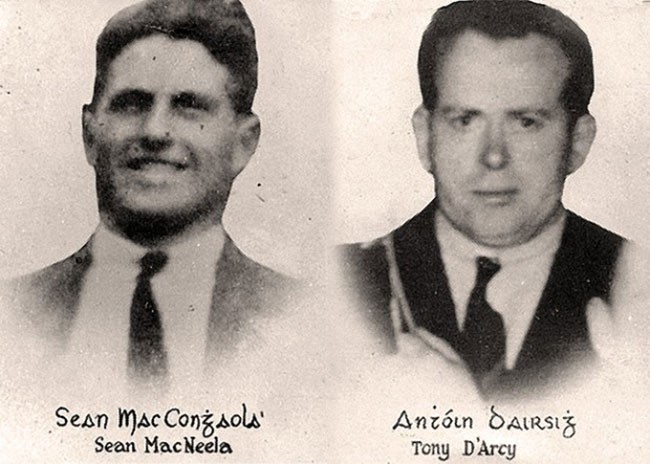 Seán McNeela, as O/C of Republican prisoners in Arbour Hill, met the governor of the jail and requested that Nicky be transferred to Arbour Hill on the grounds that he was a political prisoner. The request was ignored and so Seán met with his prison council to consider the situation. It was decided that they would go on hunger strike until the demand was accepted.
On Sunday 25th February 1940, six republican prisoners embarked on a Hunger Strike. They were Seán McNeela, Ballycroy, County Mayo; Tony D'arcy, Headford, Co. Galway; Tomás Mac Curtáin, Cork, a son of the martyred Lord Mayor; John "Jack" Plunkett, Dublin, son of Count Plunkett and brother of 1916 Rising leader Joseph Plunkett; Tommy Grogan, Drogheda, County Louth; and Michael Traynor, Belfast, who later became Ard-Rúnaí of Sinn Féin.
Seven days after the commencement of the hunger strike, Special Branch officers came to take Seán McNeela to Collins Barracks for trial before the Special Court. Seán refused to go but they told him they would take him by force and so a hasty meeting of the prison council was held to decide on how to resist.
Barricades were erected in the D Wing of the jail. Beds, tables and mattresses were piled on top of each other and general preparations were made to resist the removal of Seán. A large contingent of Gardaí arrived, together with the Special Branch. The Gardaí charged the barricades with batons; the Special Branch men kept to the rear and looked on while the Gardaí were forced to retire by prisoners armed with chair legs. The prisoners had a quantity of lime which was liquified by some Mayo men and flung in the faces of the charging Gardaí.
Finally, the fire hydrants were brought in and the force of water from the hoses broke down everything before them. The barricade was toppled and the prisoners, drenched to the skin, could not resist the pressure of the water; they were forced to take cover in the cells.
Tony D'arcy and Seán McNeela got into a cell and closed the door. After a few minutes it was burst open and in rushed about five Gardaí. Tony, standing under the window facing the door, raised his hand but was silenced by a blow of a baton across the face that felled him. Seán was beaten across the cell as blood teemed from his face and head. These wounds on Seán and Tony never healed.
• Tony D'arcy's funeral
Seán was taken away that evening and tried and sentenced by the Special Court. He was charged with "conspiracy to usurp a function of government" and sentenced to two years. He had been running a pirate radio station when arrested. On the eve of St Patrick's Day, all six hunger strikers were removed to St. Bricin's Military Hospital.
One night while in St. Bricin's, Tony D'arcy cried out to his comrade Seán McNeela, "Seán, I'm dying". Seán replied, "I'm coming, Tony". Other prisoners appealed to Seán not to get out of bed as he was very weak and they felt it would kill him, but Tony's cry pierced his heart and he got up and staggered across the room to his friend.
Later that night, Tony was taken out to a private ward. The IRA Volunteer from Headford, County Galway, died at 5.00am on 16th April 1920 after 52 days on Hunger Strike aged 32. He left behind his pregnant widow Julia and 2 sons, Noel and Joseph. Tony's daughter Maura was born after her father's death.
The day following Tony's removal from the ward Seán McNeela's uncle, Mick Kilroy, a Fianna Fáil TD, came to see him. But rather than coming to offer help, Kilroy attacked Seán for "daring to embarrass de Valera" by such action and demanded that he give up his hunger strike at once. Seán ordered him out of the room and the next day, 19th April 1940, Seán McNeela, IRA Volunteer died.
The strike had been called off the day before by the IRA's GHQ but word had not got into the prison in time to save Seán. It later emerged that Fr. O'Hare had applied to the then Minister for Justice, Fianna Fáil TD Gerald Boland and Taoiseach Éamon De Valera to interview the men on Hunger Strike in Arbour Hill on three occasions but was refused. At the inquest in to Tony's death, Fr. O'Hare said "I had every reason to believe the hunger strike would have been settled a fortnight ago if I had been allowed to enter Mountjoy." When asked if he had made this situation clear to the Taoiseach and Minister for Justice, Fr. O'Hare stated "Yes. They had no explanation of their refusal. They simply said they could not give me the permission."
Tony D'arcy's funeral took place on Thursday 18th April in St. Patrick and Cuana Church (Corner Chapel), Kilcoona after 10.00am mass with burial the following day at 2.00pm in the Republican Plot at Donaghpatrick Cemetery where he had spoken the previous Easter.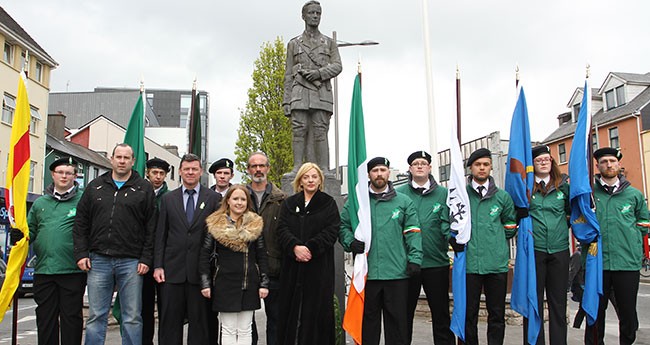 • Photo from Easter 2017 of Tony D'arcy's grandson Louis Tierney attending the Galway City commemoration
Many of the same men involved in the Jimmy Joe Reynolds funeral, led by Tony, were also selected by Paddy McGrath to take part in the firing party over Tony in Donaghpatrick. By the time the funeral procession had arrived at the cemetery, however, a strong military and Garda force had already taken up positions. After waving relatives and wreath bearers in to the cemetery – which were in fact IRA volunteers and comrades of Tony – the Garda Superintendent in attendance attempted to block the remainder of the funeral procession, at which point Tony's wife rushed at the Superintendent shouting "You murdered him". Funeral marchers broke through lines to enter the cemetery. The scuffles that followed and the big crowd that now thronged Donaghpatrick Cemetery led the man in charge of the firing party, Paddy McGrath, to call it off for fear of injuries to any mourners. McGrath himself was executed by a Free State firing squad in Mountjoy Gaol 5 months later along with Thomas Harte from Lurgan, Co. Armagh, having been tried by a Military Tribunal under the Offences Against the State Act brought in by the Fianna Fail government.
IRA Volunteer and well-known Irish language writer Máirtín Ó Cadhain from the Cois Fharraige Gaeltacht in south Connemara delivered the funeral oration. Although the text of his speech is no longer available, it is reported that some fighting broke out during the oration and Ó Cadhain reacted fiercely, "The murderers, the murderers, the murderers… Not even satisfied to kill him, but they want to hound him into the grave!". Ó Cadhain was safely removed from the cemetery by his comrades but later arrested in Headford and imprisoned in Galway Barracks before being transferred to the Curragh Camp some days later. While being questioned in Galway Barracks, Ó Cadhain was asked what he had been doing since he was released from Arbour Hill Prison, to which he replied "Trying to take the Kingdom from the King".
Tony D'arcy's children, who grew up with their mother Julia in Knockroon, Headford, made lives for themselves in Galway City and Moycullen. All three have passed away in the last 8 years but are survived by Tony's 14 grandchildren and their own children.
References
An Phoblacht (2005). McNeela and Darcy die on hunger strike - Remembering the Past. Available at: https://anphoblacht.com/contents/13330.
Mac Eoin, Uinseann (1997). The IRA in the Twilight Years: 1923-1948. Argenta Publications, Dublin.
Ó Cathasaigh, Andrias (2002). Ag samhlú troda: Máirtín Ó Cadhain 1905-1970. Coiscéim, Dublin.
Ó Súilleabháin, Cormac (2014). Leitrim's Republican Story: 1900-2000. Cumann Cabhrach Liatroma: Béal an Átha Móir.
The Anglo-Celt, 20th April 1940.
The National Archives of Ireland. Census of Ireland 1901/1911. Available at: http://www.census.nationalarchives.ie.
Tuam Herald, 2nd April 1921.