9 April 2020
Bobby Sands: 'Ordinary person with an extraordinary legacy'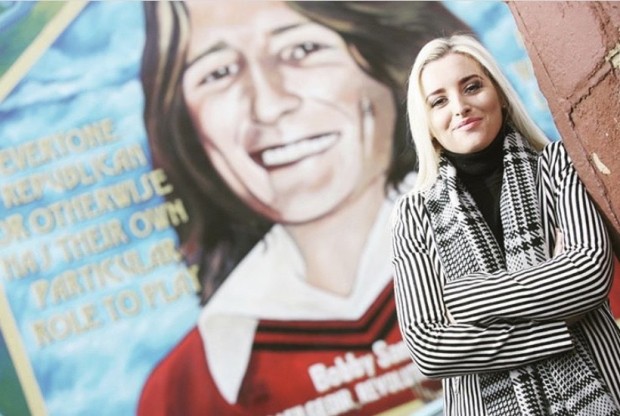 "Bobby Sands like many men and women in our community, was an ordinary person who, as a result of British oppression, went on to do extraordinary things and leave an extraordinary legacy" - Órlaithí Flynn MLA
As we enter Easter week and on the anniversary of Bobby's Sands election on this day in 1981, I find myself reflecting on republicanism and thinking of what an honour it is to be a part of the Colin community, the home place of Bobby Sands and the home place of so many courageous and heroic patriots.
Bobby Sands like many men and women in our community, was an ordinary person who, as a result of British oppression, went on to do extraordinary things and leave an extraordinary legacy.
April 9th 1981 was one of the most defining days in Irish electoral history. It was the day that Bobby Sands, this ordinary son of Rathcoole and Twinbrook, was elected MP for Fermanagh and South Tyrone from his hospital bed. Elected by ordinary men and women moved by his and his comrades' struggle against criminalisation in the torture chambers of the H Blocks.
Bobby was the first of the ten hunger strikers to give their lives in the summer of 1981. I was not yet born, and still I  feel such connection to his place in the centuries-old struggle for Irish freedom in Britain's first and nearest colony.
Bobby and nine of his comrades laid down their lives in a selfless act of heroism that inspired millions across the world and amongst generations to come. The legacy of these and all of our patriot dead is the inspiration that they have left behind. 
It is the pride that fills our hearts and our minds as we think of them, it is the passion for Irish freedom that we share with them  and lives on through our younger generations today. It is the rhythm of time.
It is estimated that over 100,000 people attended Bobby's funeral, the biggest republican funeral since that of Terence MacSwiney in 1920, a centenary marked a few short weeks ago. 
A funeral of this size, mood and significance was something that my generation has never experienced, until very recently when we laid to rest our leader and our friend Martin McGuinness. The turnout at Martin's funeral was a tribute to him and a testament to the strength and resilience of the Republican struggle, 36 years on from the hunger strikes of 1981.
I grew up in West Belfast, an area that has successfully resisted British oppression for generations. My happy childhood memories are underpinned with visions of a very visible and disruptive foreign occupation.
For me Bobby Sands and all of our patriot dead are not just names from history books or faces that look down on us from murals, or names on a roll of honour, their spirit is with us every day. We continue to be guided by them in all that we do, and our motivations for Irish freedom are separated only by time. 
I've always felt a strong connection to  West Belfast's fallen volunteers, and to the cause of freedom and equality, that they fought and died for. 
Three of West Belfast's proudest sons were Bobby Sands, Kieran Doherty and Joe McDonnell. I was born in May 1988, seven years after their deaths and their memory has always been a huge inspiration to me. In their time the political prisoners set the agenda. We have shown our ability as a party year on year to set the political agenda.
Just as Bobby Sands and his comrades have inspired us for a generation, we will continue to draw on their idealism, commitment and dedication and do all that we can to realise their vision of an Ireland free from oppression, where all of our citizens are treated equally and with dignity. Where all of our children are cherished. An Ireland of which Bobby Sands and all of the hunger strikers would be justly proud.