12 April 2020
1916 Women in struggle
Máire Comerford, a lifelong republican from County Wexford who witnessed central events in 1916-23 and remained a committed supporter of Cumann na mBan until her death in 1982.
"THE SPACE reserved for women was crowded to excess by well-known women workers in the Irish Ireland cause," wrote Mrs Jennie Wyse Power in Leabhar na mBan, published in December 1919 in an article on the inception and work of Cumann na mBan. She was referring to the Rotunda Rink meeting, 25 November 1913, at which the Irish Volunteers were formed "to maintain the rights and liberties common to all the people of Ireland".
A short time later, Bulmer Hobson passed the word around that the wives of the leaders of the Volunteers were about to start a women's movement which would be on similar lines to the Ulster Women's Council (an echo body to Carson's Volunteers, but it was composed largely of duchesses and the elite).
A meeting took place in an upper room, reached from the side door of the Queen's Theatre, at which Mrs Agnes MacNeill took the chair. There were a number of such meetings and Mrs MacNeill, Mrs Jenny Wyse Power, Madame O'Rahilly, Agnes O'Farrelly, Mrs Máire Tuohy, Mrs MacDonagh O'Mahony, Louise Gavan Duffy and Mrs Mary Colum emerged as the Provisional Committee from the first formal meeting in Wynn's Hotel, on 5 April 1914.
Mrs Alice Stopford Green (she was to be President of the London Branch) spoke with Professor MacNeill and Mrs Wyse Power at the public meeting in the Mansion House on 2 April. Roger Casement was advertised to speak at this meeting but Mrs Eamonn Ceannt, who described it for me, did not remember that he was present. Letters were read from Canon MacFadden, Donegal; Professor MacEnri, Galway; and Wilfrid Scawen Blount.
Now let us have a look at the well-known women who attended the Rotunda meeting and who gave in their names to Con Colbert before they left it. Most of them were already veterans of Inginidhe na hÉireann, founded at the very beginning of the century. Mrs Wyse Power had been in the Ladies' Land League. Mrs Mary Colum, one of the first joint secretaries of Cumann na mBan, before her marriage was a teacher in St Ita's school and author of several books.
Elizabeth O'Farrell, who carried Pearse's last despatches from the GPO, and her comrade Julia Grennan were both Inghinidhe na hÉireann. Sighle Geraghty, Rose McNamara, Molly Reynolds, the three Walsh sisters (Mary Jo, Bridie and Margaret) belonged to the same company.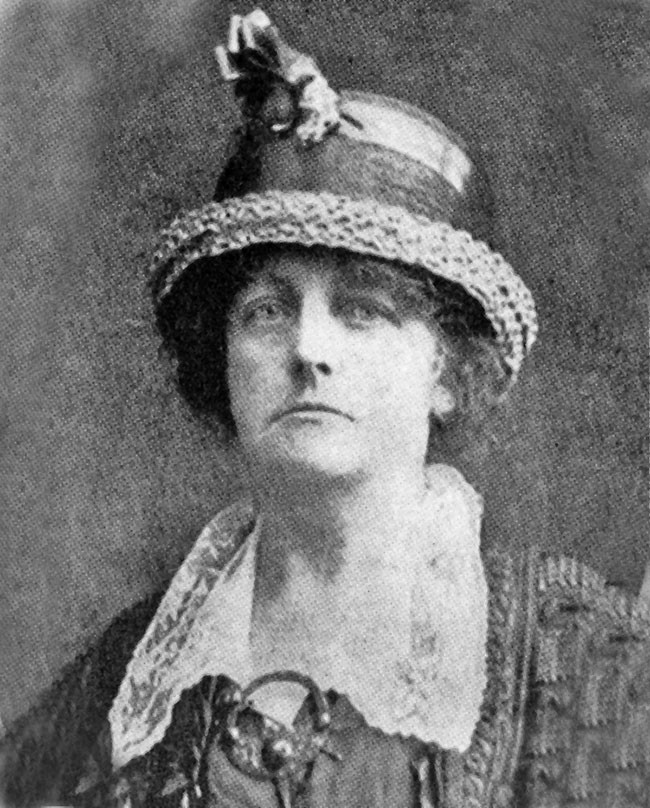 • Jenny Wyse Power
Inghinidhe was long senior to Fianna Éireann, or the Irish Citizen Army, or the Volunteers. It was their custom to throw themselves behind every movement working for Ireland. The flower that blossomed from the Gaelic League had many petals and this was one of them. They knew every stone in St Enda's College, some of them joined the Citizen Army, some were keen feminists, all of them loved the drama.
Maud Gonne was their leader when W. B. Yeats wrote Kathleen Ní Houlihan for her. The first production of the play was sponsored by Inghinidhe. Sara Allgood and Máire Ní Shuibhlaigh, Mrs Dudley Digges, who helped to make the Abbey famous, were members of Inghinidhe.
Inghinidhe disliked the secrecy and lack of spontaneity of the Irish Republican Brotherhood and they had their own name for them: "The Fan go Foils".
This started from a protest meeting during the royal visit of 1911. Determined that a window in Grafton Street, which was showing the portraits of the king and queen, should be smashed, some of them had brought stones in their handbags.
Breaking shop windows was considered unladylike and they had hoped that the young men would use the stones and make a good getaway. That was not to be. Helena Molony broke the window and did jail for it. Forever after, if she had national business to do with a strange young man, she would start: "I hope you are not one of those Fan go Foils."
They had a strong social sense and they threw their net wide. They had a love of children and their own schemes for school meals and giving classes for Irish and history. They loved to attract young people from the city out into the country so that they could show them the beauty of Ireland from Ticknock and the Dublin mountains.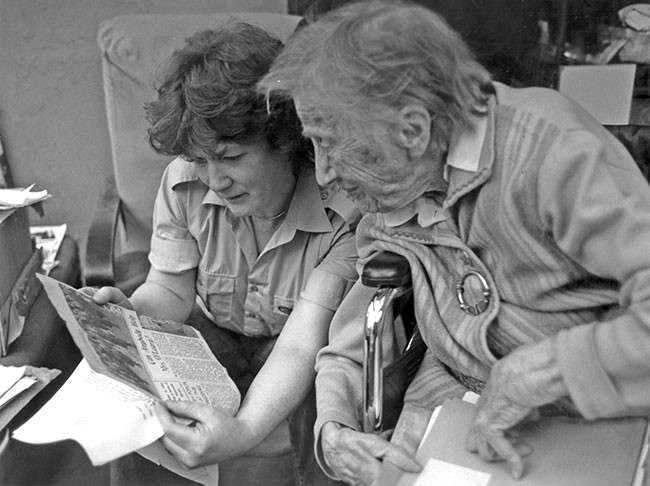 • Rita O'Hare and Máire Comerford in 1981
In 1909, Constance Markievicz told the Students' National Literary Society of Dublin: 
"A free Ireland with no sex distinctions should be the motto of all nationalist women. Arm yourselves with weapons to fight your nation's cause. Arm your souls with noble and free ideas. And if in your day the call should come for your body to arm do not shrink from that either. May the aspiration to life and freedom among the women of Ireland bring forth a Joan of Arc to free our nation."
Constance presided at a meeting of Inghinidhe at their headquarters, 6 Harcourt Street, on 23 May 1914 when they decided, as a body, to associate with Cumann na mBan. The first joint activity was in first aid classes under Dr McAuley.
Mrs Wyse Power relates in her narrative that tempting offers came from English Liberal women: a field hospital and an opening to join in Red Cross work. The proposal was rejected. 
"Our next trouble was the formation of another woman's organisation, the Volunteer Aid Society, formed exclusively of fashionable women followers of the Irish Parliamentary Party. We conferred with them on a few occasions and the brightest idea they had was to give drinks to the Volunteers on route marches. One notable lady had procured from an English manufacturer one ton of cocoa."
Miss Margaret Dobbs (Antrim) and Miss Elizabeth Bloxham (Newtownards) presided in turn over the Convention held in November 1914. It decided, on the motion of Mary MacSwiney BA (Cork) and Madge Daly (Limerick) to support the Irish Volunteers and to condemn "the side that had gone over to recruiting for England".
At that time they lost Agnes O'Farrelly, Mrs Dudley Edwards, Mary Macken and others. Louie Kennedy (afterwards Commandant) was among those who filled a number of empty places on the Executive.
By 1915, Dublin had four strong branches working for the four battalions of the Volunteers. Inghinidhe na hÉireann Branch divided itself into two units, to help the 3rd and 4th Battalions. Central Branch (meeting at 25 Parnell Square) and Columbcille (Blackhall Place) shared duties for the 1st Battalion. Fairview Branch (meeting place Clonliffe Road) was attached to the 2nd Battalion.
Countess Markievicz was a Vice-Commandant in the Citizen Army and president of Inghinidhe na hÉireann, and the Irish Citizen Army Council supported her refusal to resign from either. This led to the resignation of Seán O'Casey, who had been secretary to the Irish Citizen Army.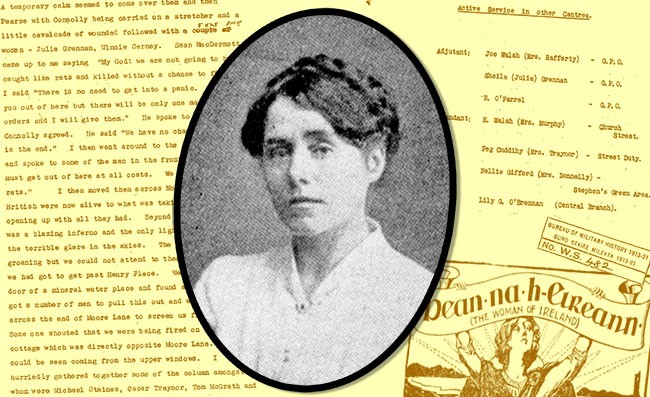 • Julia Grennan
About 150 women – the very large majority Cumann na mBan – were out in the Rising. They assisted in cooking, despatch carrying and first aid. Margaret Skinnider (Irish Citizen Army) was wounded in action at St Stephen's Green.
The bravery of Elizabeth O'Farrell needs no praise from me.
The Volunteer leaders evacuated the women from the GPO before the final action. A number of them went to the Four Courts and were present with the garrison there for the final stages.
Winifred Carney from Belfast and Julia Grennan succeeded in remaining with the retreating Volunteers. They were both present in O'Connell Street for the surrender of Headquarters. 
They witnessed and shared the insults, the hunger and the cold of the night spent in the open in the Rotunda Gardens, and they marched with their comrade prisoners the long three miles to Richmond Barracks.
Mrs Wyse Power tells us that about 100 women were held in Kilmainham Jail afterwards.
They were in B-Wing, above and below the cells occupied by most of the men, close up to the executions.