1 April 2020
"Radical action on climate change" top priority for new SF Senator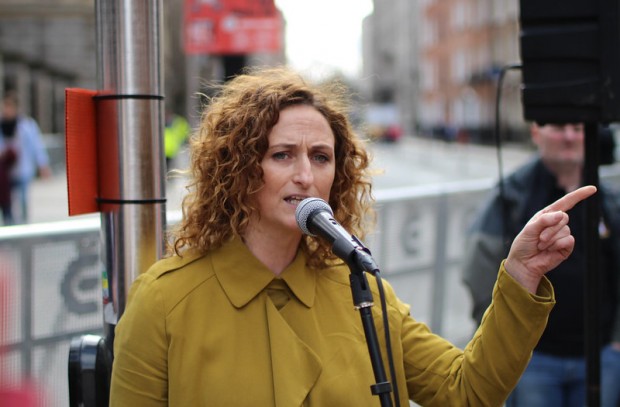 "When this pandemic is over, we also need to take radical actions to tackle climate change and the biodiversity crisis. We are facing a collapse of our ecosystems and the pandemic has proven that there can be no return to business as usual." - Senator Lynn Boylan
Former Sinn Féin MEP Lynn Boylan has been elected to the 26th Seanad after taking a seat on the Agricultural panel. The Tallaght native is the second Sinn Féin Senator to be elected so far, joining Fintan Warfield who was elected to the Culture and Education panel yesterday.
Boylan elected to the European Parliament as the Sinn Féin MEP for Dublin in 2014, and campaigned strongly on the need for climate action and on securing justice for the families of the Stardust tragedy victims.
Joining Lynn on the ticket was Mayo Sinn Féin Councillor Gerry Murray, who was eliminated on the twentieth count.
Speaking with An Phoblacht after getting elected, newly elected Senator Lynn Boylan said her top priorities include radical action on climate change and ensuring people have a roof over their heads.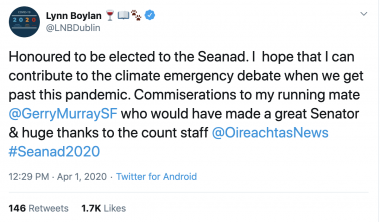 Senator Lynn Boylan reacting to her election earlier today
"Now more than ever, our communities need representatives who will represent their best interests. The pandemic has brought home to us how valuable our public services are and why they need real investment and support. It has highlighted why everyone deserves a safe and secure roof over their head" she said.
Boylan continued; "when this pandemic is over, we also need to take radical actions to tackle climate change and the biodiversity crisis. We are facing a collapse of our ecosystems and the pandemic has proven that there can be no return to business as usual."
Counting for the Labour panel is currently underway, with Sinn Féin Seanad spokesperson on Workers' Rights Paul Gavan polling strongly.