23 March 2020
Covid-19 and the need for a New World Order of Solidarity and Co-operation - Declan Kearney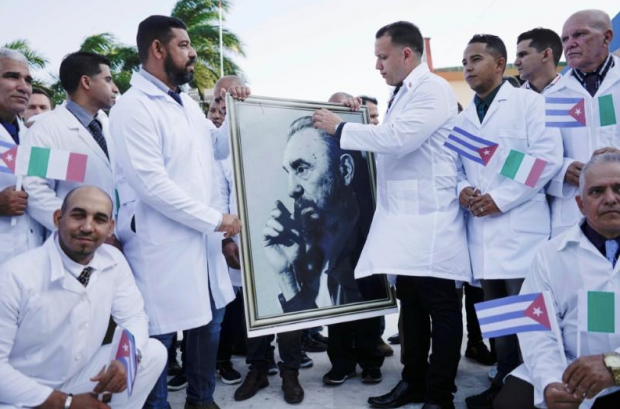 "Covid-19 should focus all our minds on developing new forms of local and global solidarity and how to make society work better on behalf of our citizens" Declan Kearney
Our normal practice when meeting new acquaintances or old friends is to exchange a handshake or a hug.
Now Covid-19 changes that.
It has introduced the need for physical distancing; and it has taken a while for us all to internalise this new and abnormal behaviour. 
Worse still, it has forced us all to change established relationship patterns.
So last Sunday I gave my last hug to Mary - at least for a long while. Last Wednesday Cathy called in with her mammy for the last time until the medical advice changes.  All contact will now be restricted to phone calls and face time.
Sadly that's not unique.
Millions of other families out of necessity are taking similar measures to protect our elderly relatives and friends right across the globe at this time.
And yet, paradoxically Covid-19 has brought us together. 
On the one hand it has shone a spotlight, to paraphrase Fr Peter McVerry on RTE Radio 1 last week, upon homelessness, poverty and other economic injustices in Ireland.
On the other, new forms of spontaneous solidarity have sprung up all over Ireland.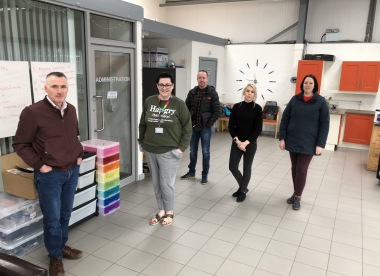 Over this past weekend I travelled across my South Antrim constituency meeting community and cultural activists, church volunteers, and many others who have begun putting local response plans in place to help the most vulnerable and needy in our society as we prepare to face the worst consequences of this global health emergency.
These grassroots efforts are really inspirational. 
Covid-19 does not respect political, cultural, ethnic, religious or other differences, and so ordinary people have begun to organise on a united, community basis.
By extension our power sharing government now needs to build on the decisions taken during the last week, and significantly  ramp up further emergency actions in the next short period.
The north urgently needs to be carrying out more community testing for the virus; we need much more personal protection equipment and ventilators.
Nurses need the basic essentials such as scrubs and facilities to change their clothes 
Our health care capacity needs massively upscaled.
We are now faced with the very stark consequences of this British government's ten years of financial cutbacks and their devastating impact on the northern health service.
Nevertheless the Sinn Féin Finance Minister Conor Murphy has made clear that the money will be found to deliver on these priorities. Our sports organisations will make their facilities available to facilitate widespread community testing.
Dr Mike Ryan from County Mayo, who is an Executive Director for the World Health Organisation's Emergencies Programme, has said;
"The lessons I've learned after so many Ebola outbreaks in my career are be fast. Have no regrets. You must be the first mover.  If you need to be right before you move, you will never win...Perfection is the enemy of the good when it comes to emergency management. Speed trumps perfection. And the problem we have in society at the moment is everyone is afraid of making a mistake. Everyone is afraid of the consequence of error. But the greater error is not to move." 
There is still time for others to start adhering to and implementing the advice of the World Health Organisation.
This health emergency is unprecedented, and its repercussions are not merely confined to public and individual health care.  What we do now in reaction to Covid-19 will also have a direct bearing upon life once this emergency ends. 
There will be an economic and social reckoning in its aftermath.
During those recent meetings in my constituency some far seeing community leaders and I discussed the need for us to anticipate and prepare for new future challenges relating to mental health and domestic violence when we get to the other side of this crisis.
For now, we need a total government focus in the north and a self evident need for improved all-island co-operation to develop strategies which protect public health, and maintain common supply chains and  transport networks.
Government north and south in Ireland needs a common approach against Covid-19 on our shared island.
The scale of the collective challenge faced by our northern power sharing government does not allow for different opinion on what needs to be done, and to do so fast.
We need to act decisively.
The rules have been changed for us all.
Previous norms and processes need overtaken by the imperative of a crisis approach to strategic planning, and operational decision making and actions.  
We need to be agile and fast!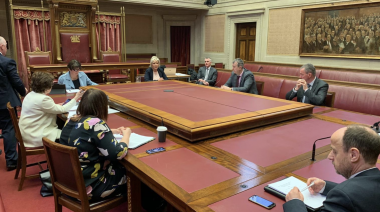 That is why the formation of the Executive Covid Crisis Management Committee is an important development. 
There is no alternative to speed of movement and unity of purpose.
The safety and wellbeing of all our citizens on the island is paramount.
It is no longer business as usual.
So government north and south must do what is needed to save lives, secure business prospects, and protect workers' and their families - including those in precarious work and on zero hours contracts.
The Irish government has moved but it must do more.
It's simply not acceptable for the banks and other financial institutions, insurance companies in particular, to behave as if this is a normal situation.
Sinn Féin will continue to hold them all to scrutiny and account.
Their current stance is a disgrace.
One thing that the 'crash' of 2008 taught us all, is never again to tolerate the protection of banking and vulture fund interests at the expense of ordinary working families. 
Sinn Féin will fight tooth and nail to prevent that happening again.
It is also small minded, self serving and utterly contradictory for the care taker Taoiseach to make a virtue of the need for national unity, while continuing to categorically shun the idea that Sinn Féin should play a role in government formation, especially at this time of emergency. 
During the last fortnight I have repeated many times in conversations the phrase in Gaeilge…
'Is ar scáth a chéile a mhaireann na daoine'... we live in the shadow of each other. 
That is the space we are now in. 
Nothing will ever be the same again. 
That 1% of the world's population should possess more than 50% of global wealth has never had any credibility or justification. 
We are indeed in this together. But when we eventually pull through, things cannot just revert to type. 
To borrow the phrase, there can be no return to the status quo. 
Covid-19 should focus all our minds on developing new forms of local and global solidarity and how to make society work better on behalf of our citizens.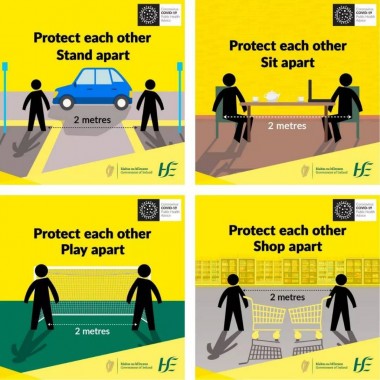 In the last week I have reflected in awe at the approach adopted by our Cuban comrades and friends. 
They offer solidarity in times of grave international challenge and seek nothing in return. 
Cuba acts in this way because it puts the welfare of people and well being of the international community first.
This weekend the Cuban government dispatched a 52-strong brigade of doctors and nurses to Italy, one of the world's richest countries, to help in the fight against Covid-19.
As Leonardo Fernandez, who is participating in his eighth international mission as an intensive care specialist, said; 
"We are not superheroes, we are revolutionary doctors." 
Covid-19 does not respect territorial borders or communal divisions. 
Those who have been too slow to act for their own political reasons, or in Britain, who may have chosen to allow a Brexit agenda to influence the tempo of that government's approach need to wise up. 
Here we live on a small island of approximately 6.6 million. 
Ireland is an integral part of a European and wider international community.
We do indeed live in the shadow of one another. 
This global pandemic is a reality for us all. 
But the welfare of working people transcends artificial boundaries.
Both Brexit and Covid-19 have forcefully brought home the reality that the political, economic and social status quo on this island have changed forever.
Nothing will ever be the same again.
At some stage we will have to start thinking about what the future post Covid-19 is going to look like for Ireland and in terms of international relations.
This much is sure, the neo-liberal and modern day free market capitalism have clearly demonstrated how badly they serve the health care needs and welfare of citizens. 
It is time for change not only in Ireland, but with respect to the conduct of multi-lateral relations.
It is a travesty that while  Cuban doctors travel to Italy to try and save Italian lives, the US government persists with an economic blockade and financial sanctions against their country.
Narrow, conservative ideological and political agendas focussed on maintaining the status quo are the opposite of what is required domestically and internationally at this time.
Covid-19 presents an acid test for the political systems north and south, and particularly for political unionism 
Old conservative mindsets must be put to the side, and allow for the interests of citizens to be put first by recognising the need to fight the war against Covid-19 on an island-wide basis.
The yet to be fully realised, and unintended consequence of Covid-19 is that Ireland is a single island unit. Increasingly these catastrophic circumstances show, we must adopt and use common health and economic policies.
As an island we are also just one of the many global villages of citizens on either side of the northern and southern hemispheres. 
Covid-19 has ushered in a new reality and bench mark for managing international relations and cooperation.
It requires that we all adapt to a new world order of solidarity and interdependence, and accept the need for respectful multilateralism and collective peaceful co existence.