22 March 2020
A Mother's Day like no other - Michelle O'Neill
"I wouldn't want to do anything that put the health of my mother at risk. So I'll be following the medical advice and practising social distancing. But that doesn't have to mean social isolation." Michelle O'Neill
Today is Mother's Day; a day when we celebrate our mothers for all they have done for us, and when those of us, who are mothers can expect a bit of pampering. 
This usually comes with flowers, chocolates, cards and perhaps a meal out at a restaurant with family. 
But this year will be different. The onset of the coronavirus and the public health emergency we are faced with has changed everything.
Today, instead of a family meal, I'll be talking to my mother through FaceTime. No doubt many of you will be doing the same. 
It will be hard.  The most natural instinct for us is to give our mothers a hug on this special day.  But this year we will have to do things differently.  We have to be sensible and responsible. 
Mothers are there to protect us. It is one of the most basic, fundamental and instinctive aspects of life. Now we have to protect them. 
They are also there to teach us. Most of what we learn as children comes from our mothers. 
Now, in this crisis, we can continue to learn from them. We can learn what it is to care for others, to protect them and to be responsible. 
When I think of my own mother, Kathleen, it is with nothing but pride. She taught me many things that I use every day of my life. 
She instilled in me the importance of equality, treating people with respect and working to make society better for everyone. 
But first and foremost she is my mummy. 
She is the person who looked after me and cared for me. 
She is the one who showed me how important family is. In our house growing up, my mother always insisted we sit down and eat together. This is something I still love more than anything to this day, eating together and talking. 
I am the woman I am today, because of my mother. 
All mothers worry.  It comes with the territory and there is certainly much to be worried about in the current climate as we battle the COVID-19 outbreak. 
I'm worried about my mother's health and many of you will be worried about older parents and relatives too. 
It will be hard not to be together on Mother's Day but it is necessary. 
I wouldn't want to do anything that put the health of my mother at risk. So I'll be following the medical advice and practising social distancing.  But that doesn't have to mean social isolation.
We can still let out mothers know how much they mean to us, and how much we want to protect them. Pick up the phone, call them on skype of FaceTime.  The reality is that staying away will help you stay together.
So this Mother's Day will be different. But as with so many things at the moment, it doesn't have to be cancelled, merely postponed to be celebrated at a later date. 
Mothers deserve a bit of pampering. And we'll all need it on the other side of this crisis.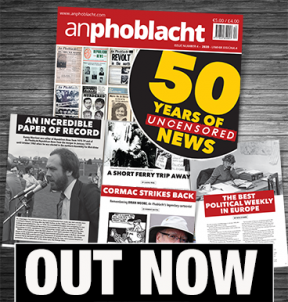 An Phoblacht on Twitter

An initiative for dialogue 
for reconciliation 
— — — — — — —
Contributions from key figures in the churches, academia and wider civic society as well as senior republican figures