8 March 2020
History made as Máire Drumm honoured at City Hall
"Whatever rights we have, whatever entitlements we have, whatever progress has been made, whatever peace we have, whatever equality we have, would not be possible without people like Máire Drumm" Gerry Adams
A stunning new portrait of Sinn Féin Vice-President and iconic Irish republican figure Máire Drumm will now hang in the Mayor's Parlour in Belfast City Hall. 
The new portrait, painted by renowned Belfast artist Tony Bell, was unveiled by her sons Seamus and Seán Drumm, alongside Ard Mhéara Danny Baker and Gerry Adams.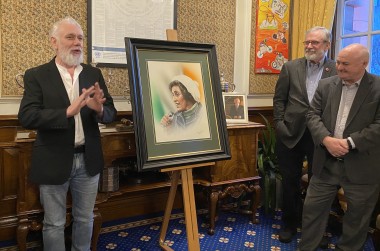 Speaking at the launch, former Sinn Féin President Gerry Adams recalled the life of Máire Drumm and her journey through the republican struggle. 
He said: "Back in the day if anyone told Máire or Jimmy Drumm that her portrait would one day be in Belfast City Hall, they wouldn't have believed you.
"She was an extraordinary, larger than life woman who was grounded in her local community, heavily involved in the GAA and supporting republican prisoners and their families. 
"Máire Drumm was a leading critic of the orange state and the British army while acting as a strong advocate of Irish national self determination and unity," he said. 
The South Armagh native joined a list inspirational women who were campaigning at that time including the late Lily Fitzsimmons, Liz Maskey and many others. 
They played a key role after the Pogroms in August 1969 when nationalist homes and areas were attacked and destroyed by unionist mobs, the RUC and the B-Specials. 
Máire Drumm led the 'pram invasion' in defiance of the Falls Road Curfew, filling prams with vital food and medicine supplies to deliver them to people in the Lower Falls who were trapped in their homes by the British Army. 
Like many other republican women, she stepped up to the plate in the face of harassment, threats and intimidation becoming part of a new, emerging and reorganised republican leadership.
"There's a lovely piece of black and white footage which I love where this British soldier tries to stop them and it's like a river of women just sweeping him away in front of them," Gerry Adams recalled. 
"Around the same time, Máire became Sinn Féin Leas Uachtarán, and a leading party spokesperson. She brought an authenticity to what she was saying. She lived in the heart of the community," he added. 
Máire Drumm had her share of prison experiences, north and south, through internment in the early 1970s, time spent in Armagh Gaol, in Mountjoy Prison and countless arrests. 
In fact, it was in Crumlin Road jail while on a visit to her teacher, where she met the love of her life Jimmy Drumm, who she then married in 1946, settling in Andersonstown shortly after.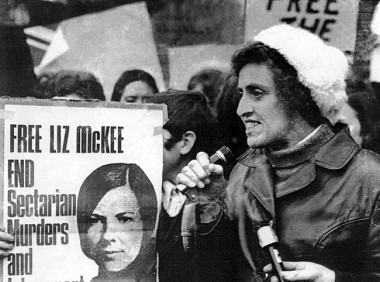 She was famously known for her fiery, articulate inspirational speeches which found her in court on many occasions, Gerry Adams joked that's where she made some of her best speeches!
"There was one time when they were going to let her out on bail and she refused, said no and she just stuck by her position. 
"She said you may knock off a middle aged woman, and to paraphrase, she stated 'but you can't stop the thirst for freedom'.
The 56-year-old mother and grandmother was murdered in her hospital bed by a loyalist death squad in October 1976. 
Gunmen entered her ward disguised as doctors while she recovered from eye surgery in the Mater Hospital and shot her dead. 
It's widely believed that the loyalist gang responsible for the murder were colluding with British state forces. 
The British state viewed Máire Drumm as a vocal, articulate and outspoken threat. That's undoubtedly why they instrumented her killing, similar to the murder of Queen's University student Sheena Campbell a number of years later. 
Looking to the future and acknowledging the amount of young people at the event, Gerry Adams said it's important that young people understand history and the role of people like Máire Drumm in shaping the current political circumstances in Ireland today.  
"Whatever rights we have, whatever entitlements we have, whatever progress has been made, whatever peace we have, whatever equality we have, would not be possible without people like Máire Drumm," he concluded.