19 December 2019
Disappointment as DUP hold up Stormont restoration deal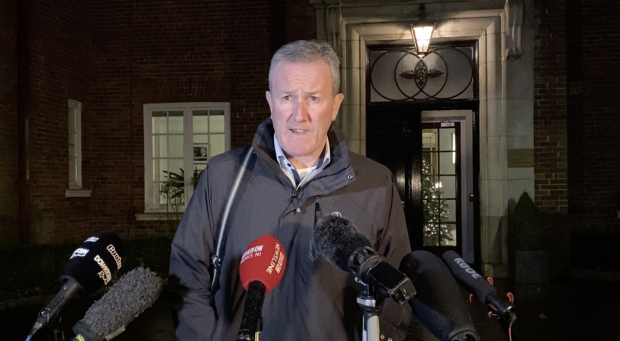 "The onus is now on the DUP, once again, to tell the public why they are now holding up the restoration of the Assembly" - Conor Murphy MLA
Sinn Féin MLA Conor Murphy has expressed disappointment that the DUP have tonight failed to do a deal to restore power-sharing. 
The party's chief negotiator was commenting after a cross-party meeting with the British and Irish Governments at Stormont House. 
"Sinn Féin is deeply disappointed that the DUP are telling the media and the public the talks have to be closed down for Christmas. 
"The onus is now on the DUP, once again, to tell the public why they are now holding up the restoration of the Assembly," he said. 
British Secretary of State Julian Smith confirmed that the DUP were responsible for holding up an agreement. 
When pressed by journalists, Mr Smith said: "that is my understanding, that was confirmed tonight."  
Tánaiste Simon Coveney said the agreement could go ahead before Christmas if all parties were on board.
"If we get a change in approach, from one party in particular later on this evening, we can still go for this before Christmas," Simon Coveney commented. 
The power-sharing institutions were collapsed by deputy First Minister Martin McGuinness in January 2017 on the back of the DUP's £500m RHI scandal. 
An agreement to restore the Assembly and Executive was reached by parties in 2018 before the DUP walked away and collapsed talks. 
Newry/Armagh MLA Conor Murphy insisted that Sinn Féin were 'ready to do a deal' to break the deadlock. 
"Sinn Féin has been very clear that we want to see a deal, want to see Stormont back up and working again. 
"We have been committed to doing a deal, and that deal can be done in the coming days." 
He concluded: "There is an onus on us all to reach an agreement, to give the people hope, to address the outstanding issues and get back into institutions, which work for all."
An Phoblacht on Twitter

An initiative for dialogue 
for reconciliation 
— — — — — — —
Contributions from key figures in the churches, academia and wider civic society as well as senior republican figures