18 August 2019 Edition
Long road travelled, long road ahead
Editorial - Eagarthóireacht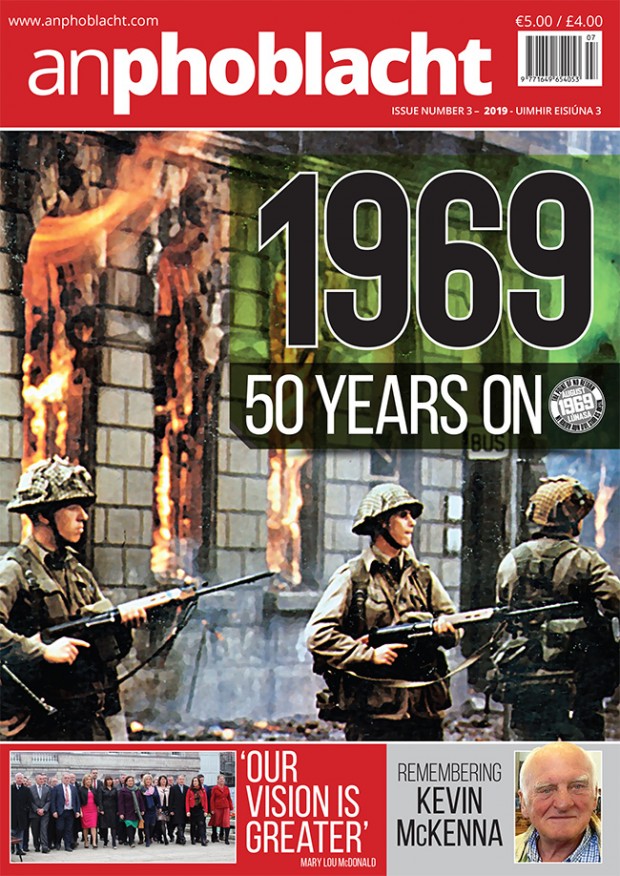 In the aftermath of the EU and local elections across Ireland it is necessary and right to take stock and analyse the Sinn Féin performance. However, in this month of August 2019, there is a need to look also at the road republican activists have travelled over a much longer arc of history.
Fifty years ago, nationalist Belfast was under siege. Free Derry had sprung from the combined resistance of a community finding its voice and power, and across the Six Counties the growing nationalist opposition to the Stormont one-party unionist state had reached a critical impasse. In the Iris magazine marking the 40th anniversary of the Battle of the Bogside and the Belfast pogroms we headlined this 'The Point of No Return'.
I don't know if nationalists and republicans caught up in the maelstrom of that time realised the death blow they had struck against a bigoted and anti-democratic establishment. But today we can see how 1969, and specifically the three days from August 12th to 15th, was a defining chapter in the failure and collapse of the unionist regime.
In this edition of An Phoblacht, we revisit August 1969 publishing first-hand accounts of that tumultuous time. We also have new contributions from Jim Gibney and Richard McAuley who look back from a personal and political perspective on the events of August 1969.
From the standpoint of the recent elections Mary Lou MacDonald writes exclusively for An Phoblacht. She makes the case that, "We must learn from this election" and within Sinn Féin "a process of change is underway, a process of renewing and refreshing our approach and structures. We will come out of this time as stronger party." 
McDonald makes the point in her piece that, "Society is also in the process of change" and that republican activists need to build this into their strategies and day-to-day political work. To give that perspective we have in this edition the views of two 26-County councillors. From Mayo we have Gerry Murray returned again to the county council and on the east coast Grace McManus who is entering her first weeks as a Sinn Féin councillor.
In subsequent issues and in An Phoblacht online we are going to build on this and bring the voices of Sinn Féin's elected representatives across Ireland to readers.
Republican activism, our campaigning, our politics and our struggle have come a long way since 1969. We have a long road in front of us still, but we are ready for the challenges. 