18 August 2019
Time to get behind the campaign for a four-day week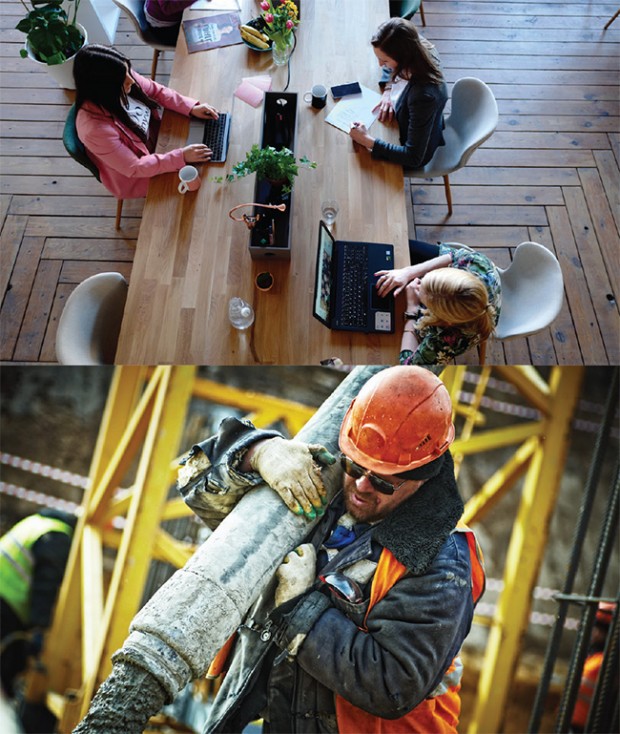 Melbourne's eight-hour day monument stands opposite the Trades Hall – reputedly the oldest trade union building in the world. I found myself there tracing the footsteps of my granduncle Gus, a trade union activist in the city from the 1930s to 1960s. The monument honours the world's first successful battle to secure an eight-hour working day in 1856. Its design symbolises the demand, first associated with textile manufacturer and social reformer Robert Owen, for "Eight hours labour. Eight hours recreation. Eight hours rest."
We have to understand how we came to the eight-hour day and the five-day week to understand that it is a very arbitrary place to stop. For workers, for progressives this was never meant to be the end point. We have not progressed – in fact in many instances we have regressed as workers are expected to work longer hours and give ever greater commitment to their jobs. Employee rights including job security achieved over the course of the 20th century have been eroded as workers have lost out while corporations have been emboldened and empowered.
Our understanding of work has changed over the centuries. Our semi-religious devotion to work and the idea of fulfilment through work is very much a modern phenomenon. It has been a boon for employers and exploiters.
Work changed with the industrial revolution. That change was sharp and brutal. With industrialisation came the birth of trade unions fighting back against the rabid excesses of unfettered capitalist exploitation that came with it. Child labour was restricted and eventually banned. 
• The working day, in some cases,  stretched from the break of day until night-time over a 16 hour day
The working day which, in some cases, stretched from the break of day until night-time over a 16-hour day was eventually shortened under pressure from the union-led 'shor- time movement'. First came the demand for a 12-hour day, then for a ten-hour day. Later came the demand for an eight-hour day and a five-day week.
The eight-hour day came into force across many industrial nations between the late 19th and early 20th century, a victory for organized labour and progressive politics. Many, including John Maynard Keynes, thought that the future would bring further reductions in the working week. But there it stopped. Arbitrarily with the five-day week and the eight-hour day. 
• Shorter working hours without a loss in pay offers a way to tackle symptoms of overwork, with more time to recuperate
The world has changed. Our working lives have changed. Society has changed. But we have remained frozen in a time when securing the eight-hour day and the five-day week were enormous victories for the exhausted and overworked working classes. Workers and society have not got the benefit of increased productivity or of automation. The evolution of how we work has stalled and it is now time to take up the demand for a progressive evolution towards a shorter working week. 
There are many compelling reasons to get behind the campaign for a four-day week. Democracy, equality, society and the planet would all benefit from the four-day week.
The British-based economic think tank The New Economics Foundation (NEF) and many other progressive bodies have made the case for a shorter working week. They have argued that a reduction in the working week would help address a range of urgent, interlinked problems including overwork, unemployment, overconsumption, carbon emissions, inequality and the lack of time which people have for caring, for community and for ensuring their own wellbeing. 
According to the NEF "Winning shorter working hours without a loss in pay offers a way to tackle symptoms of overwork, providing people with more time to recuperate, participate in the democratic process and fulfil caring responsibilities."
In Ireland, the Fórsa trade union is among those currently pressing for a debate on a four-day workweek pointing to the potential benefits for society, gender and age equality, the economy and the environment.  

Families are under increasing pressure, juggling childcare and other responsibilities, with fathers and mothers now largely both in the workplace. A four-day week would make it possible for paid and unpaid work to be distributed more equally between women and men. It would give people more time to contribute to their community and to society, things which we should value.  
Research has shown that a reduction to a four-day workweek would result in significantly slower growth of energy demand, making a significant contribution towards reaching climate targets. An analysis of time use and consumption in Swedish households suggested that decreasing working time by 1% could reduce energy use and greenhouse gas emissions by about 0.7% and 0.8% respectively.
The four-day workweek has to be part of the consideration of how we move away from an economy driven by growth and consumption. 
It is time to get behind the campaign for a four-day workweek and take back more time from work and from the corporations, and give to it to family, to the community and to the common good. 
• Caoilfhionn Ní Dhonnabháin is a Sinn Féin activist.
An Phoblacht on Twitter

An initiative for dialogue 
for reconciliation 
— — — — — — —
Contributions from key figures in the churches, academia and wider civic society as well as senior republican figures