30 August 2019
Calls for Markievicz Cottage in the Dublin Mountains to be preserved and restored
"We should honour the role the cottage, the Countess, her husband, and the members of Fianna Éireann played in Ireland's fight for freedom."
After decades of neglect the Summer cottage of Countess Markievicz in the Dublin Mountains, which was used as a base to train Na Fianna Éireann, has been allowed to fail into ruin.
Markievicz was a 1916 leader, the first woman elected to Westminster and the Dáil, and our first Minister for Labour.
Many of those who took part or died in the 1916 Rising in Dublin, including some of the executed leaders, stayed in the house on occasion as part of a Fianna slua.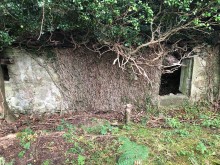 - The cottage has fallen into a state of disrepair in recent years
After a recent visit to the cottage, just off the Blackglen Road, Sinn Féin TDs Aengus Ó Snodaigh and Seán Crowe have called on Heritage Minister Josepha Madigan, in whose constituency the cottage is situated, to declare the site a National Monument and to ensure that it is preserved and restored for future generations.
According to Ó Snodaigh, Minister Madigan should, as part of her role as chair of the Decade of Centenaries Committee, show leadership and intervene to ensure the cottage doesn't deteriorate further.
"The Minister should work with Dún Laoghaire-Rathdown County Council to save and preserve Markievicz Cottage, as part of local, national, and international history", said Ó Snodaigh.
 - Sinn Féin TDs Aengus Ó Snodaigh and Seán Crowe at the cottage earlier this month
"It should be declared a national monument, and working with the owner of the site, it should be cleared, a plaque erected initially, and then a longer-term plan of restoration for the granite cottage should be drawn up.
"We should honour the role the cottage, the Countess, her husband, and the members of Fianna Éireann played in Ireland's fight for freedom."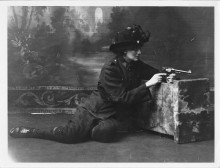 Markievicz (Above) founded Fianna Éireann, and played a lead role in the Easter Rising in 1916, when Irish Republicans attempted to end British rule in Ireland and establish a Republic
Seán Crowe TD, who grew up just down the road in Rathfarnham, described the "official neglect" of the cottage as "criminal" describing it as "very much part of our revolutionary history and Ireland's freedom struggle."
"The state has allowed this cottage, like the Moore Street Battlefield site, the last headquarters of the 1916 Rebellion, to go into disrepair and ruin. In the past no protection was given to the Fianna Éireann headquarters on Camden Street and it was demolished", said Crowe.
"We are calling on the Government and Dún Laoghaire-Rathdown County Council in this Decade of Centenaries to do the right thing and to save and restore this national monument. Every effort should be made to preserved it for the local community and future generations. It is an important part of our history and our heritage", he continued.
Save Countess Markievicz's summer cottage!
An Phoblacht on Twitter

An initiative for dialogue 
for reconciliation 
— — — — — — —
Contributions from key figures in the churches, academia and wider civic society as well as senior republican figures