1 July 2019
Derry remembers local trade unionist James McCarron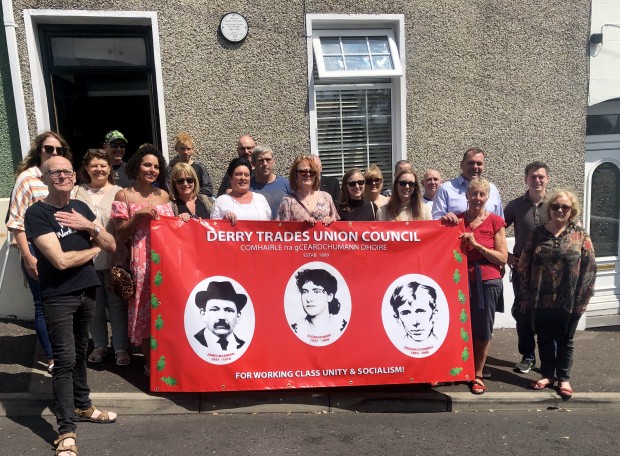 "Derry is a city steeped in trade union and labour history. It's important that we honour the role played by people like James McCarron and others by telling their story today" - Cllr Patricia Logue
Trade unionists and local republicans gathered on Saturday to remember the life of Derry trade unionist and campaigner, James McCarron. 
A plaque was unveiled at McCarron's former home at Stanley's Walk in the Bogside.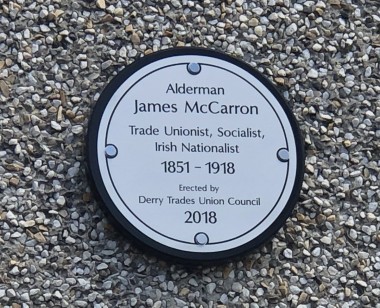 The Derry native came to prominence in the 1890s going on to serve as President of the Irish Trades Union Congress on three occasions with close links to Jim Larkin and James Connolly. 
James McCarron also served as an Irish Labour Party Councillor on the old Derry Corporation and quickly became the party's group leader. 
In 1918, James was aboard the RMS Leinster and was subsequently killed when the ship was torpedoed by a German U-Boat and sank on 10 October.
At the time of his death, a 'Derry Journal' report said there was a 'universal feeling of grief' following the trade unionist's death. 
A picture of James McCarron was added to the Derry Trades Council banner alongside pictures of Peadar O'Donnell and Eleanor Marx. 
Sinn Féin councillor Patricia Logue was among those who attended the event and said it's important that the story of James McCarron and other labour leaders is told. 
"Derry is a city steeped in trade union and labour history.
"It's important that we honour the role played by people like James McCarron and others by telling their story today," she said. 
Cllr Logue called on the Labour movement to help 'reshape Ireland' by engaging in the debate around Irish unity. 
"Over 100 years on, there opportunity is now opening up to reshape Ireland and Irish society for future generations.
"The debate on Irish unity and the timing of a unity referendum have now moved centre stage.
"The Labour movement in Ireland should be central to that process by asserting workers, citizens and democratic rights," she added.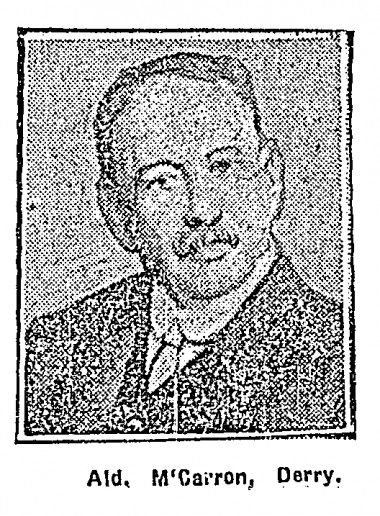 A number of James McCarron's family members travelled from America to attend the ceremony over 100 years after his death.
The labour leader is buried in Derry city cemetery in a grave marked by a large celtic cross. 
An Phoblacht on Twitter

An initiative for dialogue 
for reconciliation 
— — — — — — —
Contributions from key figures in the churches, academia and wider civic society as well as senior republican figures