26 June 2019
Irish citizenship, Irish identity and Language rights essential to power sharing - Kearney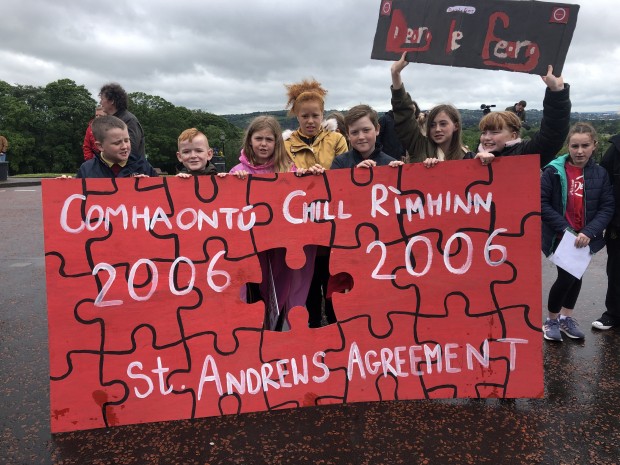 Irish language rights, and those many other social, economic and democratic rights and provisions are not bargaining chips. They are much bigger than any manufactured hierarchy of rights. They are core to the transformation of society and the sustainability of good politics.
Language rights are enjoyed by citizen everywhere on these islands except the north of Ireland. This is unacceptable.
Of course, Irish language rights are not the only rights which need to be properly addressed to ensure that the ongoing political crisis is resolved and the Good Friday Agreement (GFA) political institutions are restored on a sustainable basis.
The Equality Coalition has published an excellent manifesto on a rights-based return to power sharing which deserves to be read and widely circulated.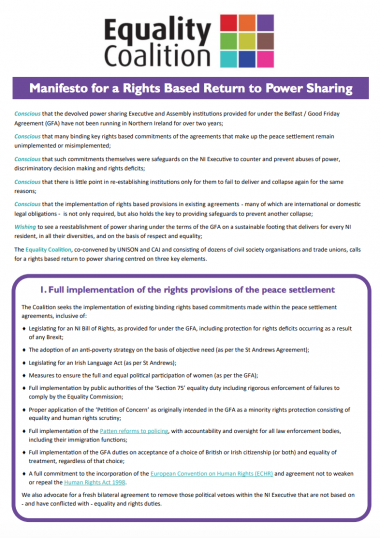 It succinctly sets out the full extent of the rights deficit in the north of Ireland arising from the failure to give full and faithful expression to the provisions of the GFA, and all succeeding agreements since 1998: These also include what has been agreed, but not implemented from previous Programmes for Government.
However, Irish Language rights entrenched and protected within legislation - an Acht Gaeilge - are an essential foundation for a sustainable political process, built upon proper power sharing institutions, which are themselves avowedly anti-sectarian and fully inclusive of all sections of society in the north.
There is an attempt to manufacture a hierarchy of rights which diminishes the significance of the Irish language and seeks to isolate it as the only blockage to restoration of the Executive and Assembly.
At its most benign that would be a lazy logic which completely misses the point, but it is in fact, an utterly duplicitous position promoted to justify restoring the political institutions without resolving the catalogue of reasons which led to their collapse, as set out in Martin McGuinness' resignation letter of 9th January 2017.
Delivery on the obligation set by the St Andrew's Agreement of 2006 to legislate for an Irish Language Act is about much more than comprehensive, free standing legislation to entrench the rights of Irish speakers in the north of Ireland, or secure rights and services for the more than 5,500 children currently taught through the Irish medium education every week, and so they can lead their future lives through Irish.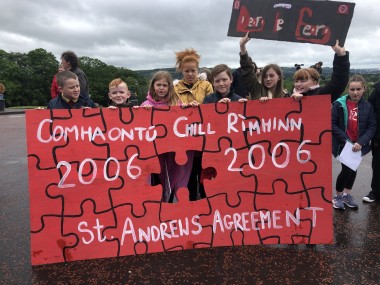 At its core, delivery on Acht Gaeilge is about recognition and respect for the Irish national and cultural identity in the north of Ireland. Currently the British government has reneged on the rights of citizens to Irish citizenship as set out in the Good Friday Agreement.
This gave equal status, and legitimacy, and parity of esteem to both the Irish and British identities in the north.
The fact is that significant sections of political unionism and successive British Governments have refused to accept or implement those obligations.
Irish identity, Irish citizenship and the Irish language (like Gaelic games, music and dance) is completely enmeshed with the reality that hundreds of thousands of people in the north of Ireland identify with the overwhelming population of this island as Irish citizens.
They view the language as a tangible manifestation of their Irish national and cultural identity.
The Irish language in the north of Ireland has always been an expression of an innate sense of Irish identity and belonging, which is totally distinct from Britishness, or connection to the British state.
These are touchstone issues. They are equality issues. They are identity issues.
That is why the demonising and weaponising of the Irish language by some political leaders and others within political unionism have caused such outrage and offence.
Discrimination against, and disrespect towards the Irish language and Irish national identity has been a lightning rod for fomenting discontent within northern nationalism, and other progressive sections of opinion, because it communicates a message of exclusion and being less equal.
Just last week it was revealed that Antrim and Newtownabbey Borough council issued correspondence to a local pensioner in Randalstown in my South Antrim constituency, threatening legal action unless an innocuous Irish language sign was removed.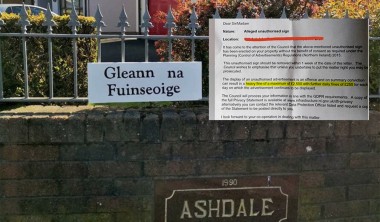 It was an outrageous decision.
However, the council responsible also has form in this regard. 
Last year the same council adopted an unlawful 'English Only' policy, which was successfully challenged through the courts by a local ratepayer.
The fact is that many local ratepayers in Antrim and Newtownabbey Borough identify as Irish citizens and are not treated with the respect which they deserve as ratepayers. 
The action taken by this local council is a scandal. It is not only disrespectful to the Irish language, and Irish language speakers within my constituency and further afield, it is also further evidence why Irish language rights must be entrenched and protected in an Irish Language Act in the north of Ireland. 
Language rights are enjoyed in every other part of these islands. These are basic rights. That is particularly so in the context of the north. 
These have been campaigned on for decades, culminating in the international binding agreement at St Andrews for the British government to enact appropriate legislation.
So, the refusal to implement an Irish Language Act is a denial of fundamental democratic rights. It is a visceral affront to the Irish national and cultural identity in the north.
The implications of all this runs very deep. These issues are totemic, and deeply symbolic. 
Irish language rights, and those many other social, economic and democratic rights and provisions are not bargaining chips. They are much bigger than any manufactured hierarchy of rights. They are core to the transformation of society and the sustainability of good politics.
Delivery on this rights agenda will be good for all citizens for diversity in our society and necessary for the full recognition and acceptance of that diversity. Rights are for everyone. 
The lived experience of nationalists in the northern state is that nothing can or will be taken on trust.
The history of the peace and political processes is one of many broken agreements and commitments.
Part of the narrative of recent times is that we have had to negotiate and resolve more difficult issues than those which are at the crux of the ongoing political crisis.
The fundamental strategic challenge which has faced the political process in the north since Martin McGuinness resigned as Joint First Minister in January 2017, and now directly confronts the current talks process, is whether the northern state can in fact accommodate the Irish nationalist population in the north of Ireland on the basis of mutual respect, parity of esteem and equality: And moreover, whether political unionism will commit to rights based, inclusive, power-sharing arrangements.
The Irish and British governments have each refused to face up to these changed realities for their own sectional reasons. Instead they have acquiesced to the DUP and have apparently adopted a position that the political institutions should be restored without fixing the real reasons why they collapsed in the first place. 
The Irish government should know better than that. 
On 8th December 2017 the Taoiseach acknowledged that northern nationalists had been failed by previous Irish governments but declared that under his leadership this would never happen again.
Citizens in the north are entitled to have democratically accountable rights-based political institutions.
Therefore, in the absence of political progress, the two governments should act decisively under the aegis of the British and Irish Inter-Governmental Conference to resolve all outstanding rights deficits immediately.
But it would be a much better option if the DUP ended its prevarication and evasion and negotiated an agreement based upon citizens' rights and implementation of the GFA. 
The unionist electoral and political majority in the north has ended.
Demographic changes and the onset of Brexit have swept away all of the old constitutional, political and economic assumptions.
There will be no return to the status quo: the status quo has gone and will not be coming back.
So, in fact, now is the time to negotiate, and to agree, and then to build a future for all our people based upon shared equality and rights.
An Phoblacht Magazine
AN PHOBLACHT MAGAZINE:
Don't miss your chance to get the second edition of the 2019 magazine, published to coincide with Easter Week
This special edition which focuses on Irish Unity, features articles by Pearse Doherty, Dr Thomas Paul and Martina Anderson.
Pearse sets out the argument for an United Ireland Economy whilst Pat Sheehan makes the case for a universally free all-island health service.
Other articles include, 'Ceist teanga in Éirinn Aontaithe', 'Getting to a new Ireland' and 'Ireland 1918-22: The people's revolution'.
An Phoblacht on Twitter

An initiative for dialogue 
for reconciliation 
— — — — — — —
Contributions from key figures in the churches, academia and wider civic society as well as senior republican figures