27 May 2019
Workers' Rights and New Employment Practices must be central to political change in Ireland - Kearney
One hundred years on Connolly's vision is as relevant as ever: Particularly in a modern Ireland of denied rights; underinvestment in public services; corrupt and sharp practices; vulture funds; wage and tax inequalities, and social disadvantage.
In 2018 Sinn Féin adopted a very important motion at our Ard Fheis which set out a new policy framework on employment and workers' rights in the north of Ireland.
That has now been developed into a substantive policy document "Towards a New Employment Model – Strengthening Workers' Rights", and last week I launched it at Áras Uí Chonghaile in West Belfast.
The Mayor of Belfast Deirdre Hargey chaired proceedings.  It was Deirdre's second last official engagement before stepping down as the city's Mayor, to be replaced by newly elected Sinn Féin councillor, John Finucane.
Deirdre has brilliant progressive politics, which are absolutely instinctive to her nature. She has been a champion for community and class politics, equality and rights for all citizens throughout her mayoralty. 

The main speaker at the launch event was Gerry Murphy, Chairperson of the Northern Committee of the Irish Congress of Trades Unions (ICTU). He is also Assistant General Secretary of the Irish National Teachers Organisation and has been a progressive leader for many decades: working in disadvantaged communities, and standing up for travellers' rights as a teacher: but also as a labour union representative and a political activist in his own right.
We chose to use Áras for our launch because it is a contemporary embodiment of the Irish labour and socialist republican leader, James Connolly's historical influence.
It makes the direct connection between Connolly and Belfast city.
It was also an appropriate location for the launch because Áras is a resource to give expression for Connolly's ideas and to educate new generations about their importance.
He famously said:
"Our demands most moderate are, we only want the earth."
Such timeless words.
One hundred years on Connolly's vision is as relevant as ever:  Particularly in a modern Ireland of denied rights; underinvestment in public services; corrupt and sharp practices; vulture funds; wage and tax inequalities, and social disadvantage.
I suspect Connolly would acknowledge that ideas, new or old, are only as good as their ability to deliver change:
And also, that progressives must maximise their influence to change the balance of power and collaborate to bring those ideas into effect.
All in all, our launch event was a good day's work in advancing progressive, class politics and workers' rights.
Sinn Féin has invested heavily in developing our focus upon economic, industrial and social policy.

The rights and protections of working people and their families, as well as the most marginalised in society, have been central to this work.
We have developed close working relationships with ICTU nationally, on how we can jointly advance the priorities and campaigns of the Irish labour movement.
We are committed to building on those relationships now and in the future.
We share common interests with the Irish labour movement and also common challenges.

Here in the north, a decade of British Tory austerity has had a devastating impact upon the regional labour market and local living standards.
Since 2010 the block grant has been cut by 10.2% in real terms.
Insecure work has become increasingly prolific.
That trend is now more common place with the decline in collective bargaining.
One fifth of employees are paid less than the living wage.
One in every three workers considers their own work to be insecure.
Inevitably women and young people are disproportionately affected, especially in the private sector.
Precarious working conditions, zero hours contracts and the scam of bogus self-employment are in common practice.
Workers' rights and protections are being systematically reversed.
Precarious work is bad for the economy.
It is linked to high staff turn overs, lower employment rates, reduced consumer spending, and less productivity.
It allows unscrupulous employers to undercut those employers who are committed to good pay and decent conditions.
Our party believes secure employment and good pay should be the foundation of a sustainable, productive economy, and a prosperous, fair society.
We believe that creating good jobs and protecting workers' rights should be integral to public policy north and south.
Our proposals have now been consolidated in the policy document 'Towards a New Employment Model: Strengthening Workers' Rights'.
At its heart is our support for the adoption of the Living Wage, as the minimum standard by which all employees should be paid.
We say that government as a major employer should lead the way, along with all public sector bodies, and pay their own staff the Living Wage.
In turn, government action and public policy should encourage and incentivise private sector employers to become Living Wage employers.
We unambiguously assert that zero hours contracts are unfair, unproductive and exploitative. 
This practice should be banned from the work place.
Central to this new policy document is our proposal to establish a new employment model.
We are urging all social partners, including public and private sector employers, ICTU, and other stakeholders, to agree a new employment model which commits to ensuring the regional and island economies are based upon the principle and practice of the Living Wage.

Fair pay for work and decent employment standards will pave the way to sustainable economic growth and improved productivity. 
The onset of Brexit will be a catastrophe for the regional and island economies.
It will deepen an existing economic and social race to the bottom by undermining the potential for economic growth and new investment.
The combination of Brexit and ongoing Tory austerity, threatens jobs across all sectors, workers' terms and conditions, and the prospect of ever having sustainable public services in the north.
This perfect storm sharpens the implications of the political crisis in the north, caused by the denial of rights, successive financial scandals and an institutionalised lack of integrity in the regional government.
The refusal to implement the Bill of Rights enshrined 21 years ago in the Good Friday Agreement, as well as other key provisions of that agreement, graphically sums up why all of these problems are now so mutually interlocking.
Workers and employment rights, just like language, marriage, legacy justice, and reproductive health, are all human rights.
There should be no hierarchy of rights. 
Sinn Féin will oppose attempts to bring this about.
However, that responsibility must also be shared by all progressives.
Our party is fully committed to defending the interests of working families and opposing the erosion of workers' rights in the face of Brexit.
We believe that these, alongside the direction of public investment and allocation of public housing on the basis of objective need, must be entrenched in any future Programme for Government. 
Our new policy document is a statement of intent by Sinn Féin that we will bring forward future legislation on a new employment model based upon our proposals, if a rights-based return to power sharing in the north can be agreed.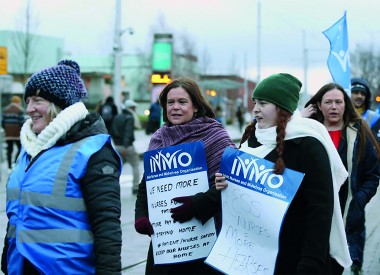 Moreover, we are committed to ensuring that new employment practices, the Living Wage, fair conditions, and workers' rights are central to any new, national constitutional framework on our island.
Sinn Féin believes that a progressive labour and rights-based agenda must seek to influence the increasingly mainstreamed discussion on Irish unity.
This is a time when all progressive civic and political forces should be engaging and collaborating with each other to ensure economic and social equality, and citizens' rights are hard wired into any future constitutional and political process of change in Ireland. 
An Phoblacht on Twitter

An initiative for dialogue 
for reconciliation 
— — — — — — —
Contributions from key figures in the churches, academia and wider civic society as well as senior republican figures