8 May 2019
Mary Lou McDonald: The people have spoken, it's time to deliver a government for everyone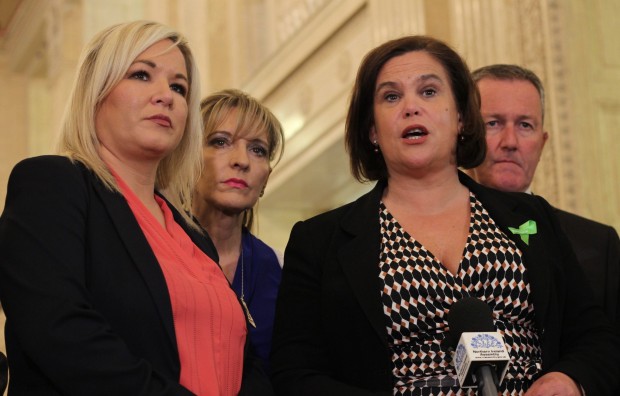 "Sinn Féin are entering the talks to resolve the outstanding issues and ensure that all in society are treated equally and with respect, and re-establish genuine powersharing operating to the highest standards and delivering prosperity for all." - Mary Lou McDonald TD
Twenty-one years on from the Good Friday Agreement, the political talks beginning on Tuesday are an opportunity to finally realise the potential of that historic accord.
That agreement, overwhelmingly endorsed by the people of Ireland, North and South, promised power-sharing institutions founded on genuine equality and mutual respect for all citizens.
Sinn Féin, led by Martin McGuinness, honoured the agreements and operated the power-sharing institutions with courtesy, respect and patience.
Others sought to erode and undermine the principles which underpin the agreement and, in so doing, exhausted public confidence in the political institutions it created. Their actions brought the institutions to the point of collapse.
We have been without an Executive, Assembly and the North South Ministerial Council for over two years now. The denial of rights cannot continue. It is beyond time to re-establish genuine power-sharing institutions.
Sinn Féin believes in power sharing and sustainable institutions which deal with our economy and deliver public services such as in health and education. We want to be back in government.
We want to be demonstrating that politics can and does work for local communities and that there is no place for those who would seek to drag our society backwards
The Good Friday Agreement is built on the fundamental principles of rights, respect, equality, democracy and peace. These principles remain the basis for re-establishing power-sharing. They do not require renegotiation, they require acceptance and implementation.
Our negotiators are ready for talks. We are up for resolving the issues. These issues are not complex, complicated or intractable. They can be resolved if the political will exists. Agreement can be found in which the rights of all are respected.
That is how we will create credible and sustainable institutions that are built on equality and respect.
That is how we will deliver on the issues at the heart of the political impasse, including marriage equality, and rights for women, Irish speakers and victims.
The local government elections have demonstrated that society is changing. Not only with regard to the constitutional issues, but the parties making significant advances are united in their support for marriage equality, an Irish language act and in their opposition to the Tory/DUP Brexit.
A more progressive, inclusive and pluralist society is emerging. The Good Friday Agreement generation is finding its voice and demanding that we make good on the promise of the Agreement.
To build peace, equality and prosperity for all in society.
These talks are an opportunity for all progressive voices to work together and to be heard. The people have spoken and now the parties and two governments must deliver.
Sinn Féin stands ready to do that. We are determined to seize the opportunity provided by the new round of political negotiations.
We will engage energetically and positively in those talks and I would urge all parties to do the same.
We will work hard to find agreement. Our expectation is that all parties and, crucially, the two governments as co-guarantors of the Agreement have a responsibility to ensure that the issues of rights and equality are dealt with.
Sinn Féin are entering the talks to resolve the outstanding issues and ensure that all in society are treated equally and with respect, and re-establish genuine powersharing operating to the highest standards and delivering prosperity for all.
Tragically, we have seen over recent weeks how some elements are still determined to take advantage of political impasse to try and fill the vacuum with mindless and deadly violence.
They cannot be allowed to succeed.
And the best way to defeat them is to ensure that – twenty one years on - that all our people enjoy the fruits of the progress made since the signing of the Good Friday Agreement.
This piece was first published in the Belfast Telegraph on 7th May 2019.