25 April 2019
Lyra McKee: There can be no going back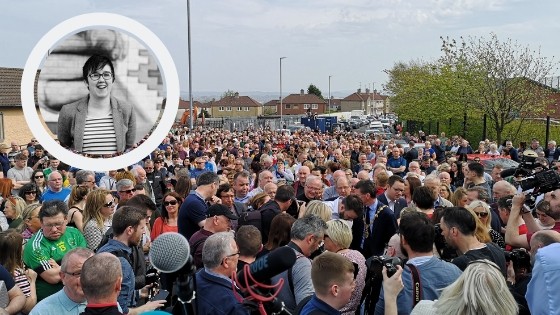 "Those who carried out this barbaric attack do not have the support of the people of Derry, nor do they represent us." - Callum Smyth
The circumstances in which Lyra McKee was murdered in Derry, one week ago today, were the height of recklessness. Lyra McKee was simply doing her job when her life was taken from her in the most horrific of ways. The emotional scenes from Lyra's funeral yesterday afternoon should be a blinding signal to dissident 'republicans' that their agenda has zero community support or backing.
The people in Derry do not want a return to the violence of the past and they do not want guns on our streets. Last Thursday night's violence is not normal here and we cannot let it become normalised.
I have seen a lot of commentary on social media over the course of the past week with people stating they are "ashamed" to be from Derry following Lyra's murder. I do not accept this. 
Those who carried out this barbaric attack do not have the support of the people of Derry, nor do they represent us. They are a tiny minority, a micro group, and they will not win in their quest to drag our city backwards. 
It is normal for a journalist to carry out a risk assessment before going to a cover a story, but neither Lyra, or any other journalist, could have anticipated what was to happen that tragic night. She was passionate about her work, and her death is a huge loss to journalism in the north of Ireland and worldwide.
The people of Derry do not want any return to conflict, but so-called dissident republicans seem intent upon making this happen. How can they dare to disregard the people's support for the peace process we have today?
Our peace process was hard won. We cannot allow that progress to be undermined by anyone. Lyra's legacy must be reflective of the future she had envisioned. One where everyone is equal. One where everyone is free to be who they want to be. One where respect is shown in every aspect of life. May she be the last person to die in the horrific way she did, and may we work to further the peace process ensuring that this never happens again. There can be no going back.
The majority people in the north want to see the full restoration of the institutions of the Good Friday Agreement. In order for this to happen it is imperative that we have a serious and meaningful talks process which removes obstacles to power-sharing, delivers rights and restores the Assembly.
Finding solutions to outstanding rights issues is key to the restoration of the assembly.