1 April 2019
Sinn Féin refuses to sign up to Carbon Tax on ordinary families
Ireland needs investment, not more austerity.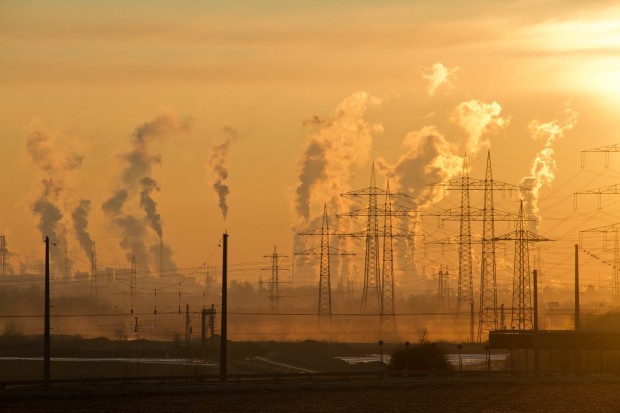 Tackling climate change will require hard choices. However, unlike those parties supporting the majority report, Sinn Féin do not see blaming and punishing ordinary people as 'the hard choices'.
The Oireachtas Joint Committee on Climate Action was constituted in 2018 to consider the deliberations of the Citizen's Assembly and determine how that might inform Ireland's National Mitigation Plan, the draft Integrated National Energy and Climate and the National Development Plan, and the recently published National Development Plan.  It published its Committee Report on 28 March, 2019.
A broad and wide reaching report, carbon tax is merely one part of the greater whole and while Sinn Féin is unambiguously supportive of many of its recommendations, when it came to the issue of a carbon tax, Sinn Féin simply could not agree.
While Fine Gael, Fianna Fáil, Labour, and the Green Party may believe that ordinary working people and families shoulder the burden while industry polluters continue to pump millions of tons of carbon into the atmosphere, Sinn Féin hold that a fair, green alternative is possible.
As the redline issue of a carbon tax impacted on the immediate and future wellbeing of Ireland's most vulnerable citizens, Sinn Féin was simply not prepared to negotiate away their future solvency, welfare, or opportunities for a compromised consensus. 
The party subsequently decided to adopt a minority report in order to outline both its opposition to a carbon tax and its proposed alternatives.
Carbon taxes are ineffective. The international evidence in conclusive on this fact. Emissions have continued to rise. 2018 saw an EU record high in emissions. It merely provides the illusion of doing something.
This should be obvious from the fact that the fossil fuel industry supports such taxes, as it allows them push inadequate solutions such as natural gas as they emit less carbon, instead of zero carbon, renewable options.
It is a form of austerity that will disproportionately affect low and middle income households, pushing many hard pressed families over the edge into poverty.
At particular risk are:
      ·         workers in vulnerable industries
      ·         people living below living-wage incomes
      ·         entire communities adjacent to fossil fuel extraction sites and energy production plants
      ·         unwaged living in poverty
      ·         those living in sub-standard dwellings
      ·         the elderly
      ·         unwaged care workers in the home
      ·         those living in remote rural areas or island communities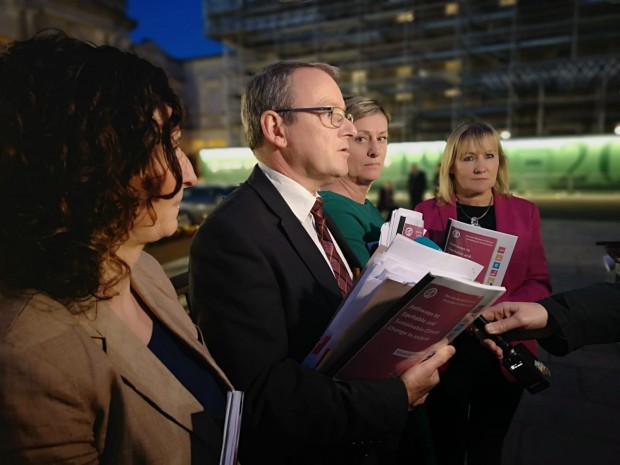 Studies undertaken by the ESRI in 2008 and again in 2018 state quite categorically that universal Carbon Tax disproportionally harms lower income households.  It is estimated that around 400,000 households in this State suffer from fuel poverty.
Ireland needs investment, not more austerity. Sinn Féin have made it clear that it will not stand over any report or policy that endorses regressive increases in carbon tax.
To that end, the party has advocated the following recommendations in lieu of a carbon tax:
·         That the Government in 2019 introduce a Financial Instrument to ring-fence (hypothecate) and freeze the entire proceeds of the exiting €20/Carbon Tonne price, where such price is sustained at the current rate until December 2022 at which time the efficacy of the hypothecation be reviewed. 
·         Place obligations on those who put fossil fuels on the market to encourage customers to renewable energy alternative
·         Policy and legislative changes to facilitate microgeneration for householders and businesses and to develop other sources of renewable energy such as offshore wind, solar, biogas and biomass
·         Use a combination of low cost loans and grants, green bonds to enable householders and businesses to switch to renewable power and to retrofit.
Tackling climate change will require hard choices. However, unlike those parties supporting the majority report, Sinn Féin do not see blaming and punishing ordinary people as 'the hard choices'. As with austerity, the political and economic establishment see their problems as everyone's problems; yet, their profits are theirs alone.
Real hard choices mean breaking this cycle and standing up to the elites. It means rejecting climate action as a means to deliver more austerity and making it a policy of public investment in the economy and society.
You can read Sinn Féin's Minority Report here in full: https://www.sinnfein.ie/files/2019/Climate_Minority_Report.pdf
An Phoblacht Magazine
AN PHOBLACHT MAGAZINE:
Don't miss your chance to get the second edition of the 2019 magazine, published to coincide with Easter Week
This special edition which focuses on Irish Unity, features articles by Pearse Doherty, Dr Thomas Paul and Martina Anderson.
Pearse sets out the argument for an United Ireland Economy whilst Pat Sheehan makes the case for a universally free all-island health service.
Other articles include, 'Ceist teanga in Éirinn Aontaithe', 'Getting to a new Ireland' and 'Ireland 1918-22: The people's revolution'.
An Phoblacht on Twitter

An initiative for dialogue 
for reconciliation 
— — — — — — —
Contributions from key figures in the churches, academia and wider civic society as well as senior republican figures