5 March 2019
First Dáil TD dies in English prison
Remembering the Past - 100 years ago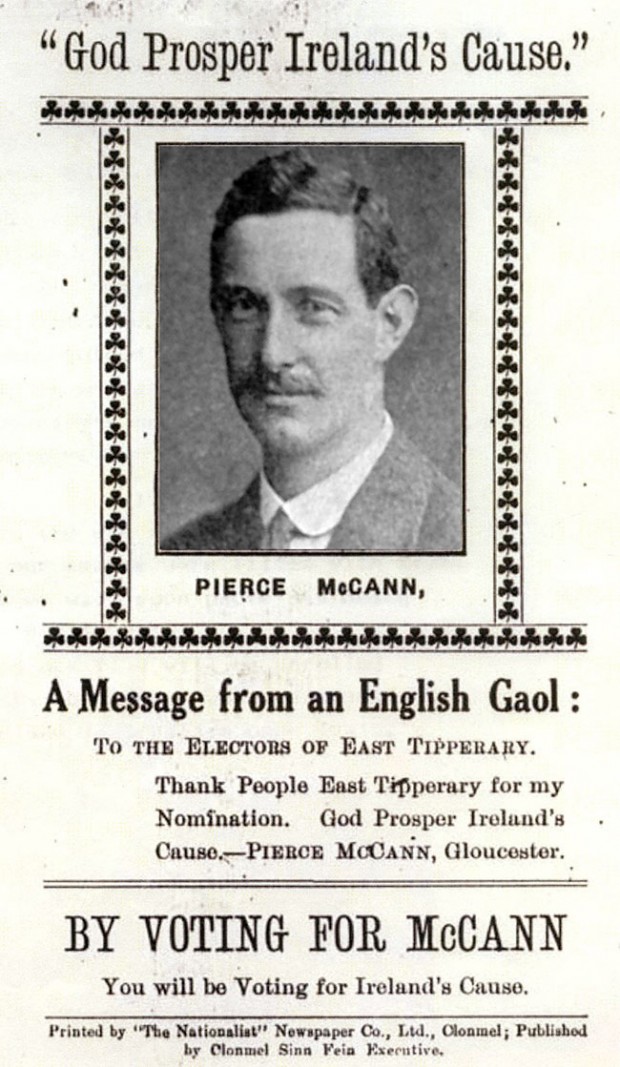 PIARAS MAC CANNA represented East Tipperary in the First Dáil Éireann. He was a founder member of both Sinn Féin in 1905 and the Irish Volunteers in 1913 and was commander of the Volunteers in County Tipperary. 
When John Redmond, leader of the Irish Parliamentary Party, split the Volunteers and encouraged them to join the British Army, Piaras Mac Canna was one of the few officers in Tipperary who remained true to the aims of the Volunteers and the cause of Irish independence. 
Due to the countermanding order of Eoin Mac Neill and the attendant confusion, Tipperary played no part in the 1916 Easter Rising. But Mac Canna, with many other Tipperary nationalists, was rounded up in the aftermath. He was held in Richmond and Kilmainham jails in Dublin and then shipped to England where he was in Knutsford and Reading jails before his release in July 1916.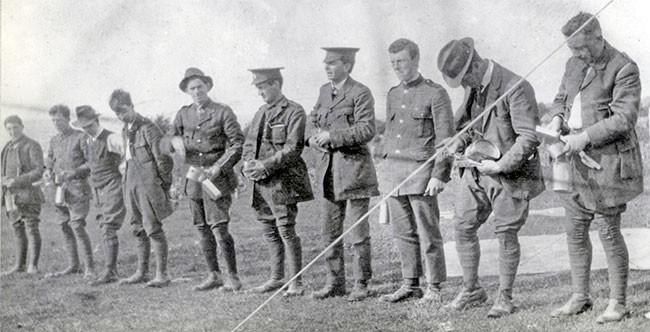 • September 1915: William Mullins, Richard Mulcahy, Seán Lester, unknown, Donal Barrett, Terence MacSwiney, John Griffin, Liam Langley, Piaras Mac Canna and Austin Stack
KEY FIGURE
Mac Canna was a key figure in the reorganisation of Sinn Féin and the Irish Volunteers in 1917 and early 1918. When these organisations mobilised the successful campaign against conscription, the British Government decided to combat them by arresting their key leadership figures on the basis of the fabricated 'German Plot'. 
Piaras Mac Canna was among the leaders rounded up in May 1918. He was held in Gloucester Prison with, among others, Arthur Griffith. A firm republican, Mac Canna argued against Griffith's 'dual monarchy' notion but befriended the Sinn Féin founder nonetheless. Mac Canna was a Conradh na Gaeilge activist and fluent Irish speaker and he taught Irish to Griffith in Gloucester Prison.
In December 1918, the people of East Tipperary elected Piaras Mac Canna as their TD with a majority of nearly 3,000 over his Irish Party opponent. But Mac Canna was never to take his seat in Dáil Éireann.
FLU PANDEMIC
The winter of 1918/1919 saw a flu pandemic which killed millions of people across the globe. In December, in Usk Prison, Wales, republican prisoner Richard Coleman of Dublin contracted the virus and died. In February, the flu struck the prisoners in Gloucester, including Piaras Mac Canna. A strong constitution and general good health was no defence against the flu virus which quickly turned to pneumonia and took the life of the Tipperary TD. 
Following the death of Mac Canna the British Government released the remaining Irish internees from English jails. 
Piaras Mac Canna's body was taken by his family and fellow internees back to Ireland. As the huge funeral passed through Dublin, a British soldier on a motorcycle attempted to impede the cortege. He and his vehicle were thrown into the River Liffey by an angry crowd. 
The burial was in Dualla, County Tipperary.
Ag labhairt ag an uaigh dúirt Cathal Brugha:
"Tá an mártar múinte is déanaí againn sínte os ár gcomhair anseo. Tá Piaras usual ard-aigeanta Mac Canna tar éis scarúint linn go deo.
"Na súile glasa gealgáireacta trena dtaithneadh a anam gan eagla orainn, táid iadtha go bráth ag an mbás... Do shamhaile-se, a Phiaras, a bhí in aigne Thomáis Dhábhais an uair a dúirt sé gur lucht córach a dhéanfadh naisiún dár nÉirinn arís. Cad is ciontach leis an mí-adh sin?
"A Rí na Glóire, an fada a bheidh orainn cur suas leis an bhfoiréigean seo?"
Piaras Mac Canna TD died in Gloucester Prison on 6 March 1919, 100 years ago this week.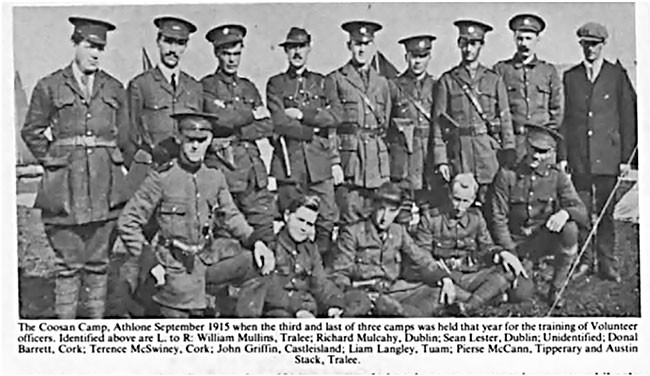 An Phoblacht on Twitter

An initiative for dialogue 
for reconciliation 
— — — — — — —
Contributions from key figures in the churches, academia and wider civic society as well as senior republican figures