27 February 2019
Bigotry, inequality and sharp practice have no place in local councils — Declan Kearney
"All the Sinn Féin councillors elected in South Antrim, and elsewhere across the north, and then in the southern state on 24th May, will be mandated to act as agents of change in local government, and to promote rights, equality and Irish unity."
The Sinn Féin organisation of my South Antrim constituency has decided to field its largest ever number of candidates during the local government elections which will be held in the north of Ireland on 2nd May this year.
Last week the local selection convention picked six candidates to stand on behalf of the Party for election to Antrim and Newtownabbey Borough Council.
Henry Cushinan, Andrew Maguire, Ann Marie Logue, Cathy Rooney, and Gerard Magee will all stand in the Dunsilly, Airport and Antrim town District Electoral Areas (DEA's).
Separately, Gary McCleave will contest for the Killulltagh DEA, (which includes the  Glenavy, Stoneyford and Lower Ballinderry areas). These fall inside Lisburn and Castlereagh Borough Council – even though they are included in the South Antrim constituency.
Three other candidates, Michael Goodman, Rosie Kinnear and Taylor McGrann had already been selected to contest the Glengormley Urban and Macedon DEA's.
It's a big undertaking for Sinn Féin locally. At present there are only three Sinn Féin Councillors on Antrim and Newtownabbey Borough Council, and none on Lisburn and Castlereagh.
The selection convention however was very well attended from all over South Antrim.
There is a real potential to significantly strengthen the Party's council representation.
Local ratepayers have been badly served by the unionist dominated councils which cover South Antrim. They deserve better.
Last year Antrim and Newtownabbey Council adopted an unlawful 'English Only' language policy, acting in a discriminatory manner on the grounds of religion, political opinion and cultural identity.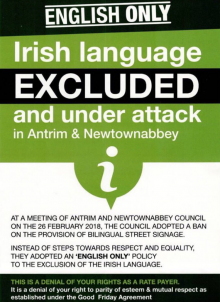 That was an absolute affront to all those ratepayers who identify as Irish citizens, but who also pay high council rates in the expectation of getting value for money, and being treated with equality and respect.
Legal action and a community campaign were required to get this obscene policy rescinded.
Currently ratepayers are in dispute with the council over a decision not to provide Christmas lights in Crumlin; one of the largest towns in the Antrim and Newtownabbey Borough.
Four out of the five main towns in the Borough are provided with Christmas lights, whilst Crumlin has been excluded.
Crumlin is not an insignificant location. It has a population of 5,500 and is predominantly a nationalist/republican area with a thriving Gaelscoil, Naíscoil, Irish Language community centre, and GAA family.
Sinn Féin needs to maximise our council strength in the next mandate.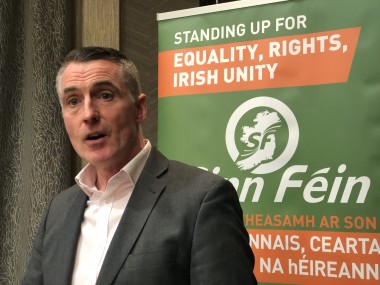 A stronger republican council team is the only way to effectively challenge the negative dominance of political unionism, and to ensure that all local rate payers are treated equally and get good value for money.
Increased Sinn Fein representation in all political and public institutions is also the best response to the offensive and stupid comments about Irish unity by the SDLP leader at the Fianna Fáil Ard Fheis on Saturday afternoon.
I reminded our selection convention in the Dunsilly Hotel that 34 years previously Sinn Féin had stood only one candidate in South Antrim: that was Henry Cushinan a former POW.
I was his very young Director of Elections back then. The Election Agent was our comrade Peter Gallagher, who was assassinated by a pro-state unionist death squad 26 years ago on 24th March 1993.
During the 1980s and 1990s Sinn Féin councillors, activists and their families were systematically targeted for assassination by death squads, and subjected to regular brutality and harassment from state forces.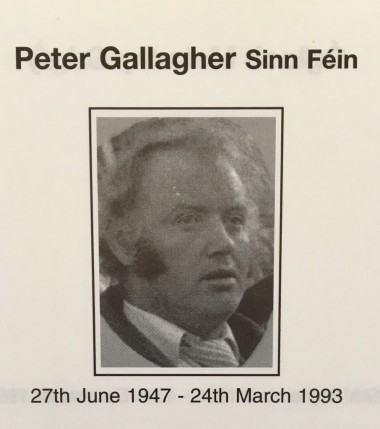 I joked with the audience that when Peter asked me what he had to do as an Election Agent, I replied that he had to do, what I told him to do!
We have come a long way from 1985 when Sinn Féin first entered local government as a political force in the north.
We also fight elections a lot differently now!
Local government is an important site of political struggle.
The prevailing political and bureaucratic systems need to be challenged, democratised, and made more accountable.
Bigotry, inequality and sharp practice have no place in local councils north or south.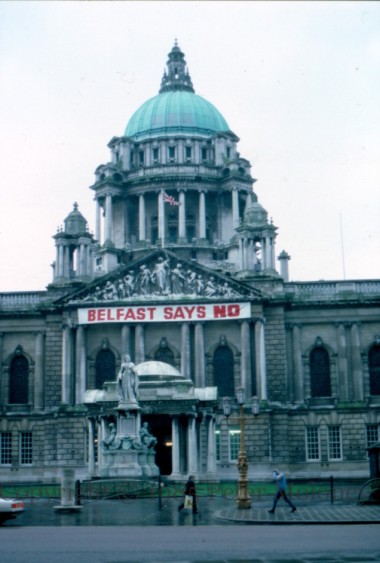 Sinn Féin has high expectations of those councillors who are elected on behalf of our Party.
All the Sinn Féin councillors elected in South Antrim, and elsewhere across the north, and then in the southern state on 24th May, will be mandated to act as agents of change in local government, and to promote rights, equality and Irish unity.
The forthcoming local government election occurs at a time of unprecedented political instability caused by the continued denial of rights and democracy in the north by the DUP and British Government, and as a result of the Brexit catastrophe being driven by their toxic alliance.
We have entered the political end game.
Every vote for Sinn Féin is another brick in the road we are building towards the achievement of an agreed, united Ireland, which will guarantee civil and religious liberties and rights for all of our citizens.
On the 2nd May, the electorate in South Antrim and elsewhere, as well as on 24th May in the south, will have an opportunity to elect an unprecedented number of Sinn Féin councillors. It will be a strategic opportunity to once again drive forward the momentum for political change in Ireland.