31 January 2019 Edition
New Spanish government brings little joy for Catalans and Basques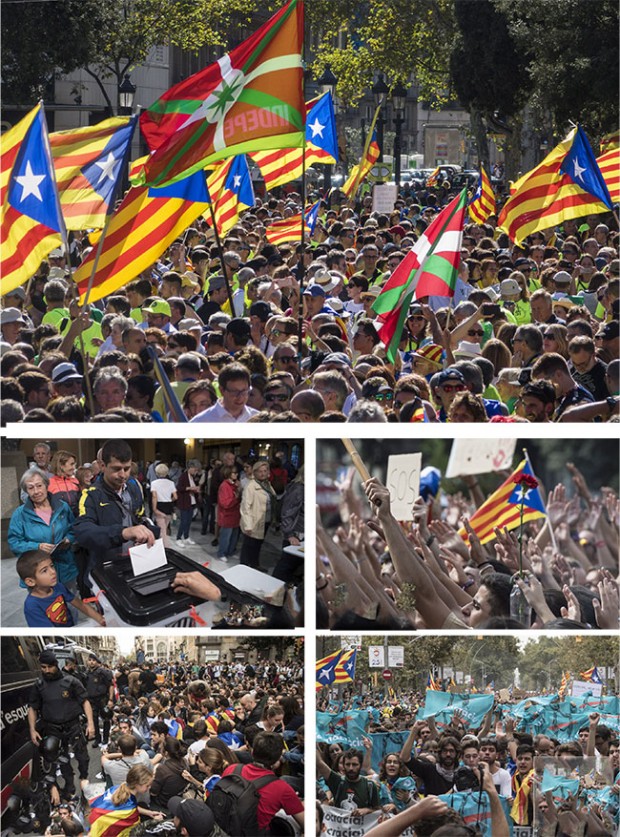 Spain's new minority Socialist Workers Party government has taken steps to defuse tensions in Catalonia and the Basque Country, but remains firmly opposed to allowing any form of national self-determination.
Coming to power on June 1, new Prime Minister Pedro Sánchez called for "rebuilding trust" in Catalonia. Spanish direct rule in Catalonia under the contentious Article 155 – imposed by Madrid to prevent the October 1 independence referendum last year – was lifted.
Sánchez's cabinet also contains surprises, including new Defence Minister Margarita Robles. As Minister of the Interior and Justice in the 1990s, Robles pursued the GAL paramilitary death squads operated by the Spanish government in the Basque Country during the 1980s, killing dozens.
The Spanish government announced it would move Catalan political prisoners to jails in Catalonia, as well as a case-by-case transfer of Basque political prisoners to prisons closer to home, reversing the longstanding 'dispersal' policy of several hundred Basque prisoners in jails spread across the Spanish state.
Sánchez justified the latter move with reference to the declaration by Basque pro-independence armed organisation ETA that it was ending its 59-year existence, but in both cases Spain was merely finally complying with recognised legal standards – including its own. The French government began carrying out similar moves with Basque prisoners last year. 
A closer look at Sánchez's cabinet is more revealing. His Foreign Minister is Josep Borrell, a Catalan-born former President of the European Parliament. Speaking at a rally of the right-wing unionist 'Catalan Civil Society' organisation last December, the fiercely anti-independence Borrell called for Catalonia to be "disinfected" of pro-independence sentiment. Borrell's immediate task will be to recover the political ground lost by Spain across Europe due to its terrible mishandling of the Catalan referendum.
Sánchez's other main 'hawk' is Interior Minister Fernando Grande-Marlaska. A former judge responsible for jailing Basque independence leader Arnaldo Otegi not once but twice, Grande-Marlaska presided over six cases criticised by the European Court of Human Rights for failing to investigate torture claims against Basque detainees. 
New government spokesperson Isabel Celaá immediately and "absolutely" ruled out any discussion of Catalan self-determination, while Meritxell Batet, the minister in charge of relations with Catalonia, argued the Catalan national question was "too complicated" to be solved by vote. For his part, Sánchez insisted the Catalans "must forget what happened during the October 1 independence referendum" if they want reconciliation. 
Sánchez met with Catalan President Torra on July 9, but refused his request for an agreed self-determination referendum — a proposal supported by over three quarters of Catalans. Instead, Sánchez proposed greater autonomy within Spain, through a referendum to amend the Spanish constitution. Considering the toxic anti-Catalanism generated across the Spanish state by the Rajoy government, the media and the right wing opposition party Ciudadanos, the chances of such a vote passing are minimal.
Opposition to self-determination does not only come from the government, however. Many parts of the Spanish state — within the courts, the police, and the army - never fully broke with the authoritarianism of Francoism. The world was exposed to this dark side of Spain through widespread police violence during the October 1 referendum.
One of the most visible faces of this institutional animosity is Supreme Court judge Pablo Llarena. Llarena was responsible for the extradition cases against former Catalan President Carles Puigdemont, and the other independence leaders still in exile. It was Llarena, too, who imprisoned nine Catalan leaders on questionable charges of "rebellion" (a charge requiring armed insurrection). 
In July, Llarena decided to suspend several MPs - including Puidgdemont - from their positions, a move criticised not only by pro-independence forces as a "direct attack" on democracy, but by the Catalan Ombudsman as well.
As a result, the independence debate in Catalonia is swinging once again away from seeking a negotiated settlement and towards a more confrontational approach, involving mass strikes, civil disobedience or unilateral independence.
Catalan president Torra warned that without an agreed self-determination referendum, Catalonia will continue towards the unilateral implementation of the Catalan Republic, and has not ruled out seeking new elections later this year to reinforce the popular mandate for self-determination. 
The self-determination debate in Catalonia is also provoking Spanish fears of a 'second front' in the Basque Country. Basque independence party Sortu has set a target of 2026 for a sovereign Basque republic, and the mass, peaceful nature of the Catalan struggle has provided an inspiration to their northern neighbours. On June 10, 175,000 people formed a 200km human chain across the Basque country, demanding a "right to decide".
Nonetheless, the Spanish government remains more concerned with Spain's constitutional integrity than with ensuring democratic rights. The Catalans and Basques therefore face the unwelcome choice of influencing Spanish and international opinion and force an unwilling Spanish government to the table, or pursuing a unilateral path with neither guarantee of success nor a clear strategy. 
Along both paths, however, popular mobilisation at home and solidarity abroad, in defence of the democratic right to choose, will play a pivotal role.  
Duroyan Fertl is a Sinn Féin political adviser in the European Parliament.