31 January 2019 Edition
Public housing is the answer
Fine Gael & Fianna Fáil's housing crisis is getting worse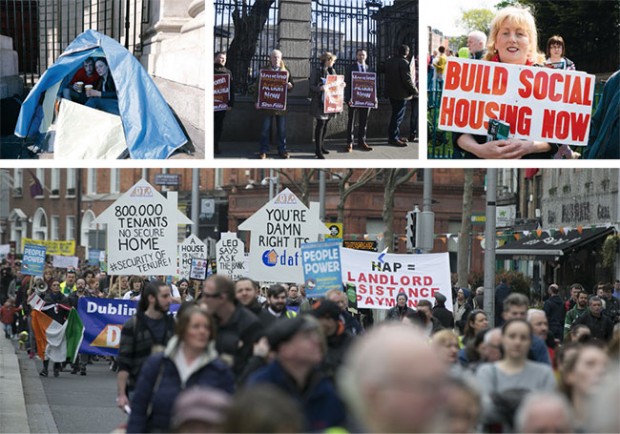 Our housing system is broken. Since Fine Gael took office in 2011, the number of people living in emergency accommodation has increased by a shocking 319%. Even more startling is the increase in child homelessness, up an astonishing 496%.
According to the latest figures from the Department of Housing there were 9,846 people including 3,826 children in emergency accommodation in May of this year.
These figures do not include the one hundred or so adults and children in Dublin City centre hostels that receive no state funding; the 110 rough sleepers counted last Spring; the 520 adults and children with their leave to remain but trapped in Direct Provision effectively using it as emergency accommodation; the 875 adults and children re-categorised by the Department despite being in temporary accommodation; or the 3,785 women and children who in any given year pass through Tulsa funded domestic violence refuges and step down accommodation.
The fact that the government can not provide an accurate number of homeless persons speaks volumes. However what is truly shocking is that so many people are without a home.
Behind every statistic is a real person or family. A mother with children living for months on end in cramped and inappropriate emergency accommodation. A pensioner unsure of where they will sleep tonight. A working family with a Notice to Quit unable to source alternative rental accommodation. A single person struggling with mental health or addiction issues trapped in an endless cycle of rough sleeping and hostel accommodation.
Government policy is failing
The government's response to this escalating crisis was Rebuilding Ireland, launched with great fanfare in July 2016. It promised to reduce homelessness, increase investment in social and affordable homes, help the private sector boot supply, strengthen the private rental sector and get vacant homes back into use.
Two years on and the crisis continues to get worse. Homelessness continues to rise; social housing delivery is glacial; zero affordable rental or purchase homes have been delivered; private sector output is anaemic; and the government hasn't event published their vacant homes strategy.
None of this will come as a surprise to readers. The housing crisis and its human impact are well know. So what is the solution? What should a progressive government do differently to the failed current and past Fine Gael and Fianna Fáil-led administrations?
The short answer is public housing – public housing on public land, publicly funded on a scale not seen in the history of the state. But to understand the full meaning of this we need to change our definition of public housing.
We need to replace the narrow idea of social housing as housing for the very poor with a broader definition of public housing for a broader range of income groups. Public housing should be for those in full time work on modest incomes, those in precarious work on low incomes, those temporarily out of work and indeed those who may never work. 
We also need to broaden the tenure mix provided within public housing to include traditional social rental for those unable to cover the full cost of their homes, new cost rental for those who don't need subsidised housing but can not afford market rental and affordable purchase homes for those locked out of the market.
Given that Local Authorities can deliver good quality homes as a significantly lower cost than the private sector the most cost effective way to deliver affordable homes for a broad range of working and unemployed households in large scale council-led housing developments.
A new social housing strategy
These should be mixed income and mixed tenure providing an appropriate amount of social rental, cost rental and affordable sale as required by the local community. The estates should be fully integrated with no distinction in housing type for differing tenures. They should have adequate amenities and social and economic infrastructure. And the communities who live there should be actively empowered to manage and make decisions affecting their area.
Social housing should be provided to those currently on the council waiting lists, though given that the income limits haven't been reviewed for ten years, the thresholds will need to be raised. A recent report by Professor Michelle Norris and Dr Aideen Hayden on the future of council housing has made far-reaching proposals on how to properly fund social housing into the future. The report's recommendations are based on significant research and must be taken seriously. 
Affordable rental and purchase housing should be provided to those above the income thresholds for social housing and below €58,000 for a single person and €75,000 for a couple. Both rents and house prices must be based on cost rather than market prices. This would mean affordable homes for sale between €170,000 and €260,000. Tenants should never pay rent above 30% of their disposable income and should have rent certainty and tenancies of indefinite duration.
Crucially affordable homes should never be sold into the private market.They can be passed from one generation to the next and can be sold back into the affordable housing stock but could never be sold to or rented in the private market. 
The broader income and tenure mix in such developments will ensure a greater level of economic viability. But the building of truly vibrant communities will require local authorities to play a greater role in supporting and resourcing real community participation in the life and development of the neighbourhood. Councils must understand that housing is not just about bricks and mortar but about communities who must be empowered to actively participate in the decisions affecting their lives. 
In order to tackle the housing crisis such housing developments, and the communities who will live in them, need to be developed on a scale commensurate to the level of social and affordable housing need. Real social housing  – those on Local Authority waiting lists with households in receipt of the Housing Assistance Payment and the Rental Accommodation Scheme – currently stands at 140,000 households. We have no measures of the need for affordable rental or purchase but it will be in the tens of thousands. 
To meet this need the state would have to at least double capital investment in social and affordable housing in 2019 and sustain that level of investment for at least a decade. Central and local government would have to set our new and ambitious plans for the development of sustainable and vibrant public housing developments. This would require vision and political will. Crucially it would require a government that puts the needs of low and modest income families above those of vulture funds and corporate developers. 
Eoin Ó Broin is a Sinn Féin TD for Dublin Mid West and is the party's Dáil spokesperson on Housing.