31 January 2019 Edition
Gaza is an open air prison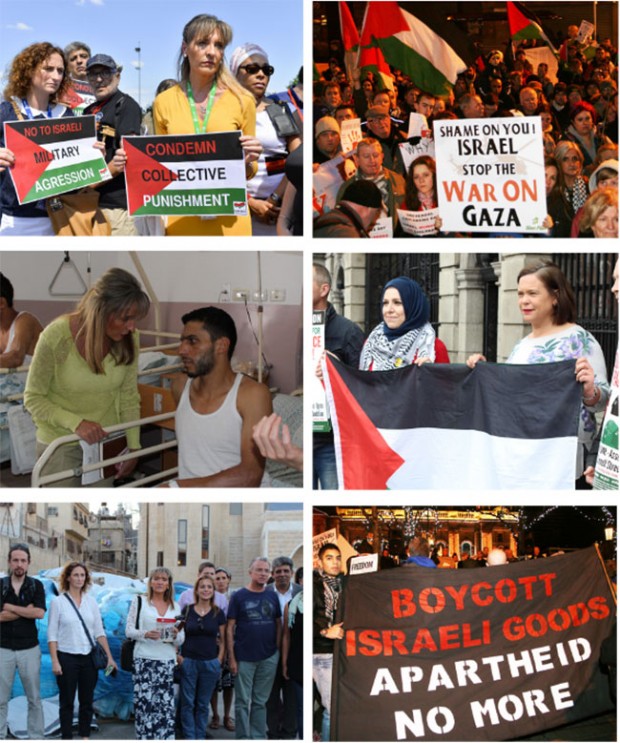 This year marks 70 years since Nakba, meaning catastrophe, where over 700,000 Palestinians were expelled from their homes and from their land. It marks the loss, dispossession and historic injustice suffered by the Palestinian people, a loss from which they are still struggling to recover. This Israeli settler colonialism has yet a longer history, one which we as the Irish people can relate to, whereby Britain assisted efforts to promote the partition of Palestine and British and Israeli colonial power began to assist in efforts to create an Israeli state on Palestinian land.
Entire villages were destroyed, before being rebuilt and renamed, and the systematic campaign of destruction and cultural obliteration saw their books, music, films and drama, arts and social organisations disappearing with the communities of which they were a part. 
To this day, we see the military occupation, the confiscation and theft of property, the blatant disregard for humanity in the actions of Israeli forces and the imposition of an apartheid system in the West Bank and Gaza Strip. The story of Nakba - is one of an on-going struggle for survival.
This blatant discrimination and occupation, means that today, one in three refugees world-wide is Palestinian. More than 4.3 million Palestinian refugees and their descendants displaced in 1948 are registered with the UN for humanitarian assistance. 
Palestine Today
Today, nearly one third of registered Palestinian refugees live in 58 recognised refugee camps, with a colossal population in cramped, substandard conditions.
In 2014, Israel conducted a bloody 50-day military attack on the Gaza strip which resulted in 2,145 deaths, 581 of whom were children. I went to Palestine with fellow Sinn Féin MEPs Matt Carthy and Lynn Boylan, alongside 10 other GUE-NGL MEPs. We left it all the more determined to keep up the fight for a free Palestine, to tell the world what was happening there and to change not just EU policy towards Israel, but the narrative. We all have a duty to play our part in this regard. Since then I have been to Palestine on a number of occasions.
This year, the first day of the six-week peaceful protest began on Good Friday, as tens of thousands planned to camp near the Israeli frontier surrounding the Gaza Strip on two sides. Yet this was marked by illegal, incomprehensible and inexcusable suppression, as Israel open fired on protestors, shooting 773 people with live ammunition. Fifteen of the wounded died, and most were between just 17 and 35 years of age. Such brutal force has been used against the Palestinian people with impunity for over 70 years. 

Expelling people from their homes and preventing their return is a war-crime, which continues to be committed to this day. Marking the anniversary of Nakba, the Palestinian people demonstrate their strength in the struggle against ongoing colonial settler oppression, systematic discrimination and policies of erasure and theft.  Because when injustice becomes law, resistance becomes a duty.
The ever increasing desolation, deprivation and degradation of Gaza and Palestine, while simultaneously expanding illegal Israeli settlements, has effectively turned the region into an open air prison!
Support the boycott
We all have a role to play in driving support for the Boycott, Divest and Sanctions movement. This has the widespread support of human rights organisations, NGOs, and trade unions, who stand firmly against apartheid and discrimination, and stand solidly for the end of the occupation and the right of return for the Palestinian people. 
We need to tackle the Achilles' heel of the occupation — and challenge head on any corporate assets, interests or activities profiting from illegal occupation.
The international community considers the establishment of Israeli settlements in the Israeli-occupied territories illegal under international law. The Fourth Geneva Convention (1949) prohibits countries from moving populations into territories occupied in a war. We must double our efforts, in the interest of human rights, justice and due-process, to achieve the implementation of the 4th Geneva Convention and international law for Palestinians. Our Sinn Féin MEPs have also consistently pushed for the suspension of the EU-Israel association agreement, given that Article 2 provides for the agreement to be invoked when there are clear breaches of human rights.
The Russell Tribunal on Palestine (RToP), found the EU guilty of 'unlawful assistance to Israel,' due to dealing with settlement goods, due to permitting Israel to participate in research programmes, due to the number of EU companies like G4S who are heavily complicit in the illegal occupation and due to the failure of the EU to take action.
The USA is complicit in these violations of international law, having provided material and financial support to Israel, having obstructed numerous UN Security Council resolutions censuring Israel for its actions, and this year having substantially cut funding to the UN Relief and Works Agency (UNWRA). 
Donald Trump has dangerously defied overwhelming opposition, recognising Jerusalem as the capital of Israel, while moving the US Embassy to Jerusalem from Tel Aviv. Jerusalem is the political, spiritual and geographical heart of Palestine. 
The Palestinian people's inalienable right to self-determination continues to be violated by Israel as it proceeds to further expand its illegal colonisation within Occupied Palestine; it is long past the time that other countries stop treating Israel as a state above the law. The Irish Government should immediately expel the Israeli Ambassador and officially recognise the state of Palestine without further delay. Thousands of people have lost their lives, and millions have had their basic human rights consistently denied. We cannot, and we must not wait another year before something is done. 
Martina Anderson is a Sinn Féin MEP representing the Six Counties and is a member of the European Parliament Delegation for Relations with Palestine.