31 January 2019 Edition
Joe Reilly: Always looking on the bright side of life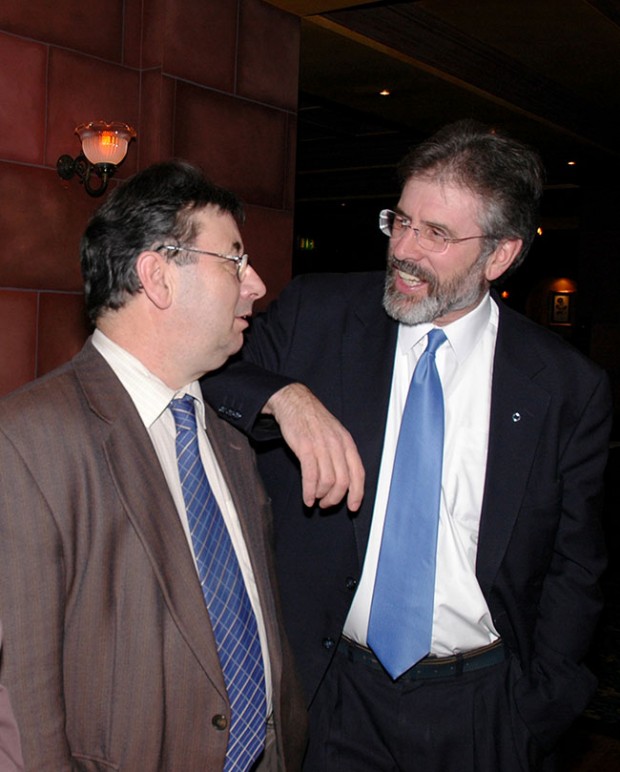 Last February I was a guest speaker at Meath Sinn Féin's annual fundraising dinner. Joe Reilly was the guest of honour. He had just been told that he had terminal cancer. Joe's advice when I asked him for some guidance on how I should approach my remarks that evening was typical Joe.
He said:
"Don't go over the top.
Keep it light – keep it simple.
Don't be breaking down in tears.
And don't have anyone else breaking down in tears."
And then he texted me and added: "All you can say is that I did my best over 48 years. Maybe that's a theme for ye."
And Joe was – as ever – spot on. Over his 48 years of involvement in struggle – his years in the IRA – his years in prison – and his years as a councillor and Sinn Féin activist – he did his best every single day.
That would have been very obvious to anyone who listened to his excellent interview on LMFM last January 11. It's still there so any of you who haven't heard should log on – it's 40 minutes well spent. It's a funny mix of homespun humour, local history, accounts of life in jail and republican politics covering almost half a century.
Joe was a proud native of Navan and its surrounds. In his interview he tells of growing up; of the Yellow Clay and the Commons Road just outside the town, and of his love for his parents, Joe and Chris, and for his brothers and sisters Sean, Marion, Clare, Gerry and Imelda.
Like so many of her generation in the 1950s his mother performed a miracle every day making ends meet as his father worked hard to bring home a wage barely sufficient to live on. These were strong women who somehow managed to put food on the table and clothes on our backs.
Joe started school at the Mercy Convent and then went on to Scoil Mhuire for boys. It was a time when teachers made use of the cane and the strap and could effectively beat up children. Joe says that it was then that he first got a real sense of injustice.
Joe and I are also from that '60s generation that grew up listening to the Beatles and the Rolling Stones and watching world events unfold on the little box in the corner of the room.
There was no history of republicanism in his family but the 50th anniversary of the Rising in 1966 got him interested. The events that shaped Joe's view of the world and of his politics – the civil rights struggle in the USA; the anti-Vietnam War movement; the Civil Rights movement in the North, and the Unionist regime's violent response to it; the Battle of the Bogside; the Falls Curfew and much more – also helped to shape much of my politics.
Joe joined the IRA in 1970. For five years he went about his business as a Volunteer until in April 1975 when he was captured by the Garda during a raid on a factory producing armaments. 
Joe was charged with possession of explosives. In July the following year he and several others attempted to escape from the Special Criminal Court in Green Street. They all got out but only one managed to get away. Joe and the others were caught in surrounding streets. 
That's something else Joe and I have in common. We both share the distinction of being failed escapees.
On the day he should have been released from prison for his possession of explosives he was then sentenced to ten years in prison for attempting to escape. In all Joe spent ten years in Portlaoise Prison. It was a very difficult jail. There were heavy beatings and hunger strikes. In the years Joe was there — between 1975 and '85 — he had no physical contact whatsoever with his family on visits. A wire mesh separated prisoners from their visitors. 
They were very hard times under the Fine Gael/Labour coalition. It was the time of the Garda Heavy Gang, serious repression and a real attempt by that government to break the republican struggle. But republicans were not broken and Joe was certainly not broken.
In the prison Joe established his routine. A day at a time and everything geared to improve his quality of life. So, he learned Irish from another fine republican Cyril MacCurtain from Limerick who also spent some time in the Cages of Long Kesh where he taught Irish to Bobby Sands and others. Joe went on to teach Irish in Portlaoise.
He kept himself busy writing, reading, editing the prison paper, and keeping fit. Joe started each day with a list of what he was to do that day, and each day he completed that list. He continued that practice when he got out of prison and even during his seven months of illness. 
Every morning he got up out of bed knowing the three or four things he wanted to do that day. He kept that up until a few days before he died.
Joe was very close to his family. The years in prison must have been especially hard because of the physical separation. Imagine not being able to give a hug or hold a child or shake a hand of your nearest and dearest for ten years.
Humour was a big part of Joe's approach to living life to the full. He looked for it in every situation. Even in the challenges he faced when he was ill. He told the story of being released on compassionate parole to visit his father who was dying from cancer. As he was due to return to the prison his father, Joe, asked to speak to him alone.
Our Joe was worried that he was going to be asked to promise his father not to get re-involved in the struggle on his release. What would he say – could he make a promise he couldn't keep – could he upset his father? But no, in keeping with so many other mothers and fathers who have quietly supported their children in struggle and through the prison experience his father wanted to know all about the escape. 
How was it planned? How did they get the explosives? What went wrong, and of course, whose fault was it he didn't get away?
In 1994 Joe successfully stood for election to Navan Town Council. Since then he fought seven elections to Navan Town Council and Meath County Council winning them all. Under Joe's leadership Sinn Féin has grown from a party which got 88 votes and had 29 punts in its coffers to a party that now has eight councillors and a local TD.
Joe has also been Ard Rúnaí (general secretary) of Sinn Féin, Cisteoir (national treasurer), a community activist, part of our negotiating team during the talks that led to the Good Friday Agreement, a town mayor, our National Child Protection Officer and most importantly an eternal optimist.  
Joe brought the same focus to his battle with cancer, the same determination that he brought to everything he did.
I knew Joe for over 30 years. He loved walking and along with Lucilita Breathnach we walked many miles together enjoying each other's company and talking about everything under the sun – except politics. He was one of the great stalwarts of Sinn Féin and of the struggle for peace and justice, and a United Ireland. 
Joe was passionate about his politics, and compassionate in how he tried to help those who are the victims of injustice and discrimination. 
He is a republican hero. The activists' activist.
Joe didn't look for praise – or a pat on the back. Joe's real reward was in getting things done. In getting on with helping people. In promoting his republican politics. He believed in giving everything 100%. For Joe there was never a time when he looked back. It was always about the future. Joe had many achievements in his life. He was a practical patriot. He was especially proud of the Solstice Arts Centre, Crann, and Daoine Óga.
So, Joe I have tried not to go over the top with these remarks although I find it very hard to write about you in the past tense. I have kept it light – and simple – as you asked. I cannot say there have been no tears.
And I think all of us who knew you well will proudly attest to the fact that throughout your 48 years as a republican activist you have done more than your best. 
Thank you Joe for your friendship, your comradeship and your activism. You are missed by many people. Your brothers and sisters. Your comrades in Meath, throughout Ireland and internationally. Dawn in 44. Friends who you minded and who minded you. 
Our last walk was on the Hill of Tara. Me and Joe and Richard, Jim – loyal to the end - and Lucilita. Old friends and comrades. Content in each other's company in a holy place.  We had a song. 'Cath Chéim an Fhia' from Luci. Then we formed a ring for a group hug. It was a memorable day. Thank you for that Joe.
And thank you for organising the most cheerful funeral I was ever at. It was bittersweet. But you made us smile. We miss you. But you sent us all away from your graveside with a twinkle in our eyes. You helped us look on the bright side of life.
Gerry Adams  is a writer, the Sinn Féin TD for Louth and a former President of Sinn Féin.