10 January 2019
The Palestinian people are not violent people, they are angry people - Declan Kearney
For its part, Sinn Féin will continue to be an honest friend, committed to the cause of Palestine, and to working in cooperation with all Palestinian political and civic leaders in pursuit of national reconciliation, and the achievement of Palestinian national and democratic objectives.
In the aftermath of her election as Uachtarán Shinn Féin, Mary Lou McDonald, reaffirmed our party's practical solidarity with the people of Palestine as a key international priority.
I communicated this to the very broad cross section of Palestinian political opinion with which Sinn Féin maintains direct contact.
As a result the Palestinian Legislative Council (PLC), which is Palestine's elected parliament, issued an official invitation to Mary Lou and a leadership delegation to visit Palestine.
In accepting this honour we asked the PLC to host a programme which would allow for engagement with all sections of Palestinian political and civic society, including all the main political forces.
So in mid-December 2018 a Party delegation, led by Mary Lou, including Pat Sheehan, Ciarán Quinn and myself, travelled to the occupied West Bank for five days.
The PLC extended us every diplomatic courtesy and assistance during our trip including help to arrange a formal meeting with President Mahmoud Abbas; the laying of a wreath at the tomb of Yasser Arafat by Mary Lou; and, a tour of the Yasser Arafat museum.
Our inclusive programme began with a meeting hosted in the Jordanian parliament in Amman by the Chair of its Palestine Committee, Yahya Al-Saud, before travelling directly to our first meeting in the West Bank, with Jonathon Conlan and Declan Johnston, the Irish government representatives in Palestine. Importantly, the government has just increased Ireland's aid budget by two million euros – at a time when the US administration has slashed its contribution to the United Nations (UN) Relief and Works Agency.
Over the next few days we met with all the political parties elected to the PLC; women activists; young people; ex-prisoners; political and human rights campaigners, including Boycott, Divestment and Sanction representatives; local Councillors; community groups; and, media organisations.
Throughout, we engaged extensively with all shades of political and civic opinion.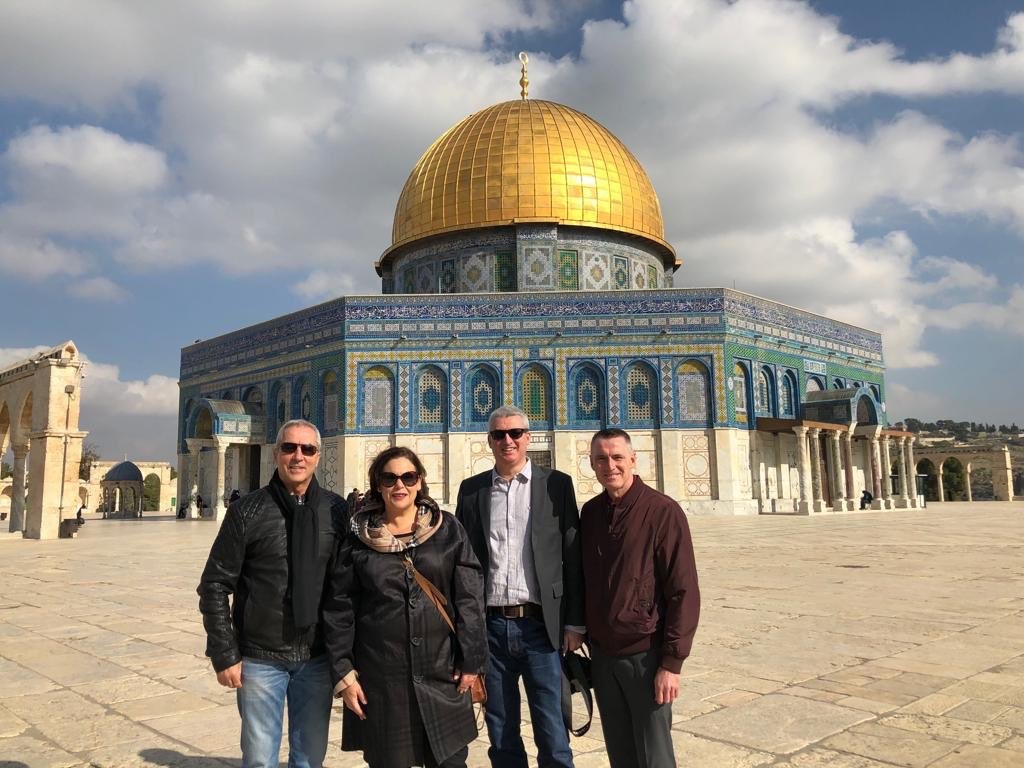 We listened, learned, and made new friends.
This trip came at a time of renewed political instability and conflict in the West Bank with increased Israeli military incursions and expanded settlement activity.
An Israeli military lock down on Ramallah city was in place just days before we arrived.
However, political disunity among the main Palestinian political forces has also intensified. Indeed it has probably deepened since our return to Ireland.
Yet the importance of national political unity was spoken of by all the Palestinian representatives and citizens we encountered.
The need for national reconciliation is the single most popular and urgent discussion within Palestinian society. That reality has found further expression in the launch since Christmas, of the new Palestinian National Democratic Assembly, which is an alliance including different progressive political and civic forces and personalities.
We encouraged the pursuit of national unity among all Palestinians and reiterated Sinn Féin's commitment to assist in whatever modest way we could to support that being achieved.
A palpable anger exists among ordinary people throughout Palestine tempered with an absolute determination and resilience.
Everyone we met, regardless of ideological and tactical differences, is committed to popular resistance against the Israeli occupation.
Nasser Al-Laham is the managing director of Maan news agency. He hosted us at his offices in Bethlehem six days before Christmas.
Nasser is a former political prisoner who served 14 years. He's one of the estimated one in five Palestinians who have been imprisoned since 1967.
The experience of prison and detention is prolific within Palestinian society.
The Nakba of 1948, when almost one million Palestinians were driven from their homes in historic Palestine to become permanent refugees, permeates every aspect of their historic and present day existence.
Their collective, lived reality is one of colonialism, death, detention, discrimination and denial of rights.
Nasser said evocatively;
"The Palestinian people are not violent people, they are angry people."
Just a few hours earlier we had walked around Jerusalem.
While there we met Adnan Ghaith. He is the Governor of Jerusalem. He too is a former political prisoner, but is banned under Israeli military law in Jerusalem from visiting his office or carrying out official duties.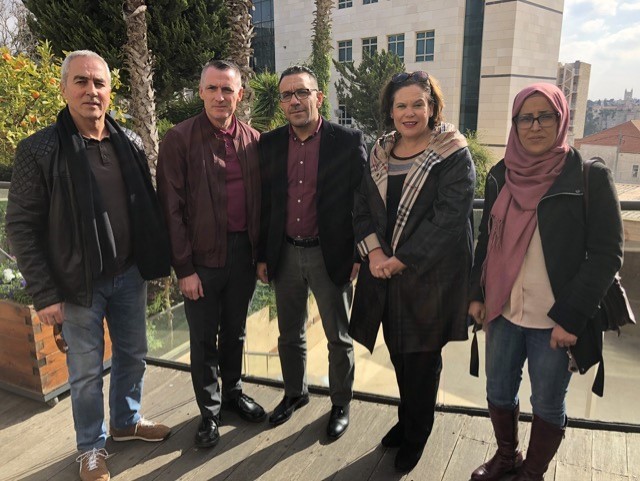 Afterwards we went to Al-Esawiah, a neighbourhood on the edge of the city.
A population of 20,000 live in this poor area, and, 120 political prisoners from there are being held in Israeli jails.
From early that same day Israeli troops closed off its narrow, winding streets with 'flying checkpoints', carrying out searches and making arrests.
These were familiar scenes to me.
We were in the local community based Ambulance and Emergency Aid Association when Ahmed joined our company.
Two years previously, when he was aged just 15, Israeli soldiers shot him in the right eye while he visited the shops.
Afterwards we all walked outside; as we did so three of Ahmed's buddies, of around the same age, came over for a yarn. One of them had also been shot in the eye, as he returned from school.
I shuddered when we were then told - a total of 15 residents from Al-Esawiah have been shot in the eyes.
I felt inadequate. I had nothing useful to say.
The previous day in Ramallah during a very emotional meeting with ex-prisoners from all political backgrounds two 15 year-old boys were introduced with their parents.
Shadi and Ahmad had just been released from prison two weeks earlier. They were jailed at the age of 12, sentenced to three years each, and detained in inhumane conditions.
I imagined how I'd feel if these were my sons.
Meeting these four young teenagers was an unforgettable and moving experience.
On the morning of our last day we visited the Tamimi family in their home at Nabil Saleh.
Ahed is the 17-year-old girl who was imprisoned earlier this year for slapping an Israeli soldier.
Her daddy Bassem said that although the nearest beach is only 35 km away, the nature of Israeli restrictions on Palestinians' movements in the West Bank meant Ahed's first experience of a beach was on a recent trip to Spain.
The occupation of the West Bank, Jerusalem and siege of Gaza have had a devastating impact on the lives of Palestinian children and youth. The percentage of young people aged between 15 – 29 years in Palestine comprises 30% of the total population.
Mustafa Barghouti, leader of the Palestinian National Initiative (PNI) has said that for him and many others in his generation, childhood ended on 5 June 1967 when the West Bank, Jerusalem and Gaza were occupied by Israel.
The Israeli occupation has robbed Palestinian youth of their childhoods up to and including the present generation.
The one fundamental question which the international community must address is what future can Palestinian children expect under the conditions of this five decades old occupation?
The Israeli settlement policy remains central to the occupation despite the fact that international law as provided under the Geneva Convention, prohibits an occupying power from resettling its own population on occupied territory.
Palestinian family homes are systematically demolished alongside a relentless seizure of property, natural resources, water, crops and arable land to make way for new settlements.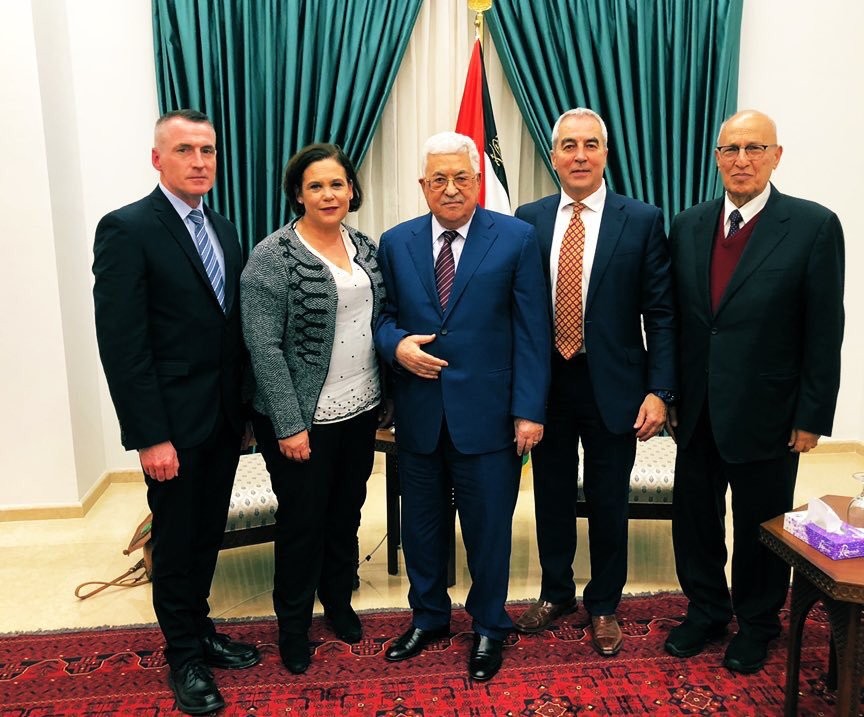 An eight-metre high wall, which is nearly 300 miles long, provides an apartheid cordon through the West Bank serviced by a 'settlers only' exclusive roads system.
This system is reinforced by a network of permanent and 'flying' check points.
The occupation has been designed, and is being strategically enforced based upon a form of scientific military precision which has no international parallel.
Currently 700,000 settlers now occupy vast and expanding tracts of the West Bank and East Jerusalem.
In the early hours of Christmas morning, settlers protected by Israeli forces began the annexation of Battir, a UNESCO World Heritage site, by putting a caravan in position to stake a claim on that land.
On New Year's Eve, Gideon Levy, the acclaimed Israeli journalist and commentator observed that things in Palestine may appear frozen in time as the occupation continued without impediment.
Then he wrote;
"It would be a grave mistake however, to think that everything stayed the same (in 2018). There is nothing status quo about occupation or apartheid, even if it sometimes seems that way."
Levy states that the Israeli state has sought to make the colonial settlement programme an irreversible reality.
During 2018 a new phase of this strategy began by putting a legislative infrastructure in place, to entrench within Israeli law the aim of the settlements: that is, to prevent any possibility of a viable Palestinian state existing within the territories occupied in 1967, and to block the potential for the two-state solution ever succeeding.
Other laws have been adopted which aim to neutralise any opposition from inside Israeli society, and enforce absolute loyalty to the state.
Legislative cover has now been enacted for the daily annexation of the Palestinian territories and seizure of Palestinian land and homes, to enable the relentless expansion of the Israeli state borders beyond those established in 1967.
When the Oslo Agreement was signed in 1993 the extent of the compromises made by Palestinians were considered highly contentious both at the time and since. Now the overwhelming view in Palestine is that Oslo is dead.
From the outset Israel usurped the terms of that agreement and then acted to hollow out the integrity of the resultant Palestinian Authority (PA); to the extent that many in Palestinian society now suggest the only symbol of sovereignty in the PA is the Palestinian national flag.
There is a deep, visceral resentment at the attempts to eradicate the Palestinian national identity, culture and history. This goes to the very crux of why the status of Jerusalem is such a totemic issue for the Palestinian people.
The current situation in the occupied territories is rapidly deteriorating.
The scale and effects of the repression being inflicted is beyond the comprehension of all reasonable people.
Last year alone, Israeli army forces killed 312 Palestinians in the West Bank and Gaza, according to a statement from the Abdullah Harani Centre on 2nd January.
The number of Palestinians killed has increased by 200% in 2018.
These figures include 53 children and three women.
262 were reportedly killed in Gaza and 50 others in the occupied West Bank.
A total of 31,000 were injured in Gaza and 500 others in the West Bank by Israeli Army gunfire.
The Addameer Association reported in December 2018 that a total of 5,500 political prisoners are currently being detained by Israel. Of these 480 are being held under administrative detention; 54 are women; and, 230 are children, of whom 41 are aged under 16 years.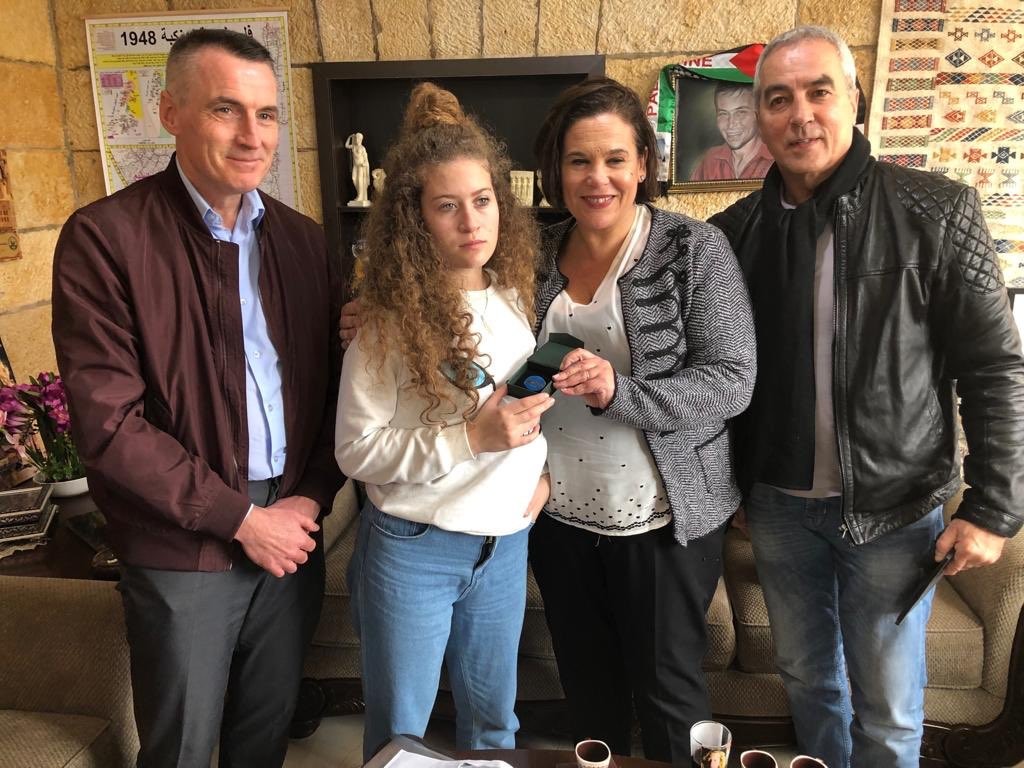 The ongoing occupation of Palestine is the most enduring political, humanitarian, existential crisis of our modern times. And yet, all this continues to happen in direct violation of international law, the Fourth Geneva Convention, and successive UN resolutions.
The international community and all its institutions have abjectly failed the Palestinian people. By failing to act in defence of Palestinian rights it has acquiesced in their occupation and repression.
The international community needs to become outraged at the violation of universal human rights which is taking place.
The Palestinians need more than diplomatic noise or sympathy. They demand action.
International law must be enforced.
The international community must act in the way it ultimately mobilised against South African apartheid.
A new, decisive, international initiative on Palestine is demanded from the UN, European Union (EU), and international governments and agencies, in spite of the Israeli and US administrations' pressure not to do so.
The Irish Government should give leadership, within the EU, by recognising the state of Palestine and supporting the passage of the Occupied Territories' Bill early in 2019.
The legitimate mandate of all Palestinian political parties should be recognised by the EU.
The politics of exclusion and policies of non-engagement have always failed.
However, Palestinian political leaders can give a powerful mandate for such a step change in policy and action from the international community by speaking with one united voice, and by agreeing common strategic and political positions.
National unity among all of the political forces under the representative leadership of the Palestine Liberation Organisation (PLO) is essential to ensure that agreed and effective national resistance strategies are developed against the occupation.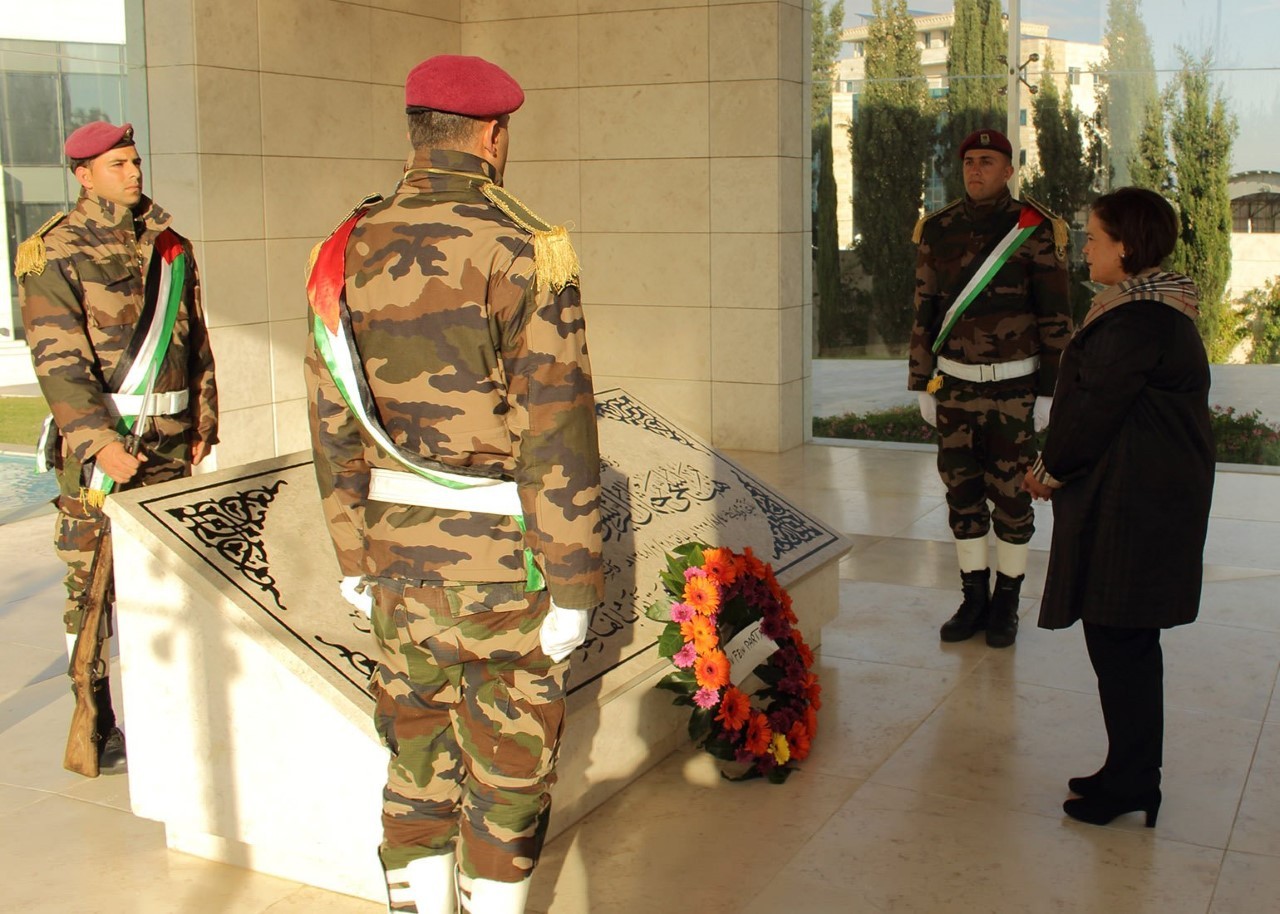 That would surely give renewed impetus, inspiration and hope to Palestinian citizens in the occupied territories, in the refugee camps, and throughout the diaspora.
Palestinian political prisoners inside the prisons have in the past shown that dialogue to secure unity can be successful.
Of course it is a first principle that only the Palestinian people and their political leaders can determine the direction of their struggle. Others can only offer and share fraternal and comradely advice.
But it is clear, that what has not been achieved or attempted to date is the integration of mutually reinforcing international and domestic strategies of diplomatic pressure and popular political resistance to end the occupation.
As 2019 begins this may well be an opportunity for a new, bold initiative by all the Palestinian leaders to reaffirm and renew the representative leadership role of the PLO as the fully inclusive authority of the Palestinian national liberation struggle; and to also build a definitive consensus on the core national and democratic principles and objectives, which subordinates ideological and tactical differences to the achievement of a viable Palestinian state.
Essential to any progress will be the international community and Palestine has many friends across the globe.
So consideration should be given to convening an appropriate international forum under the auspices of the PLO which draws together all international authorities, agencies, and fraternal political parties which have acted in good faith towards Palestinian interests; and, to mandate their representatives to take responsibility for the implementation of a newly defined international initiative, premised upon invoking and enforcing international law, and for the mobilisation of a global political momentum against the injustice of the occupation which mirrors the global campaign against apartheid in South Africa.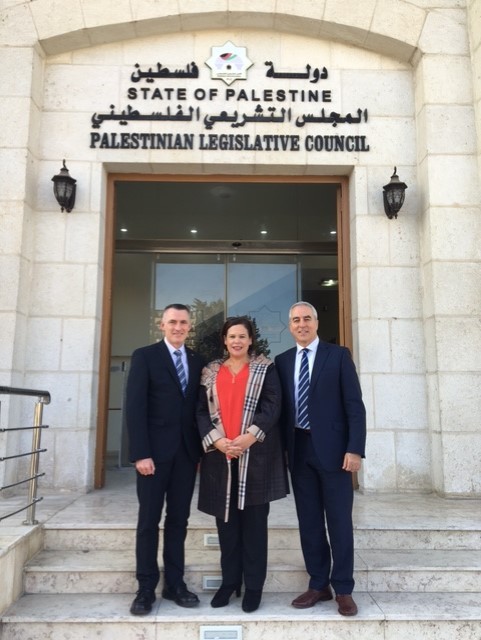 For its part, Sinn Féin will continue to be an honest friend, committed to the cause of Palestine, and to working in cooperation with all Palestinian political and civic leaders in pursuit of national reconciliation, and the achievement of Palestinian national and democratic objectives.
The ordinary people of Palestine deserve nothing less.
In the words of Adnan Ghaith, the Governor of Jerusalem;
"The Palestinian people deserve to live their lives like any other people."
Free Palestine!
An Phoblacht Magazine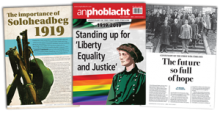 AN PHOBLACHT MAGAZINE:
Don't miss your chance to get the first edition of 2019 published to coincide with the 100th anniversary of An Chéad Dáil and Soloheadbeg.
In this edition Gerry Adams sets out the case for active abstentionism, Mícheál Mac Donncha takes us back to January 21st 1919, that fateful day after which here was no going back and Aengus Ó Snodaigh gives an account of the IRA attack carried out on the same day of the First Dáil, something that was to have a profound effect on the course of Irish history.
There are also articles about the aftermath of the 8th amendment campaign, the Rise of the Right and the civil rights movement.
An Phoblacht on Twitter

An initiative for dialogue 
for reconciliation 
— — — — — — —
Contributions from key figures in the churches, academia and wider civic society as well as senior republican figures