5 January 2019
Jer O'Leary
A tribute by Sinn Féin Dublin City Councillor Mícheál Mac Donncha
One morning in November I got a phone call and it was the unmistakeable deep booming voice of Jer O'Leary singing: "On the 28th day of November just outside the town of Macroom..." - lines of course from 'The Boys of Kilmichael' by way of an invitation to his annual outing to commemorate IRA leader Tom Barry's successful ambush of British forces in Jer's ancestral West Cork in 1920.
I had received other such calls from Jer over the years but I was never available to join him, until this year, so I called my friend and comrade Larry O'Toole and we met Jer in Gaffney's in Fairview in the aptly named snug 'The Officers' Mess'. It was an unforgettable afternoon with Jer.
He had been very ill in hospital not long before and while he was in great form, both Larry and I felt that this was almost like a goodbye. Little did we think that less than a month later Jer would be gone from us. He died on St Stephen's Day.
But Jer was in great form that 28th November. And as always his conversation ranged widely - from the famous ambush in West Cork to Dalymount stadium and his beloved Bohs, from the streets of the North Inner City with the Dublin Brigade in the 1920s - and indeed the 1960s - to the Dubs winning four in a row in 2018, from the docks of our city to the plains of the American West, from a Dublin stage to a Hollywood set.
Jer did entrances and exits well, befitting a man of the stage, and even the shortest of time in his company was entertaining. He knew the power of words and verses tripped easily from his tongue. His accent was deep and Dublin, as was everything about him, the historic Dublin of the working class, locked out in 1913, rising up in 1916, resilient and proud of its heritage of struggle.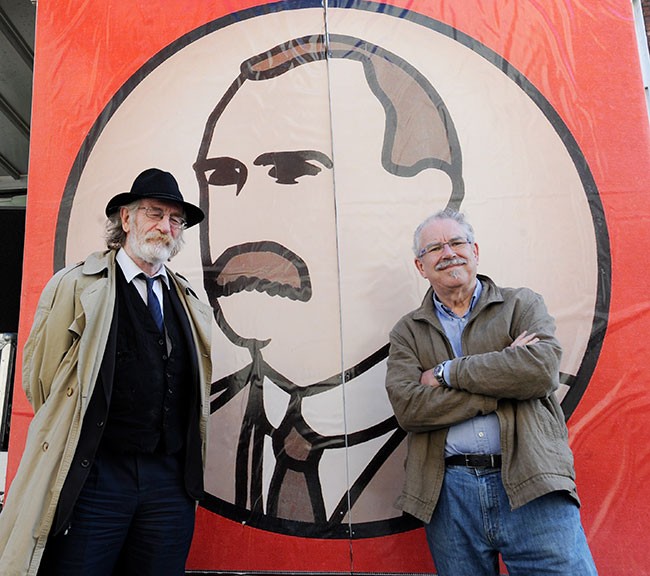 • Jer O'Leary and Robert Ballagh at the Repudiate the Debt protest in 2011
In his day Jer was an Irish Republican Army Volunteer and a political prisoner. He was a socialist republican through and through in the tradition of James Connolly and in the style of his idol Jim Larkin. He embodied Larkin on many occasions and at many events. He was always available to do a turn for The Cause - be it trade union, republican or international solidarity. 
We asked him to read the Proclamation at the Dublin Sinn Féin Easter commemoration in Glasnevin in 2017 and he proudly obliged. Previously at many of our Easter commemorations over the years he had read James Connolly's Final Statement to his Court Martial to great and stirring effect outside the GPO. In 2013 he performed Larkin with us at the statue in O'Connell Street to begin the Centenary of the Lockout, and again at the Liberty Hall conference organised by Sinn Féin early that year.
A more poignant memory is of Jer as Wolfe Tone at the Sinn Féin Ard Fheis in 1998, bicentenary of the United Irish Rising. He was accompanied by a group of pike men and women, among them his son Diarmuid who died so tragically later that year in a fire in Glasgow, after a Celtic game which father and son had attended. Leaving the stadium that day, Jer saw his son for the last time. The loss of Diarmuid was a terrible tragedy for Jer and his partner Eithne, who died in December 2017, a further loss from which Jer never recovered.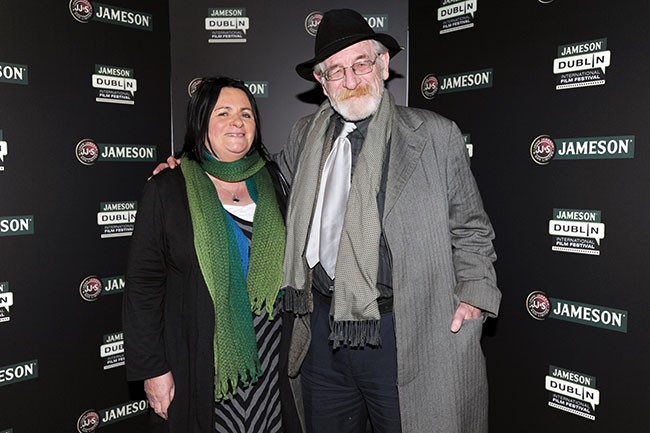 • Jer and his partner Eithne in 2013
Among Jer's talents was as a designer of banners, which he produced with Eithne, and many of which can still be seen at trade union rallies. He championed the use of the original green, silver and gold Starry Plough as designed for the Irish Citizen Army and flown in Dublin at Easter 1916, and, thanks in large part to Jer, it is now widely seen and recognised. It was placed on permanent display in the Oak Room of the Mansion House for the first time, when as Ardmhéara I accepted it as a presentation from the Dublin Council of Trade Unions. And it was in the Oak Room, under the Starry Plough, that we gathered on 2 January to pay tribute to Jer with a night of eulogies, music and song.
In October 2017 Jer joined us for Spraoi ar an Sráid, the Moore Street Party that I organised as Ardmhéara, in support of the campaign to save the 1916 battlefield site. As always, he was proud and glad to answer the call. Once again that day he passionately declaimed the words of the French revolutionary Camile Desmoulins, as quoted by Connolly and Larkin:
"The great are not great. The great only appear great because we are on our knees. Let us arise!" 
• Jer speaking as James Connolly at the Sinn Féin 1905-2005 centenary event in the Round Room of the Mansion House
Many hundreds of people attended Jer's funeral on 3 January. His coffin was draped in the Starry Plough and passed his North Strand home on the way to the church in a procession which included some of his finest banners. The attendance was a cross-section of the republican left, in all its diversity, as well as people from the theatre, the trade union movement and his many friends and neighbours. Sinn Féin President Mary Lou McDonald attended, as did Gerry Adams. In a tribute Mary Lou said:
"On behalf of Sinn Féin I extend deepest sympathy to the family and friends of Jer O'Leary.

"We were all privileged to know Jer as a friend and comrade. He was a true Dub and a true Irish republican, a former political prisoner and an activist in the cause of trade unionism, socialism, international solidarity and Irish unity and freedom.

"Jer's generous, intelligent and larger-than-life personality shone through in all he did, from acting to banner making to simply regaling friends and fellow workers with his many stories and interests. On countless occasions over many years Jer played his idols Jim Larkin and James Connolly at Sinn Féin commemorations, rallies and other events. Dublin, and especially North Inner City Dublin, will not be the same without him.

"Ní bheidh a leithéid arís ann agus mar a dúirt Jer féin go  minic 'an Phoblacht abú.'"
Deepest sympathy is extended to Jer's daughters Nora and Clare and to all his extended family.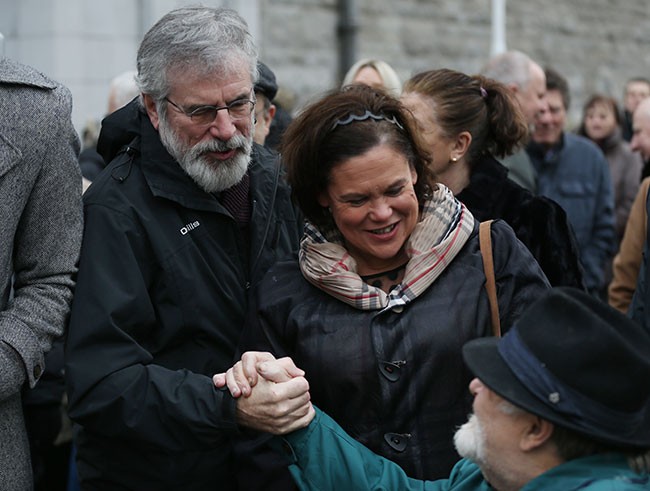 • Sinn Féin TDs Mary Lou McDonald and Gerry Adams at the funeral of Jer O'Leary
An Phoblacht Magazine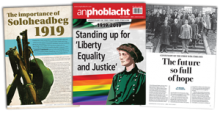 AN PHOBLACHT MAGAZINE:
Don't miss your chance to get the first edition of 2019 published to coincide with the 100th anniversary of An Chéad Dáil and Soloheadbeg.
In this edition Gerry Adams sets out the case for active abstentionism, Mícheál Mac Donncha takes us back to January 21st 1919, that fateful day after which here was no going back and Aengus Ó Snodaigh gives an account of the IRA attack carried out on the same day of the First Dáil, something that was to have a profound effect on the course of Irish history.
There are also articles about the aftermath of the 8th amendment campaign, the Rise of the Right and the civil rights movement.
An Phoblacht on Twitter

An initiative for dialogue 
for reconciliation 
— — — — — — —
Contributions from key figures in the churches, academia and wider civic society as well as senior republican figures