26 November 2018
Sinn Féin leader hits back at Taoiseach's "ludicrous" Westminster proposition
"The Taoiseach's problem is that he doesn't like the democratic choice of the people of 'those constituencies' and now makes the ludicrous proposition that there should be another election without Sinn Féin's participation." - Mary Lou McDonald TD
Sinn Féin leader Mary Lou McDonald has hit out at Taoiseach Leo Varadkar after he demanded that Sinn Féin MPs resign from their Westminster seats.
The Taoiseach made the statement earlier today, claiming that the upcoming week is crucial for Tory leader Theresa May.
"If Sinn Féin feel they got elected on the basis of abstentionist then they have the option now of resigning their seats and allowing people in those constituencies decide whether or not they want to have a say when this vote comes to Westminster," he said.
In a response, the Sinn Féin President branded the Taoiseach's comments as "absolutely ludicrous" stating that "Sinn Féin have no intention of standing aside and abandoning our mandate."
Speaking to An Phoblacht, the Dublin Central TD said: "The Taoiseach's problem is that he doesn't like the democratic choice of the people of 'those constituencies' and now makes the ludicrous proposition that there should be another election without Sinn Féin's participation."
"Fine Gael, and Fianna Fáil for that matter, should put to the people their willingness to take seats in Westminster and to swearing an oath to a foreign power and let the people decide," she said.
In the 2017 Westminster election, Nationalist voters turned their back on Westminster increasing Sinn Féin's representation by more than double, while Fine Gael and Fianna Fáil continue to abstain from political life in the north.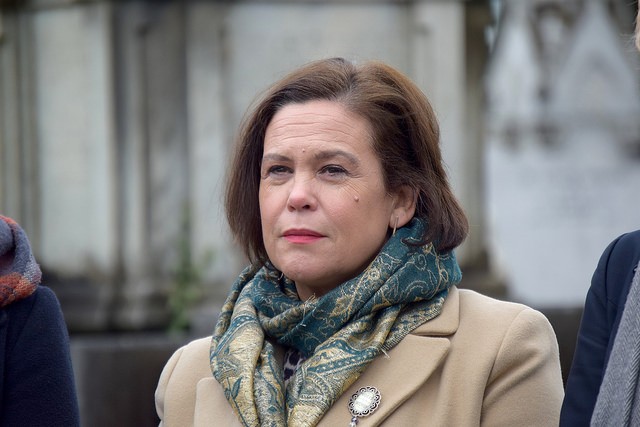 An Phoblacht Magazine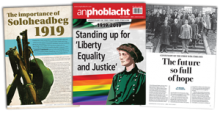 AN PHOBLACHT MAGAZINE:
Don't miss your chance to get the first edition of 2019 published to coincide with the 100th anniversary of An Chéad Dáil and Soloheadbeg.
In this edition Gerry Adams sets out the case for active abstentionism, Mícheál Mac Donncha takes us back to January 21st 1919, that fateful day after which here was no going back and Aengus Ó Snodaigh gives an account of the IRA attack carried out on the same day of the First Dáil, something that was to have a profound effect on the course of Irish history.
There are also articles about the aftermath of the 8th amendment campaign, the Rise of the Right and the civil rights movement.
An Phoblacht on Twitter

An initiative for dialogue 
for reconciliation 
— — — — — — —
Contributions from key figures in the churches, academia and wider civic society as well as senior republican figures